Variety Just Like You
More than half of students living with a disability experience bullying and social isolation. Variety's Just Like You program aims to build understanding, acceptance and inclusion of those living with a disability, and is delivered in schools to students aged 4 to 12, by professional facilitators who also have a disability.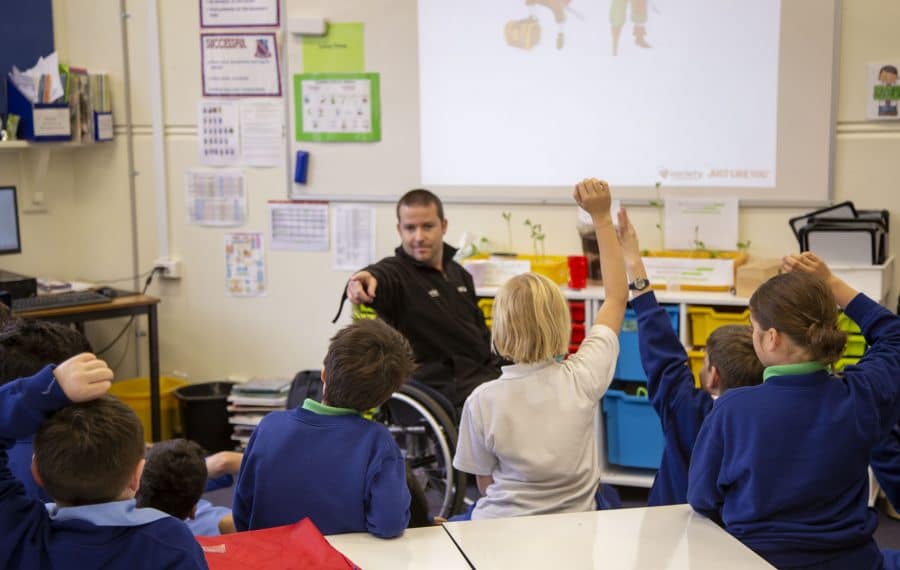 The program reached 16,908 students this year in Sydney, Central Coast, Newcastle and Canberra, which was 19% up on the participation target. A total of 73 schools participated with a total of 608 sessions. Outcomes from the program include;
A 17% improvement in use of appropriate language to describe people living with disabilities
10% improvement in students using appropriate actions around people with disabilities
25% improvement in students able to give an example of a hidden, physical and sensory disability
Learn more about our Just Like You program
Activate Inclusion Sports Day
Activate Inclusion Sports Days (AISD) give kids with special needs the chance to get out on the court and the field trying new sports, in the process increasing communication, teamwork and confidence.
The program is aimed at students aged 5 to 18 with mental health, learning difficulties, physical, intellectual and sensory disabilities. The students come to a central location to have a go in a fun and inclusive environment. Delivered in partnership with Sport NSW, the AISD program provides adaptive sport and recreation programs to build core skills and confidence for sustainable physical activity. This year the program grew to 19 days with 3,132 kids from 216 schools participating across NSW.
Variety Heart Scholarships
This year's Variety Heart Scholarships round was the largest on record, for both number of successful recipients and amount granted. The 73 recipients with a talent in sport, the arts or education came from across NSW and ACT, including the Sydney basin (26%), Hunter (22%), Northern NSW (21%), Illawarra/Shoalhaven (11%), and Northern NSW (21%). This year's recipients included visual artist Ashlyn, who has reduced vision due to Congenital Nystagmus (fine oscillating movements of the eyes). Ashlyn's scholarship was awarded to cover costs incurred for lessons, tuition, supplies and the resources Ashlyn needs to build her skills. The Variety Heart Scholarships are made possible by the generous support of our presenting partners, the Grahame Mapp Family Foundation in honour of the late Gillian Mapp.