Round 1, Question 1....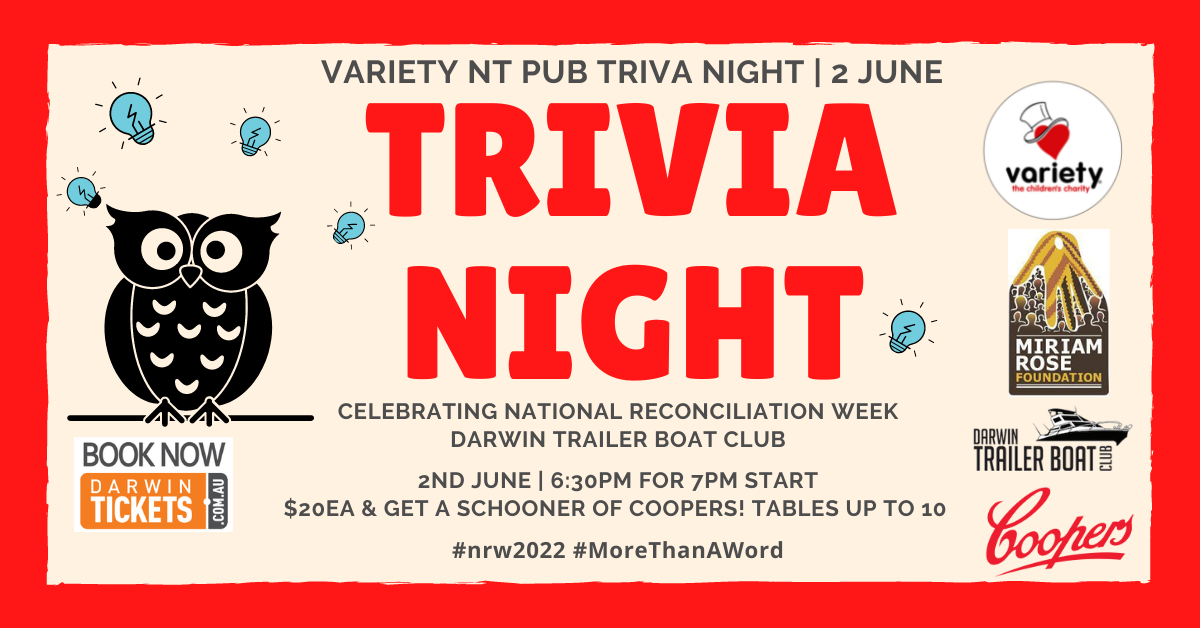 Alright brainiacs and funsters it's Trivia Time! Get your mates together and book a team into the annual Variety NT National Reconciliation Week Pub Trivia Night at Darwin Trailer Boat Club, it's a whole lotta fun and there are some fantastic prizes up for grabs!
Teams of up to 10 (plus you will have to have a cool team name to boot!)
$20 per quizzer and you'll get a free schooner of Coopers beer on arrival to help you drink while you think*
Fantastic prizes up for grabs, test your knowledge and skills or just make up some random far out answers and we may just give you a bonus for creativity!
Lock it in – Thursday 2nd June at Darwin Trailer Boat Club.
6:30pm for a 7pm start
Enjoy the superb food and drinks on offer as you bask in a glorious Darwin sunset before getting your thinking caps on for game time
All proceeds will help Variety NT provide Grants to help give NT kids a fair go. Like an iPad with specilised app for Autistic non-verbal children like Joss or the establishment of a Paediatric Equipment Library at Carpentaria Disability!
Come along and have some fun at our Pub Trivia Night. There are categories of all sorts! Book online at Darwin Tickets, alternatively contact the Variety Office on 8981 2544, email [email protected] or direct booking at Darwin Trailer Boat Club
*Each entry receives 1 x voucher for a schooner of Coopers, any exchange is at the discretion of Trailer Boat Club management. Meals and additional drinks available at participants own cost
Please enjoy the spoils and drink responsibly, have fun and make sure you have a sober bob
Thank you for supporting Variety – the Children's Charity NT