2019 Variety Bash Queensland
28 August – 6 September

The Variety Bash is not a race or a rally. It's an adventure with mates driving 30 year old plus cars through regional parts of Australia that you might otherwise not see, all in support of Variety – the Children's Charity.
$1.3 million raised in 2018
The iconic Variety Bash is Australia's largest and most successful charity motoring event, to date raising over $230 million nationally for Aussie kids in need.
From 28 August to 6 September 2019, you'll visit local towns, stopping into schools and organisations to visit the kids you're helping. 'Bashers', as you'll be affectionately known, get to see the direct impact of your fundraising efforts along the way, with a range of educational, health and mobility equipment provided to local children, schools and organisations in rural communities.
Your fundraising and participation in this adventure-filled event will have a positive impact on the lives of many children and communities. Your support will empower children who are sick, disadvantaged or have special needs to live, laugh and learn – something that can't be achieved without your dedication and hard work.
The Variety Bash is also about mateship, wacky costumes, fun stops and seeing everything our wonderful country has to offer. You will travel many dirt roads through tiny towns with old friends and meet new ones along the way. Expect more than a little bit of skulduggery and always remember not to take it too seriously.
Proudly sponsored by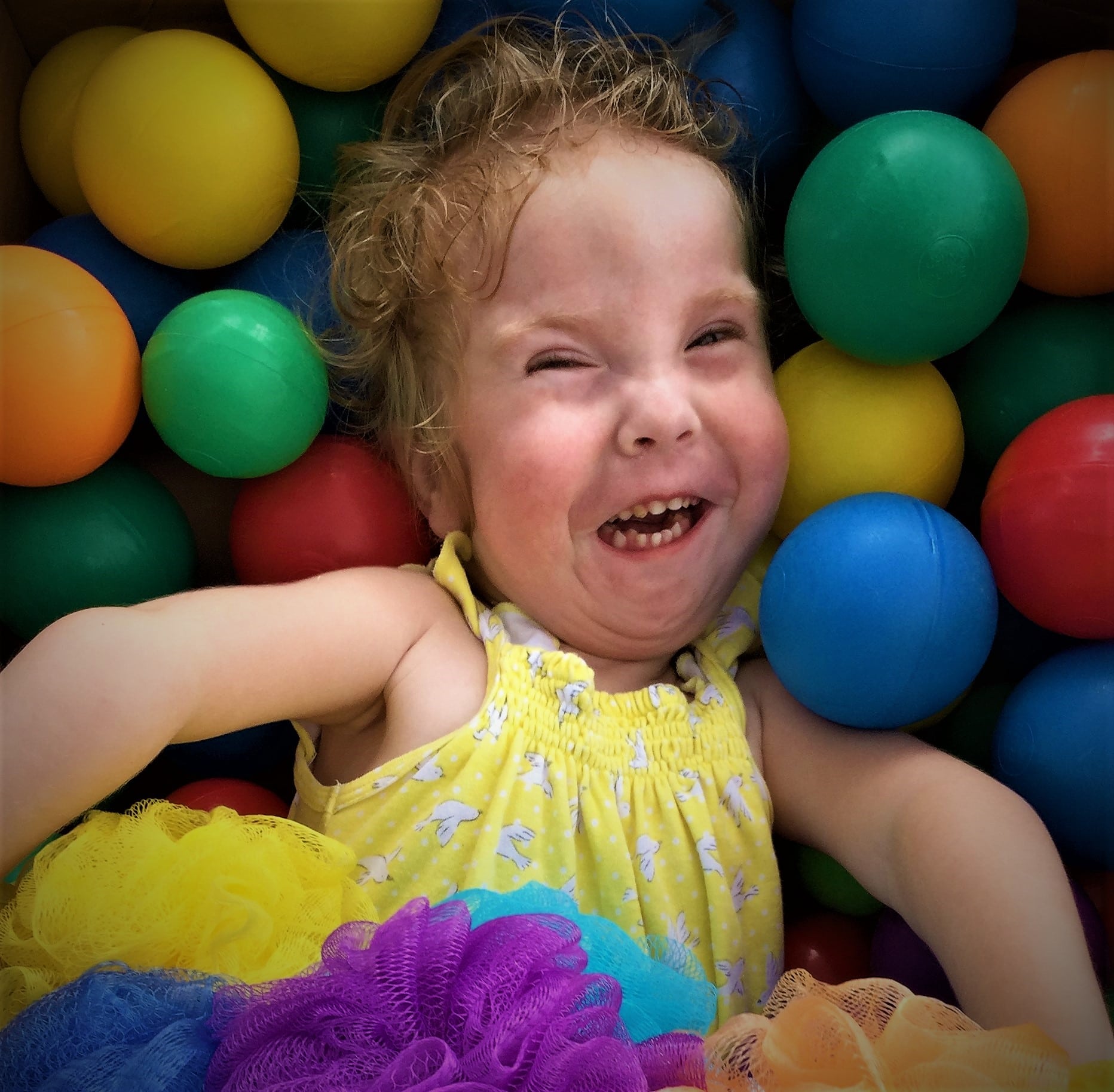 Every day, Variety receives requests for assistance from families who are doing it tough. The money you raise through the Variety Bash will directly help children who are sick, disadvantaged and who have special needs by way of goods and services.
In the last year, we've been able to provide $1.2 million in grants of equipment, services and scholarships throughout Queensland thanks to your fundraising. Every dollar you raise is used immediately to help Aussie kids have a fair go.
Every $1,000 you raise can help a child who is non-verbal to communicate with iPad assistive software.
Every $5,000 you raise can help a disadvantaged child follow their dreams with a scholarship in the arts, sport or education.
Every $10,000 you raise can provide wheelchair accessible vehicle modifications to help safely transport a child with special needs in their family car.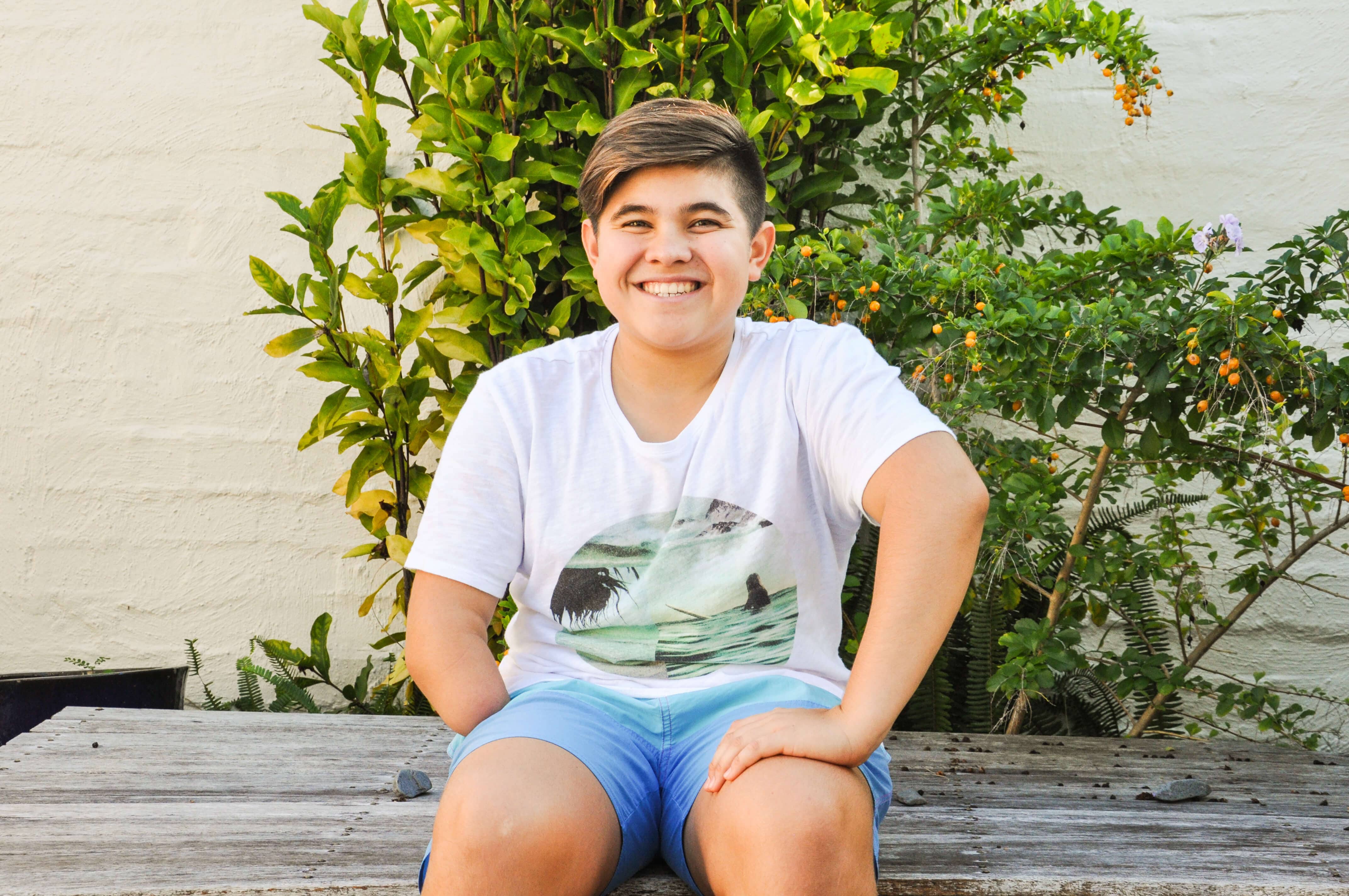 How 
YOU 

help kids in need!

There's something that makes the Variety Bash Queensland so special – by taking part you are directly changing the lives of children who are sick, disadvantaged or have special needs – and YOU get to see where your fundraising dollars go. By giving practical equipment and experiences, Variety enables children to overcome the obstacles they face, and help kids be kids. But we can't do it without you – the funds you raise will help us help QLD kids in need!
We're Here to Help!
We can provide plenty of ideas, tips and hints to make your fundraising as effective as possible.
To start with download the Fundraising Guide which is full of information to get you started.
If you have any further questions don't hesitate to reach out to our friendly team on 07 3907 9300 or email our Community Fundraising Coordinator Melissa, at melissa.mcmahon@varietyqld.org.au
What are High Flyers & Ringleaders?
Who are High Flyers?
The Variety Bash High Flyers Club is made up of teams who, when given a goal, will blow right past it. It's not about the minimum with these guys. They are the Bash's highest performing fundraisers who have shown huge commitment to raising as much as possible to help Aussie kids in need.
The Bash High Flyers Club is about giving back to these determined fundraisers in a big way and giving them the recognition they deserve.
How to Get The High Flyers Treatment
It doesn't matter how many people you have on your team. When you commit to going above and beyond in your fundraising, you'll receive some incredible perks including features on our website and Facebook page, as well as really cool recognition on the Bash.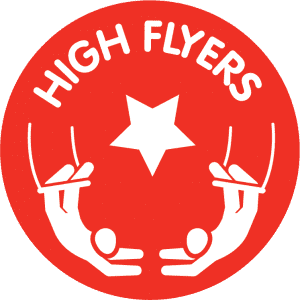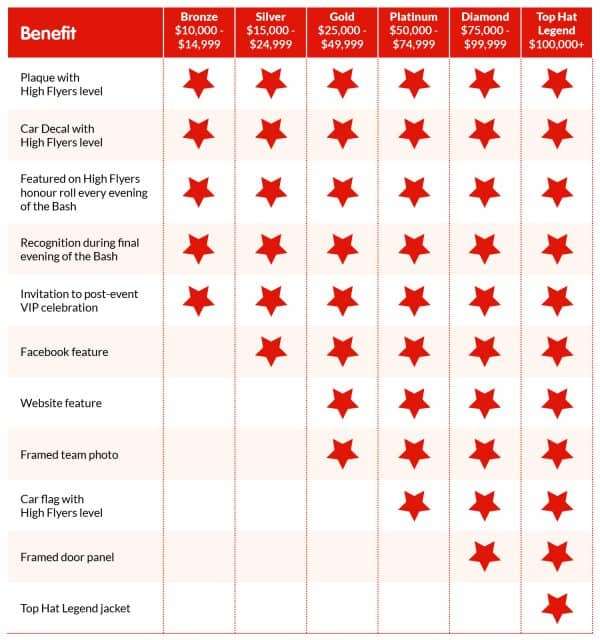 Who are Ringleaders?
The Variety Bash Ringleaders are the dedicated and committed Bashers who participate year after year. It takes a special person to give up a couple of weeks every year – not to mention all the time spent fundraising and preparing for the Bash – year after year, so that more Aussie kids get the help they need.
We want to give the Bash Ringleaders the recognition they deserve. These amazing individuals are the backbone of the Bash family and their experience helps the Bash run smoothly each year. 
How to Get The Ringleaders Treatment
When you start to become a regular fixture at the Bash, you'll receive some incredible perks before, during and after the Bash.
Ringleader Levels & Perks
5 Bash events in a row – Special 5 year badge
10 or more Bash events – Engraved flask + admitted to the Bash Legends
15 or more Bash events – Engraved beer mug
20 or more Bash events – Bash Map outlining all the Bash events you've attended
25 or more Bash events – Wooden engraving
Additional Ringleader Recognition
Recognition during first evening of the Bash
Invitation to post-Bash VIP celebration
Copy of the group photo for your Ringleader level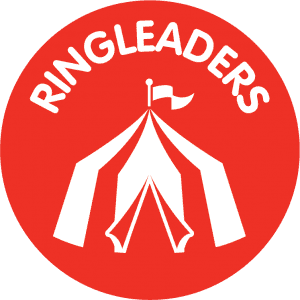 2018 Variety Bash was a great success!
The 29th QLD Variety Bash, raised a sensational $1.3 million!
140 Vehicles carrying over 300 participants traveled more than 3,360km over 10 days. They visited 16 schools along the way and gave out over $200,000 in grants on the journey.
The Variety Bash Queensland first took off in 1990 and has raised over $21 million for Aussie kids the live laugh and learn. Nationally, since it's inception the Variety Bash has raised more than $230 million for children in need right across Australia.
Special thanks to the Variety Bash sponsors