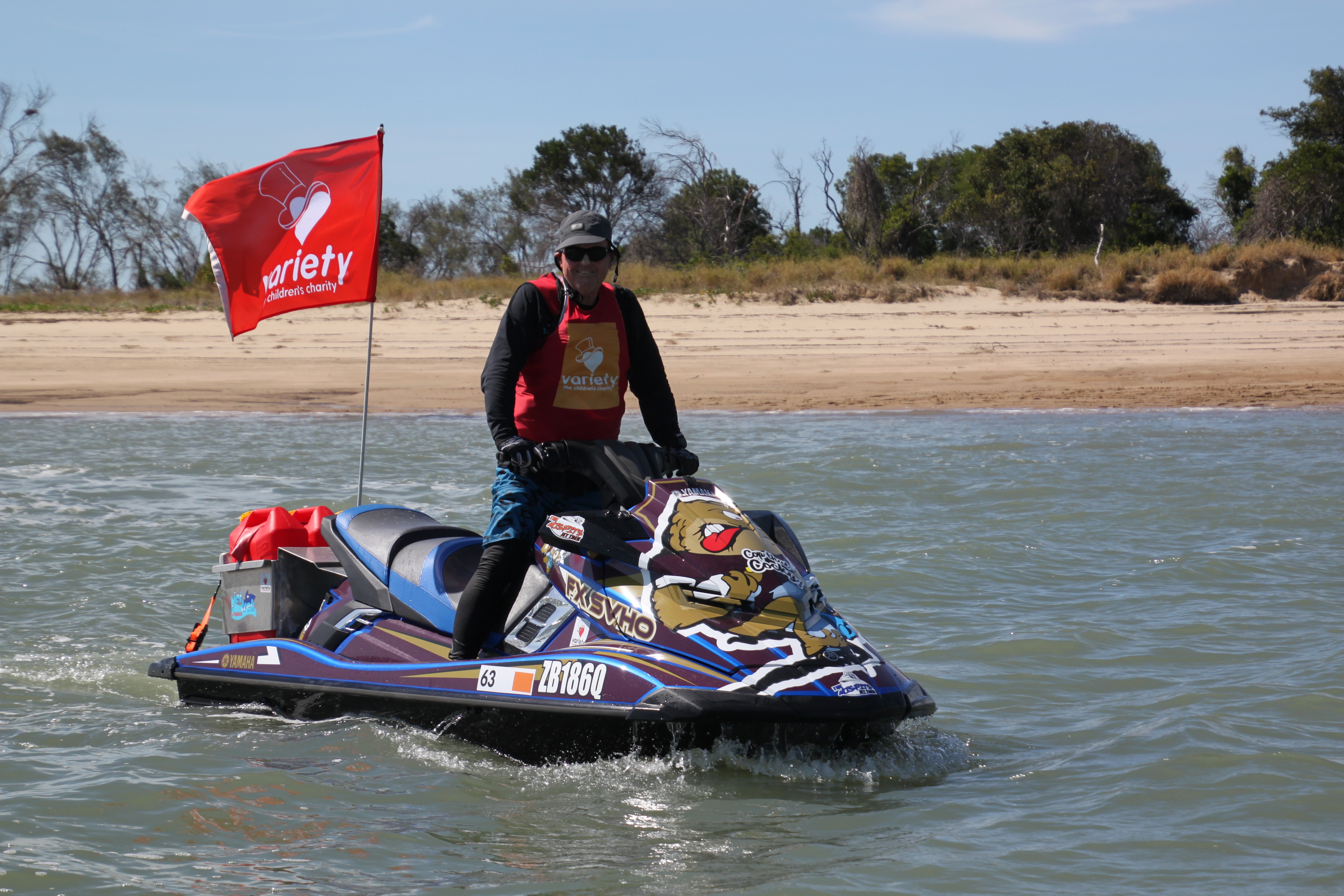 The iconic Yamaha Variety Jet Trek is Australia's largest and most successful charity personal watercraft (PWC) event, taking place annually for the last 21 years. It's an adrenaline-packed adventure, travelling via some of the most amazing coastline and scenery Australia has to offer. Since inception, Trekkers have raised over $2.3 million to give more Aussie kids a fair go.
You'll experience an action-packed and fun-fuelled week as you take in sensational scenery and meet the kids and families you're helping. You'll get to see the direct impact of your fundraising efforts along the way, with a range of educational, health and mobility equipment provided to children, schools and organisations in local communities.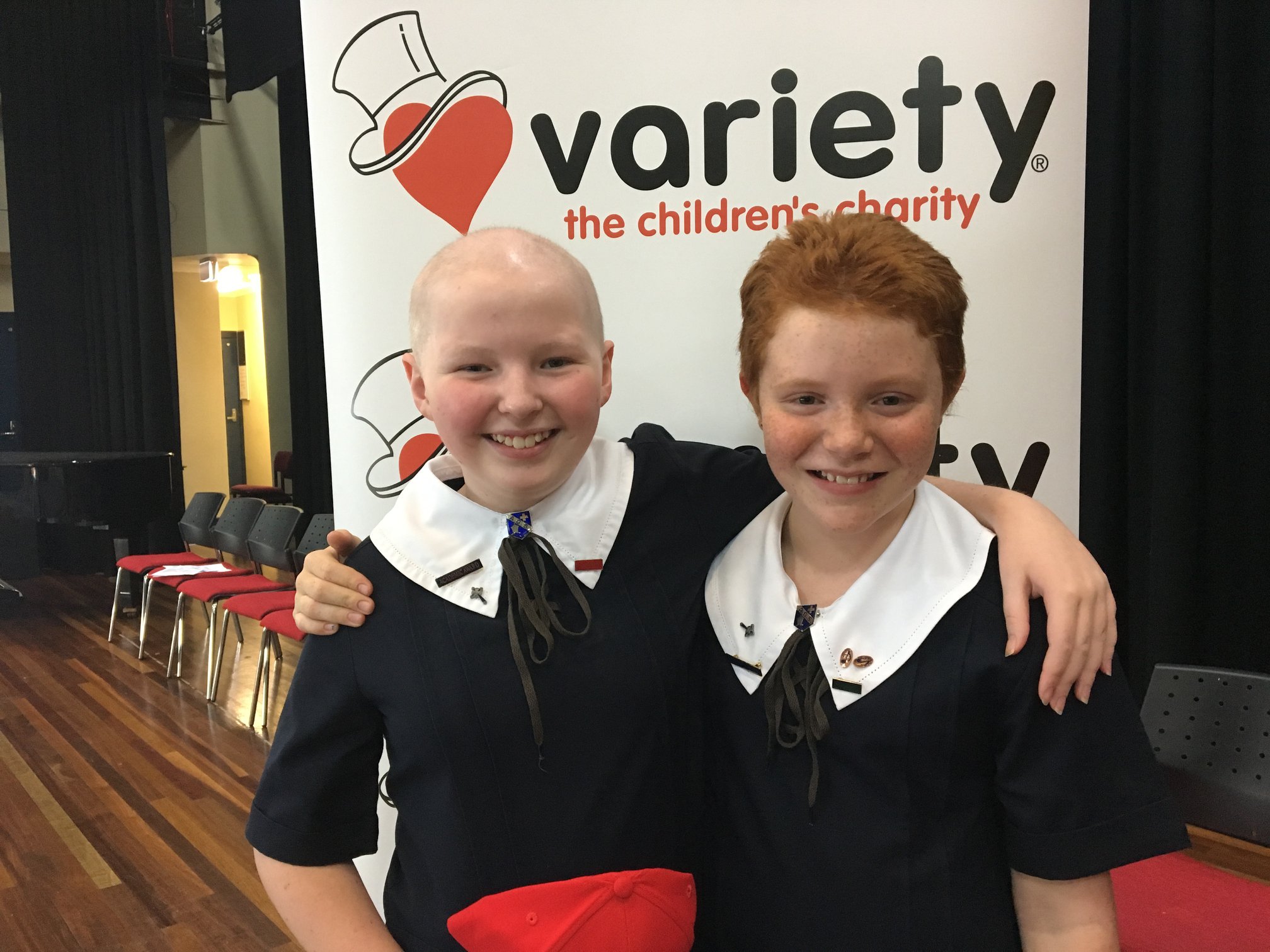 Every day, Variety receives requests for assistance from families who are doing it tough. The money you raise through the Variety Bash will directly help children who are sick, disadvantaged and who have special needs by way of goods and services.
In the last year, we've been able to provide $1.2 million in grants of equipment, services and scholarships throughout Queensland thanks to your fundraising. Every dollar you raise is used immediately to help Aussie kids have a fair go.
Every $1,000 you raise can help a child who is non-verbal to communicate with iPad assistive software.
Every $5,000 you raise can help a disadvantaged child follow their dreams with a scholarship in the arts, sport or education.
Every $10,000 you raise can provide wheelchair accessible vehicle modifications to help safely transport a child with special needs in their family car.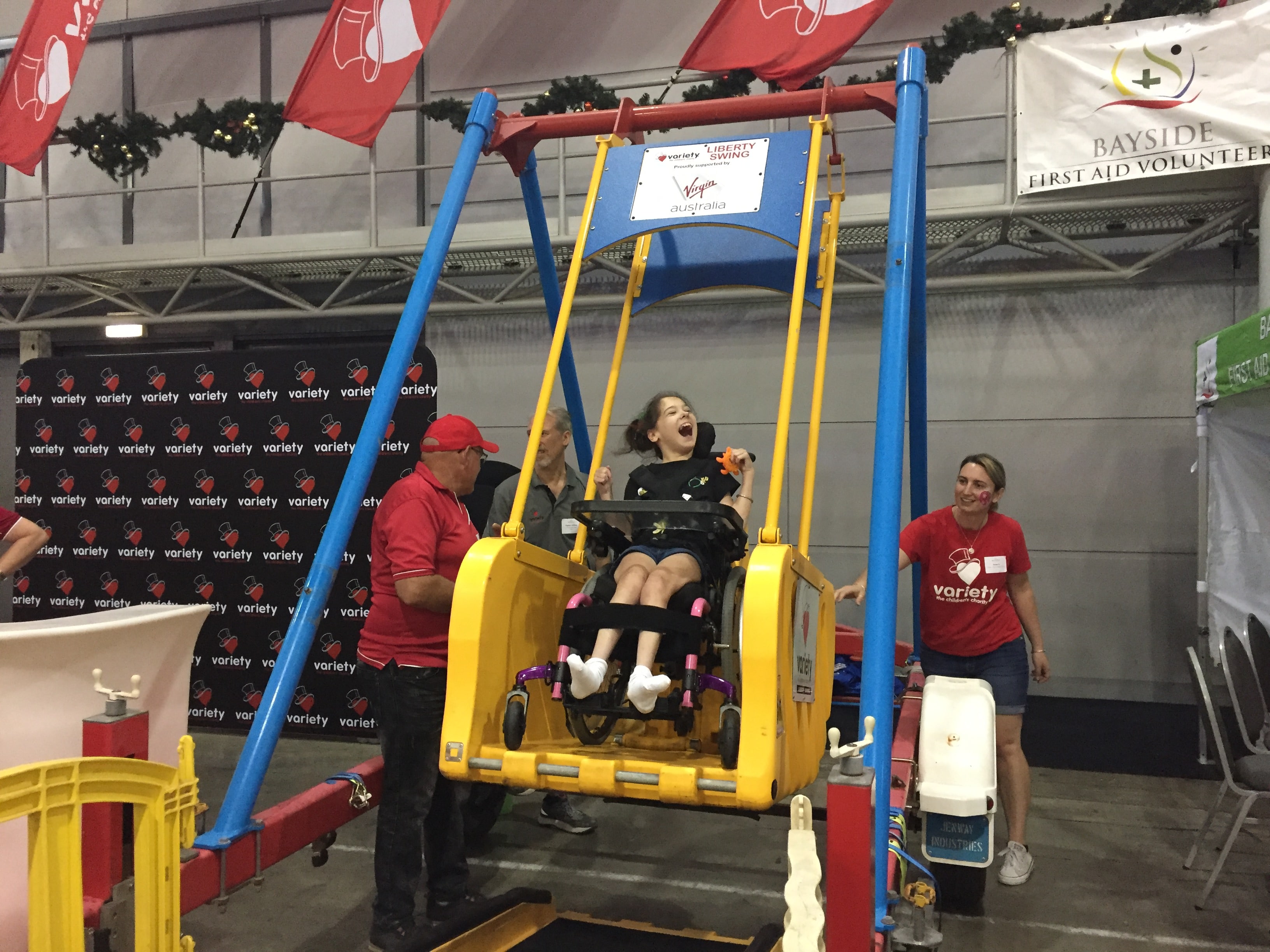 How 
YOU 

help kids in need!

There's something that makes the Yamaha Variety Jet Trek Queensland so special – by taking part you are directly changing the lives of children who are sick, disadvantaged or have special needs – and YOU get to see where your fundraising dollars go. By giving practical equipment and experiences, Variety enables children to overcome the obstacles they face, and help kids be kids. But we can't do it without you – the funds you raise will help us help QLD kids in need!
We're Here to Help!
We can provide plenty of ideas, tips and hints to make your fundraising as effective as possible.
To start with download the Fundraising Guide which is full of information to get you started.
If you have any further questions don't hesitate to reach out to our friendly team on 07 3907 9300 or email our Community Fundraising Coordinator Melissa, at [email protected]
What are High Flyers?
Who are High Flyers?
The Yamaha Variety Jet Trek High Flyers Club is made up of teams who, when given a goal, will blow right past it. It's not about the minimum with these guys. They are the Jet Trek's highest performing fundraisers who have shown huge commitment to raising as much as possible to help Aussie kids in need.
The Jet Trek High Flyers Club is about giving back to these determined fundraisers in a big way and giving them the recognition they deserve.
How to Get The High Flyers Treatment
It doesn't matter how many people you have on your team. When you commit to going above and beyond in your fundraising, you'll receive some incredible perks including features on our website and Facebook page, as well as really cool recognition on the Adventure.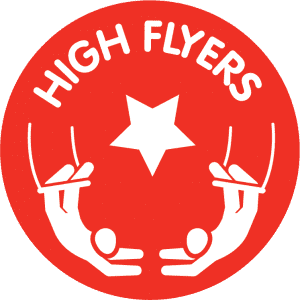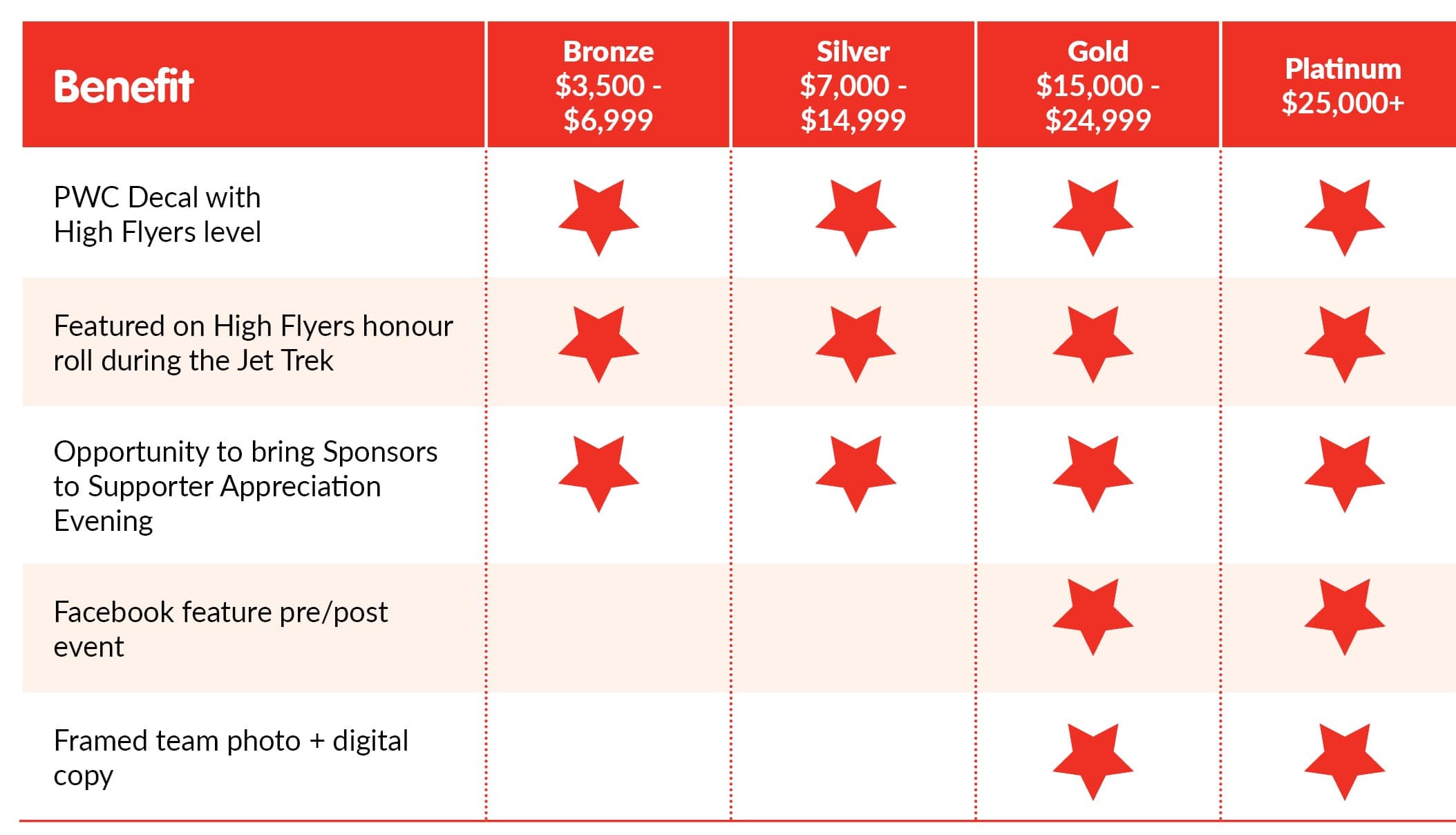 Below you will find a collection of "How to Guides" to help you with any fundraisers you may be planning, if you need any more help please be sure to get in touch
SUPPORTER APPRECIATION CERTIFICATE
Say thank you to your sponsors with a personalised certificate
Click here to edit and print your certificate 
EMAIL SIGNATURES
(Right-Click and save image to your computer)

FACEBOOK POST IMAGE
When you are posting to Facebook about your support of Variety, the Children's Charity, you can use this image for best results. (Right-Click and save image to your computer)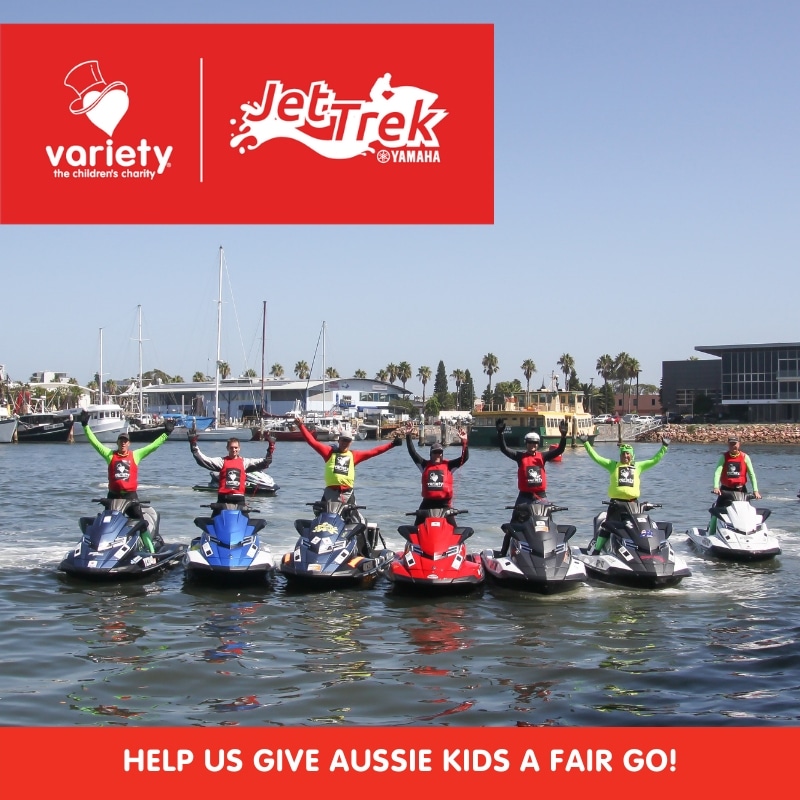 SOCIAL MEDIA FRAME
You can download this and add it as a frame to one of your own images  (Right-Click and save image to your computer)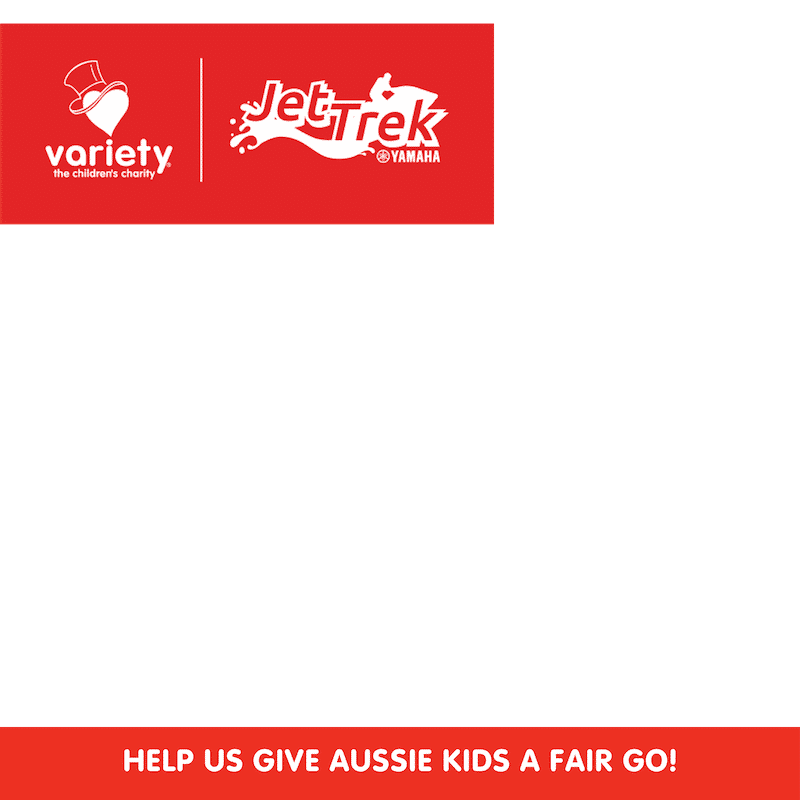 The Yamaha Variety Jet Trek has grown substantially over the past 5 years and, due to permit conditions, we are restricted to the overall number of PWC able to attend our event.
Due to demand we decided to run a second Variety Jet Trek event for those who missed out on a place on the first Jet Trek event.
Absolutely, we'd love to have you on both events! You would just need to pay the entry fee and meet the minimum fundraising requirements for both events.
The Yamaha Variety Jet Trek runs over the course of 7 days including our pre-event registration and scrutineering plus a lay day in the middle.
The overall on-water distance travelled in 2019 is approximately 800km.
Entry Fee – payable per PWC – $99 Early Bird until April 7th and $165 thereafter
Provisions Levy – payable per person (riders and road crews) – approximately $800 per person
Accommodation – costs vary greatly depending on whether you're happy to share rooms with friends and how many are sharing.
Fuel – You'll need to cover all costs associated with fuel for your vehicle and PWC
Drinks – Drinks are not covered in your provisions levy with the exception of a beverage package at our final night dinner.
Minimum Fundraising – Each PWC will need to meet a minimum fundraising target of $2,500. We encourage you to seek donations or sponsorship from friends, family, colleagues and other contacts. We have a fundraising team available in the Variety office to assist you with tips, tricks and resources and many participants raise in excess of $3,600 as a result of this support.
No, unfortunately our permits and insurance requirements dictate all Personal Watercraft (PWC) must be sit-down style and of a 2008 model or later.
We may be able to grant exemption in some circumstances however the PWC must be of sit-down style, well maintained, sea-worthy and not a 2-stroke model.
You would need to send make, model, year, and number of hours to [email protected] requesting the exemption and be prepared to bring a letter from a certified mechanic stating that they agree the PWC would be capable of riding 600-800 kilometres in open water conditions without any foreseeable issues.
Yes! Because the event starts and finishes in a different location each day, you'll need to make sure you have at least one person with a current, valid, driver's licence to drive your vehicle from the morning boat ramp to our lunch stop and then to the afternoon boat ramp. PWC are not left in the water overnight and may need to be removed from the water to refuel throughout the day.
Yes, unfortunately Variety doesn't have any affiliation with PWC hire operators. If you're in the market to purchase a new PWC we encourage speaking to your nearest Yamaha dealer and mentioning the Yamaha Variety Jet Trek.
The team of Officials involved in the Variety Jet Trek events is made up of Variety Staff and Volunteers including:
• Medics
• Mechanical support
• Trained search & rescue personnel
• Boat ramp crews
• Media/photography
The Yamaha Variety Jet Trek has been running for 21 years and has covered in excess of 15,000km of water in this time. The Variety Queensland operations team has over 50 years event experience.
Check out this short video for more information on the support available to participants: https://youtu.be/6NUkU0biBDE
.
Variety arranges the bulk of your meals for the duration of the Variety Jet Trek event and these costs are covered in your provisions levy. We do not cater breakfasts as we've found most participants prefer not to eat a big breakfast before getting in the water. You will need to arrange your own breakfasts. A full list of the provisions levy inclusions will be provided as the event gets a little closer.
Variety arranges group room blocks/holds on accommodation at various venues throughout each of our overnight locations. All accommodation options are loaded into an online booking page where you can book for every night of the event all in the one booking system through Variety Queensland. You will need to pay for your accommodation at the time of booking through Variety to secure the discounted group rates.
Check out the Jet Trek Event Handbook here