2019 ARB Variety 4WD Adventure
If you're keen to take your 4WD off road and travel to some of Australia's most beautiful and remote places, then join us for the ARB Variety 4WD Adventure and you won't go alone!
$330,000 Raised in 2018
The ARB Variety 4WD Adventure is a 15 day trip taking 4WD vehicles and their drivers, of all levels, off the bitumen and onto challenging, yet fun, dirt roads and tracks. When you sign up you'll also become a hero to Aussie kids, by raising much needed funds to empower children who are sick, disadvantaged or have special needs.
The next ARB Variety 4WD Adventure will be held 18 June 2019 – 2 July 2019 travelling from Mission Beach to Darwin via Arnhem Land.
Experience one of Australia's last true wilderness areas the Variety way – with great mates, entertainment, incredible food and tackling some of Australia's best 4WD tracks – all whilst raising funds for Aussie kids in need. On your journey from the Queensland coastline across to Darwin, you'll travel via Arnhem Land, one of the Top End's most spectacular natural destinations. You'll soak in beautiful scenery from rugged coastlines, to rainforest, towering escarpments and savannah woodland.
Throughout the ARB Variety 4WD Adventure, you'll visit local towns and communities, stopping into schools and organisations along the way to meet just some of the kids you're helping!
PROUDLY SPONSORED BY ARB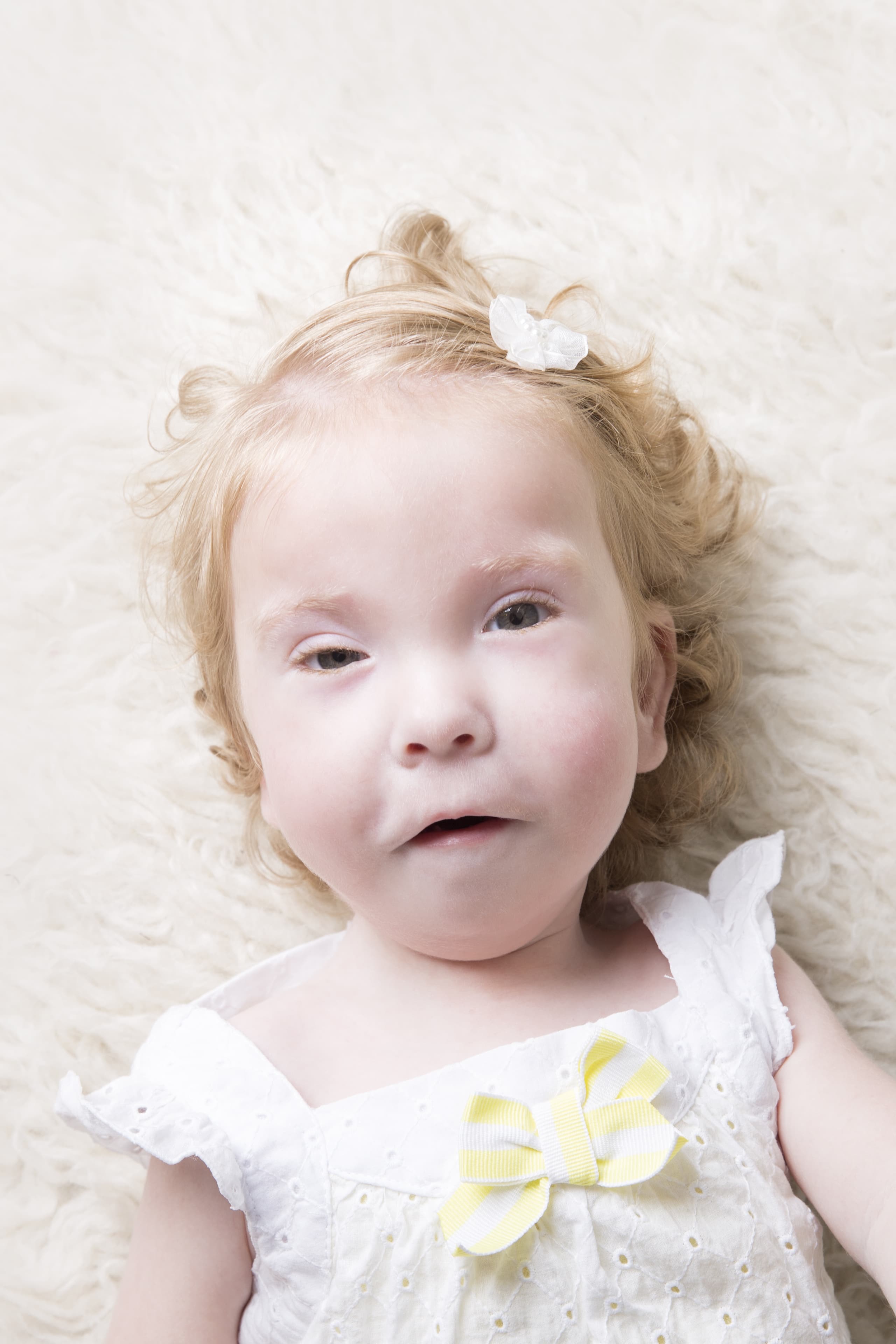 Every day, Variety receives requests for assistance from families who are doing it tough. The money you raise through the Variety Bash will directly help children who are sick, disadvantaged and who have special needs by way of goods and services.
In the last year, we've been able to provide $1.2 million in grants of equipment, services and scholarships throughout Queensland thanks to your fundraising. Every dollar you raise is used immediately to help Aussie kids have a fair go.
Every $1,000 you raise can help a child who is non-verbal to communicate with iPad assistive software.
Every $5,000 you raise can help a disadvantaged child follow their dreams with a scholarship in the arts, sport or education.
Every $10,000 you raise can provide wheelchair accessible vehicle modifications to help safely transport a child with special needs in their family car.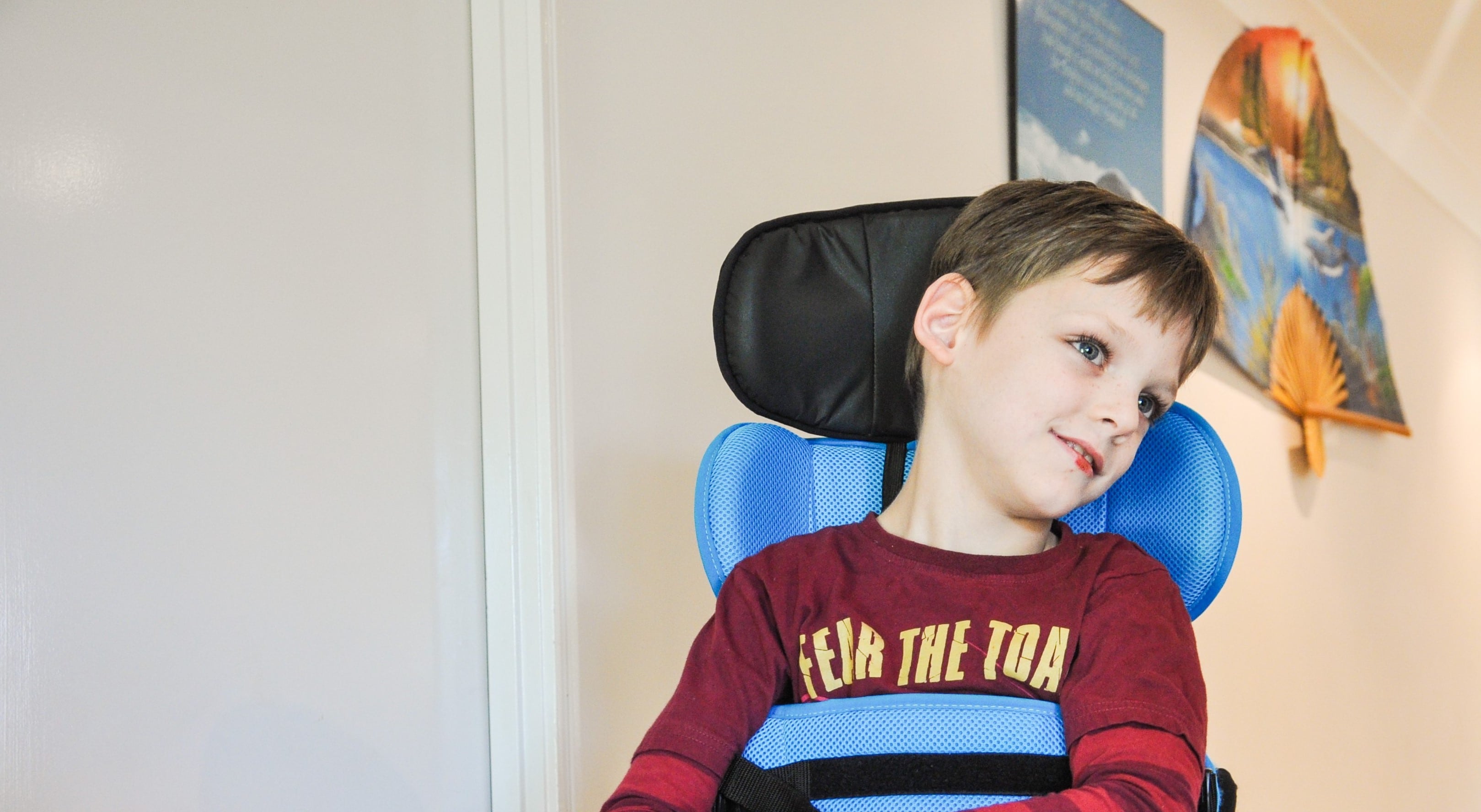 How 
YOU 

help kids in need!

There's something that makes the ARB Variety 4WD Adventure so special – by taking part you are directly changing the lives of children who are sick, disadvantaged or have special needs – and YOU get to see where your fundraising dollars go. By giving practical equipment and experiences, Variety enables children to overcome the obstacles they face, and help kids be kids. But we can't do it without you – the funds you raise will help us help QLD kids in need!
We're Here to Help!
We can provide plenty of ideas, tips and hints to make your fundraising as effective as possible.
To start with download the Fundraising Guide which is full of information to get you started.
If you have any further questions don't hesitate to reach out to our friendly team on 07 3907 9300 or email our Community Fundraising Coordinator Melissa, at melissa.mcmahon@varietyqld.org.au
What are High Flyers?
Who are High Flyers?
The ARB Variety 4WD Adventure High Flyers Club is made up of teams who, when given a goal, will blow right past it. It's not about the minimum with these guys. They are the 4WD Adventure's highest performing fundraisers who have shown huge commitment to raising as much as possible to help Aussie kids in need.
The 4WD Adventure High Flyers Club is about giving back to these determined fundraisers in a big way and giving them the recognition they deserve.
How to Get The High Flyers Treatment
It doesn't matter how many people you have on your team. When you commit to going above and beyond in your fundraising, you'll receive some incredible perks including features on our website and Facebook page, as well as really cool recognition on the Adventure.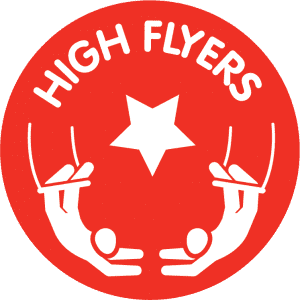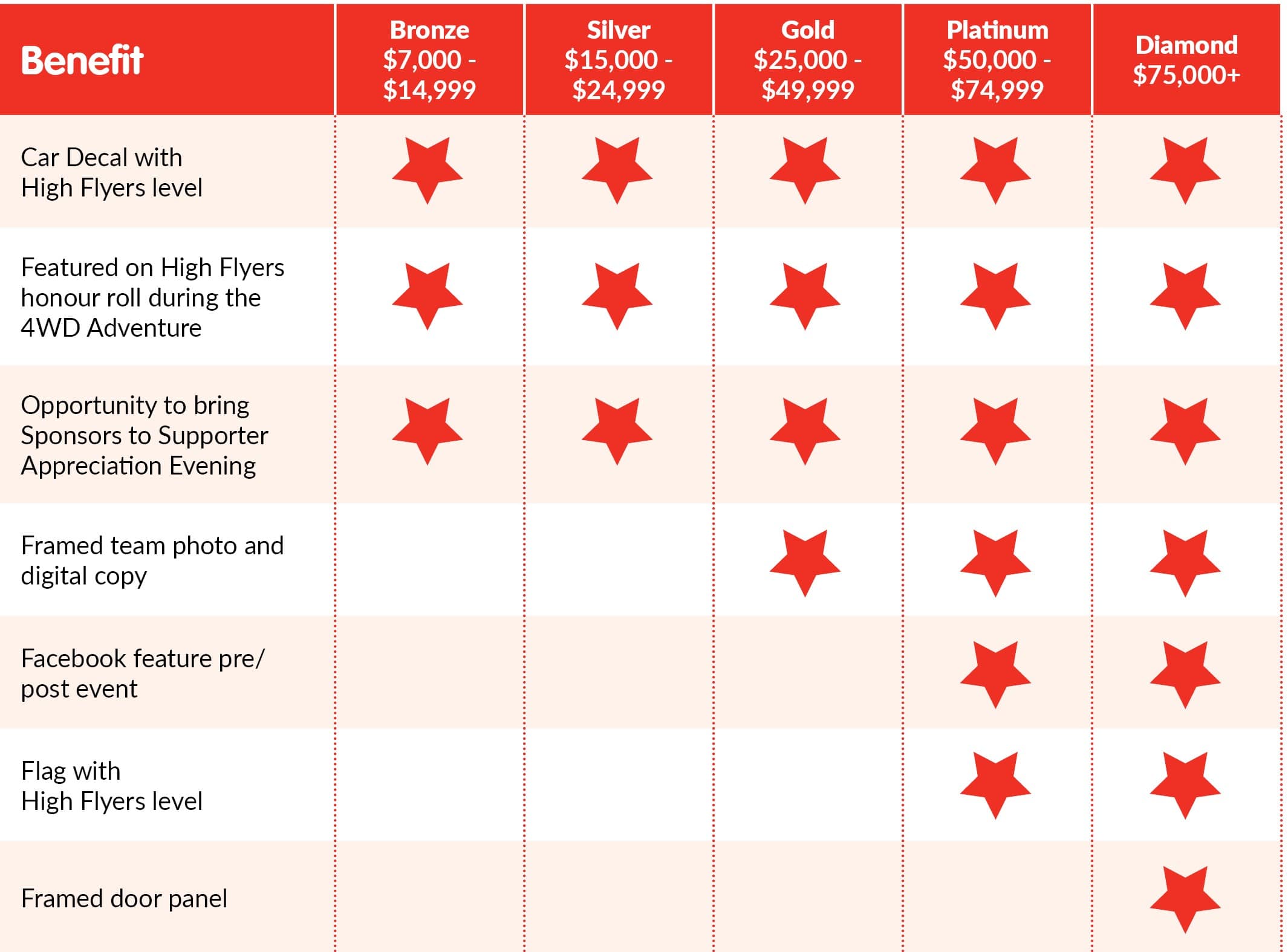 Below you will find a collection of "How to Guides" to help you with any fundraisers you may be planning, if you need any more help please be sure to get in touch
SUPPORTER APPRECIATION CERTIFICATE
Say thank you to your sponsors with a personalised certificate
Click here to edit and print your certificate 
EMAIL SIGNATURES
(Right-Click and save image to your computer)

FACEBOOK POST IMAGE
When you are posting to Facebook about your support of Variety, the Children's Charity, you can use this image for best results. (Right-Click and save image to your computer)
SOCIAL MEDIA FRAME
You can download this and add it as a frame to one of your own images  (Right-Click and save image to your computer)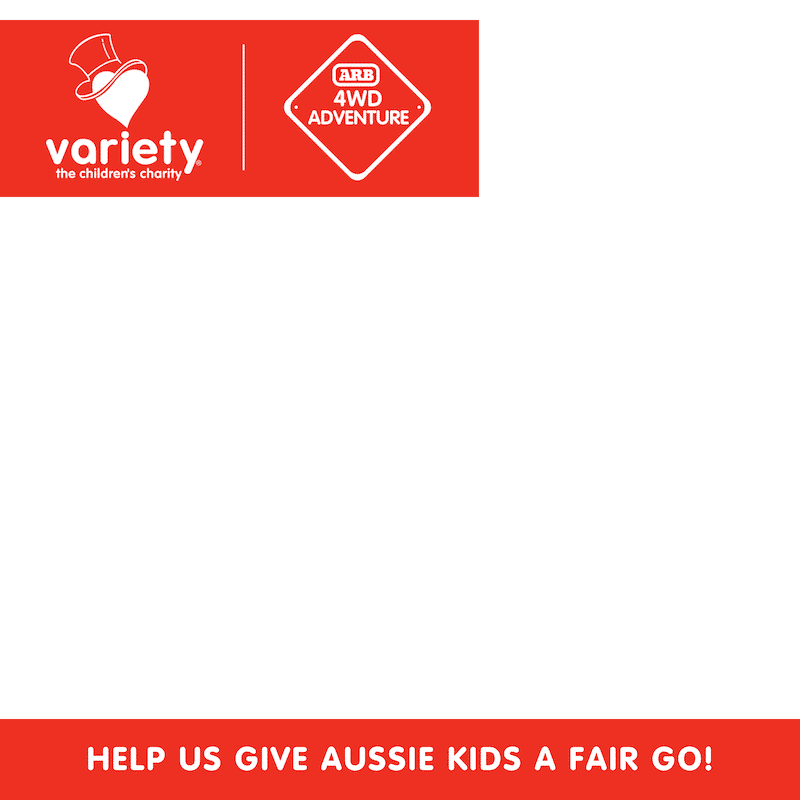 SPONSORSHIP LETTER TEMPLATE
You can download this and personalise it to send to your potential sponsors  (Click on the image below to edit PDF.  Please note, formatting will not work in Internet Explorer or Microsoft Edge. If you are using these browsers, please download the PDF first and then open in Adobe Acrobat or Google Chrome.)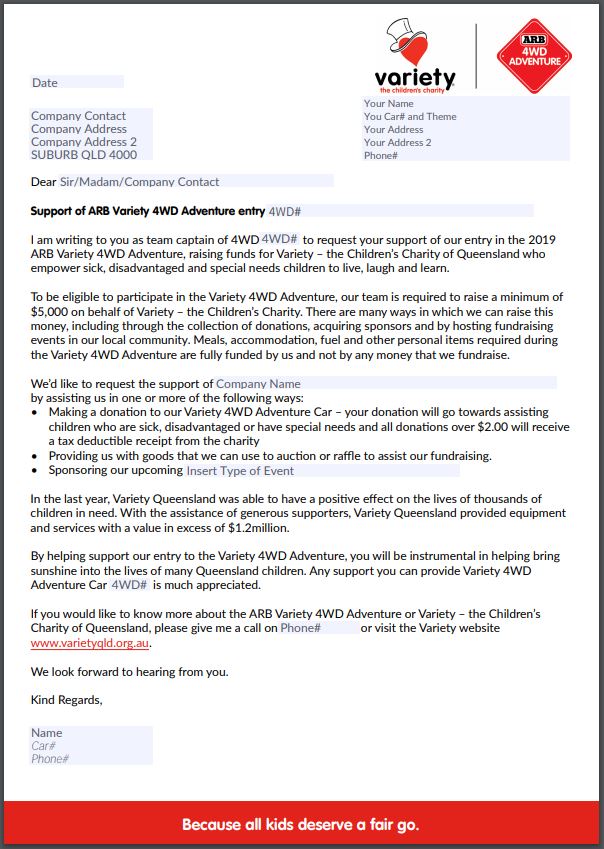 It's all part of the fun and the adventure so time to get those creative juices flowing ready for the 2019 theme nights!
Night 2 – Cobbold Gorge Resort – WILD WEST NIGHT
While we're in the North QLD outback, it's only fitting that we bring out the cowboy hats and boots for a wild night in Cobbold Gorge.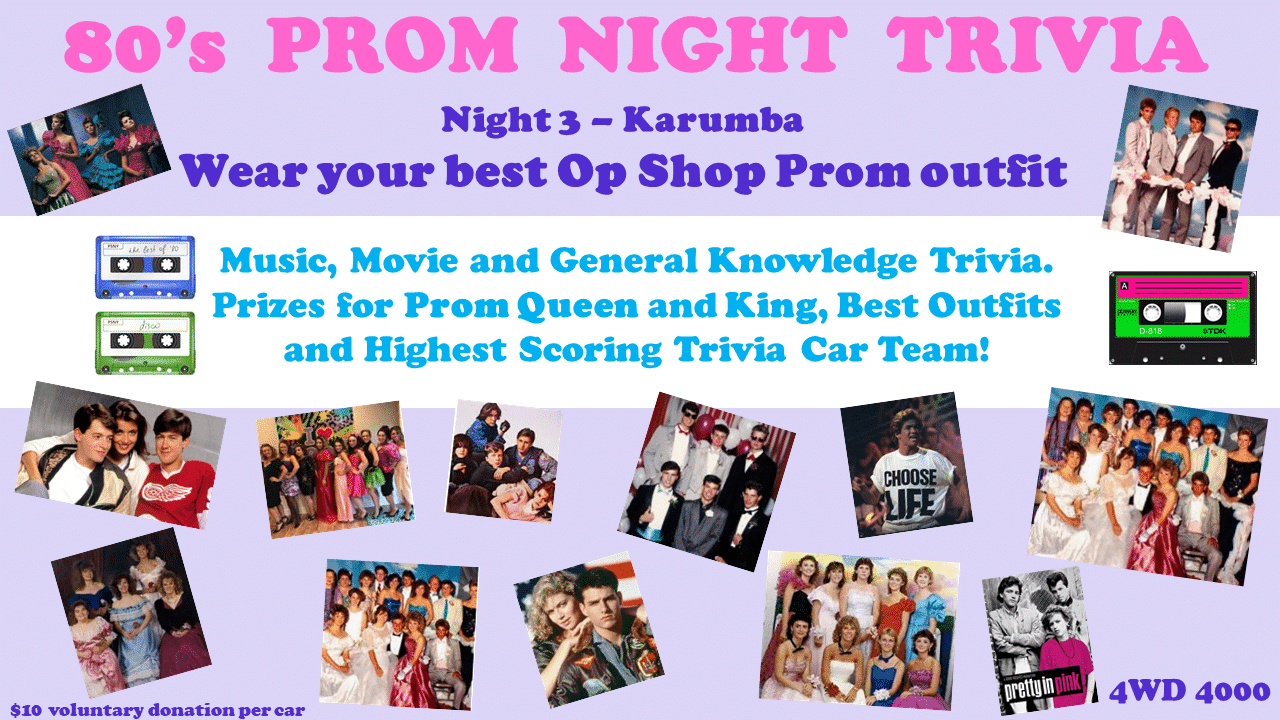 Night 3 – Karumba – 80'S PROM NIGHT TRIVIA
Music, movie and general knowledge trivia, hosted by 4WD 4000, with prizes for prom Queen and King, best outfits and highest scoring trivia team. Team 4000 have kindly asked that you bring a $10 donation per 4WD Team to participate!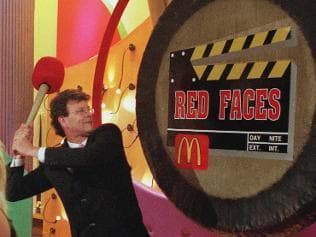 Night 5 – Lorella Springs – RED FACES NIGHT
We know you all have hidden talents. Tonight is your chance to shine, take the spotlight and dazzle us with your flair.  BYO Props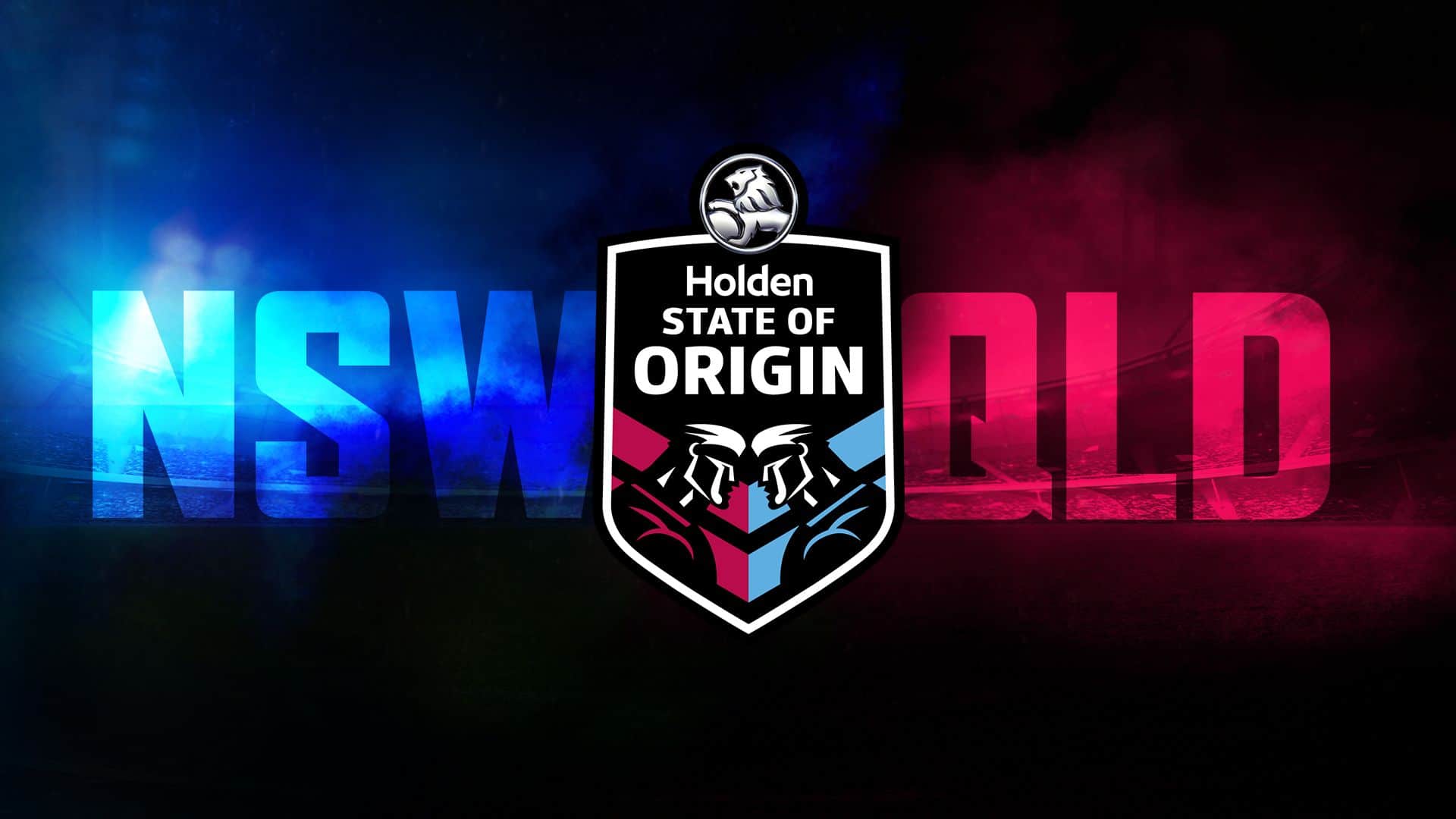 Night 6 – Lorella Springs – STATE OF ORIGIN GAME II
This is not an official theme night however we thought it was important to let you know that the game will be on and it would be great to see your team colours!
Night 7 – Mataranka – NEON NIGHT
Crack a glow-stick and pull out your boldest neon outfit for a bright night in the top end of the Northern Territory.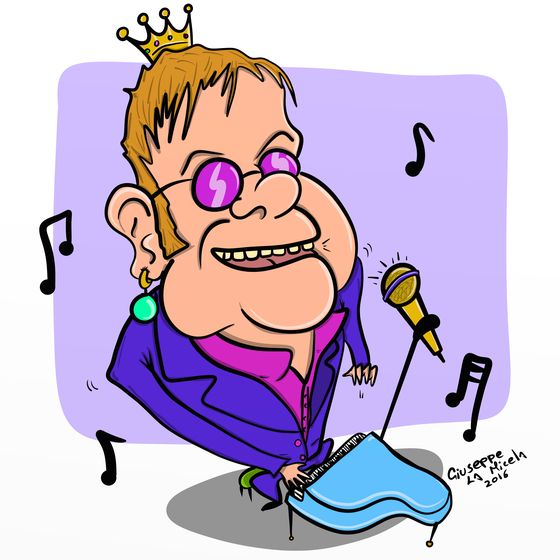 Night 13 – Katherine – CROCODILE ROCK NIGHT
Ever wanted to dress up as a rock legend or maybe a crocodile? This one's open to the imagination and we can't wait to see what you come up with for this rocking night in Katherine!
We hope you have had the chance to chat to your fellow Adventurers and discuss spreading the load between a few cars so not everyone is bringing the same thing.
Below is a reminder of what meals are self-catered, it is encouraged to have some sort of gas stove available (whether you carry it or organise to cook on a mates stove) as it will be easier and more reliable than a fire.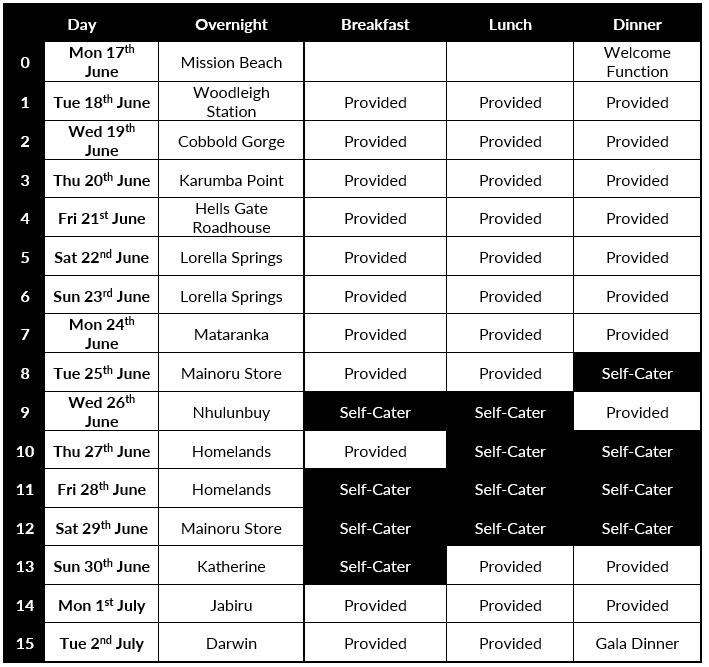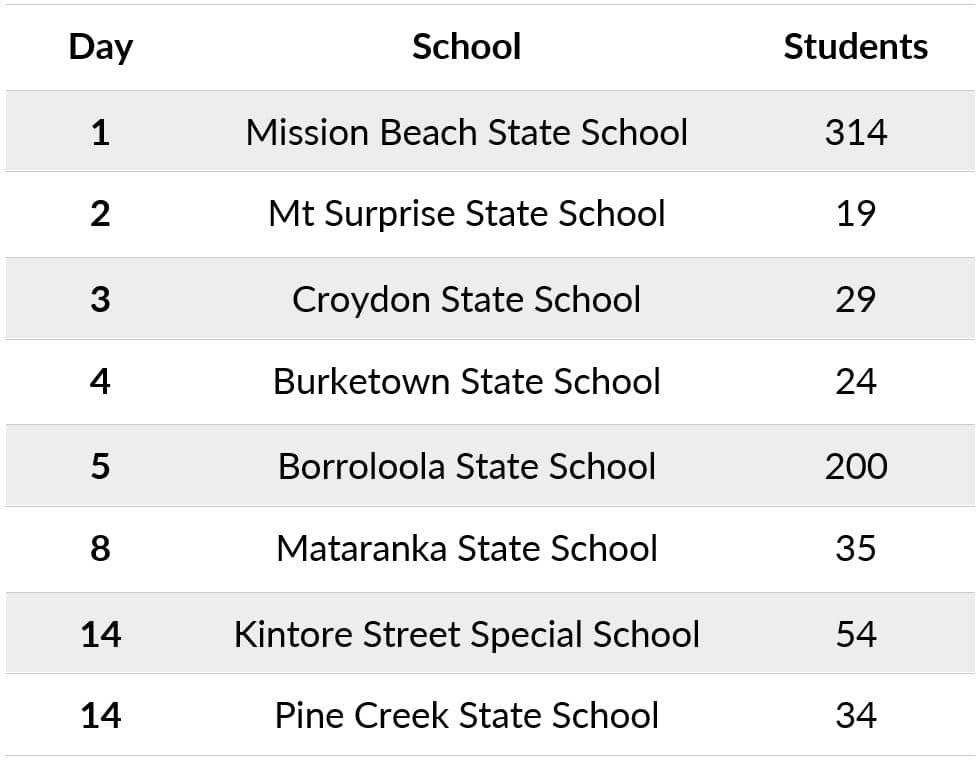 Picnic blanket or camp chairs – we have several scenic lunch stops that are perfect for a picnic
Jumper – days are likely to average 28 degrees however the nights could cool off to a low of 14 degrees.
Cooking Gear – such as gas, stove, BBQ, plates, fry pans, cups, utensils etc.  (could be shared amongst multiple vehicles)
Spare parts for your vehicle – common requirements are air filters, fuel filters, radiator hoses & fan belts
Swimming gear – towels, sunscreen & dustpan brushes to keep the sand or dirt out of your vehicle
Spare batteries – these will come in handy for torches on the nights you're camping
Small tarp – it's better than laying on the dirt in case you have to get under your vehicle
Phone & charger – your phone will be the easiest way to capture the adventure and you don't want it to go flat
Goodies for the kids – we have several school visits throughout the 15 days, the schools list is provided in this newsletter
Theme night costumes – you'll definitely need these, and it might be hard to find a costume shop along the way
MISSION BEACH:
Registration & Scrutineering
When?
Sunday 16th June, 2:00pm – 4:00pm
Monday 17th June 10:00am – 2:00pm
Where? Castaways Resort, The Palms Event Centre, 2 Pacific Parade, Mission Beach QLD 4852
If you haven't done so already, download the scrutineering form  and confirm you have all the mandatory requirements on your 4WD.
Virgin Participants Briefing
If you're new to the ARB Variety 4WD Adventure, this one is for you!
When? Monday 17th June, 4:00pm
Where? Castaways Resort, The Palms Event Centre, 2 Pacific Parade, Mission Beach QLD 4852
Meet up with the Variety team and fellow Adventurers for a pre-event briefing. You'll be introduced to the officials, briefed about safety and anything you may expect over the 15 days. If you have any questions, this will be the time to ask!
Officials Briefing
When? Sunday 16th June, 4:30pm
Where? The Palms Event Centre, 2 Pacific Parade, Mission Beach QLD 4852
For all officials on the 4WD Adventure this year, we ask that you please attend a quick session on Sunday afternoon. This will be an opportunity to have a catch up and go over the expectations for the trip
Welcome Function
When? Monday 17th June, 6:30pm
Where? The Marquee, 2 Pacific Parade, Mission Beach QLD 4852
The official welcome of the 2019 ARB Variety 4WD Adventure is on Monday night. It will be a chance for you to meet your mentors or mentees if you haven't done so already, catch up with old friends or meet your future best friends.
DARWIN
Final Gala Function & Accomodation
When? Tuesday, 2nd July, 6:30 pm
Where? Grand Ballroom, DoubleTree by Hilton, 116 The Esplanade, Darwin NT 0800
Parking? Enter carpark at 112 The Esplanade, Darwin
Top off your epic 15 day Adventure and celebrate the final night, alongside your fellow Adventurers, with a gala.