Variety of Chefs Brisbane

Variety of Chefs will showcase guests an exclusive culinary experience with a decadent four course menu and premium wines to match.
It's more than just a dining event, it's an experience!
A formal and elegant gala dinner incorporating four talented Australian culinary greats donating their time for Variety and preparing the exquisite bespoke courses that will take your taste buds on a journey around the abundant regions of Queensland.
Each course is matched with its own carefully selected premium wine, making the whole night a culinary delight not to be missed.
Buy Tickets
Meet The Chefs

Canapes by
Sean Cummings

– Executive Chef, Royal International Convention Centre, Brisbane QLD
The Royal ICC's internationally experienced Executive Chef, Sean Cummings, has been with the venue since it opened in March 2013. Sean was formerly Executive Chef at the Park Hyatt Melbourne and before that worked under Harvey Nichols at the prestigious Oxo Tower Restaurant in London.
Driven by the region's quality local produce, Sean and his team create seasonal menus that feature award-winning ingredients.

Entree

by Nick Holloway – Head Chef & Co-Owner, Nu Nu Restaurant, Palm Cove QLD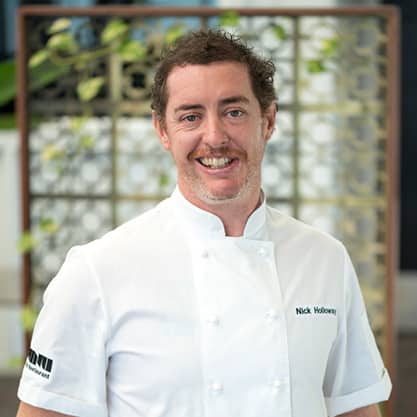 Nick Holloway leads a young, energetic and passionate team of chefs who are dedicated to showcasing the best produce our region has to offer in both new and innovative ways.
Nick's recognised talents have seen him featured as a guest presenter at many high profile events including the Noosa Food and Wine Festival, Delectable Queensland, Brisbane Masterclass along with The Melbourne Food and Wine Festival to name a few. His culinary passion, creative dishes and engaging stories captivate audiences.
Nick was also featured as a guest chef in 2015 and 2016 series of Masterchef.
Main

by

Richard Ousby

– Executive Chef, Stokehouse Restaurants QLD & VIC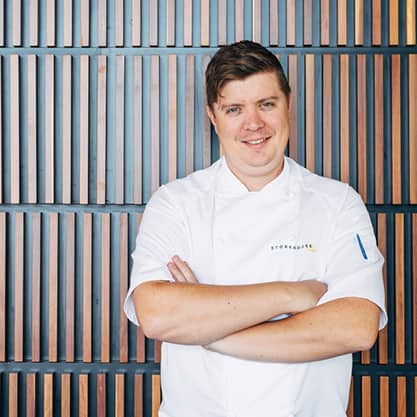 At just 33 years of age, Richard Ousby already has several major awards under his belt. In 2012 Richard took out the title of the San Pellegrino & Acqua Panna Young Chef of the Year, winning out over a high calibre of contestants from across the globe, at the competition held in Venice. Prior to this, he was also named the 2011 Electrolux Australian Young Chef of the Year.
Richard joined Stokehouse Q in late 2012, where he became head chef in early 2013 and quickly rose to the top rank of executive chef for Stokehouse restaurants in 2015.
With the Stokehouse St. Kilda rebuild now complete, Richard splits his time between both Melbourne and Brisbane overseeing both venues.

Main

by

Ben Williamson

– Head Chef, Gerard's Bistro, Brisbane QLD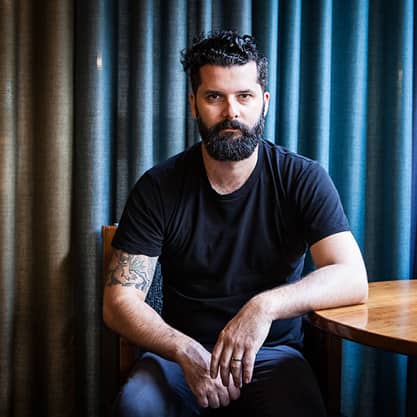 Finding his way through restaurants across Perth, Sydney, Bahrain and Brisbane, Chef Ben Williamson is no stranger to travel and immersing himself in the cultural delights that inspire the culinary traditions and great cuisines of the world.  From completing his apprenticeship in Perth and relocating to Sydney, the turning point in his young career was accepting a role with Gulf Air to create and deliver the in-flight menu for first class passengers. Based in Bahrain, the role with Gulf Air gave Ben the rare opportunity to broaden his horizons and explore the fundamental passion and spirit Middle Eastern cultures share, resulting in fantastic food and culinary creativity.
Through Ben's dedication and culinary vision, Gerard's Bistro has received multiple accolades and notable mentions including The Gourmet Traveller and The Weekend Australian's Hot 50. Ben has personally been nominated on several occasions through different industry awards for Chef of the Year and has appeared as a guest chef challenger on Master Chef Australia. This year, Ben was awarded Chef of the Year in the 2017 Queensland Good Food Guide and Gerard's Bistro picked up it's second chef's hat.

Dessert

by

Cameron Matthews

– Executive Chef, The Long Apron Restaurant, Spicers Clovelly Estate, Montville QLD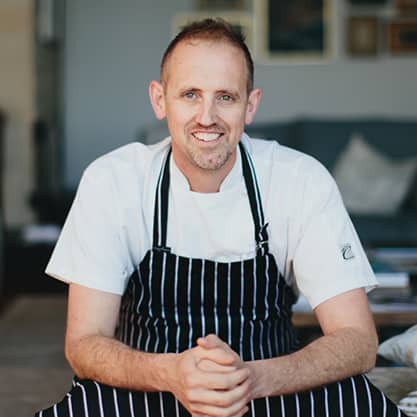 The force behind culinary experiences at Spicers Retreats and The Long Apron Restaurant, Cameron is acknowledged as a leading industry figure who is a devotee of supporting local and dynamic producers.  He has gained a host of awards over his career, and is regularly invited to present at a number of internationally recognised food festivals and major charity events.
Cameron shares his valuable time and experience by mentoring the Executive Chefs at all Spicers Retreats who in 2016 have accumulated the dining accolades of '7 Hats'.
Cameron has held the positions of Executive Chef de Cuisine of Brisbane's iconic Siggi's Restaurant, and Executive Chef of Restaurant Lurleen's at Sirromet Winery – which received the honour of being voted both 'Best Tourism Restaurant' and 'Best Winery Restaurant in Australia' by the Restaurant and Catering Association under his leadership.
Cameron has also been dedicated to research, development and implementation of sustainable and environmental practices within The Long Apron and other high-end restaurants and in November was awarded a prestigious 2016 Churchill Fellowship. In pursuit of furthering his knowledge, Cameron will take residence this year in and study at a targeted range of quality restaurants in Spain, USA, Denmark and the UK who currently excel in sustainable best-practice.