Greg Klease Awarded 2022 Variety International Presidential Citation
With the sun newly risen, Greg Klease's feet hit the skinny strip of bitumen as he observed the now all too familiar black soil that stretched out on either side of the road. In September, between 1985 and 1990, Greg and a group of ten to twelve others would hike the same 50km stretch of road from Capella to Emerald. Only, during this journey, they would push an old cast iron hospital bed on bicycle wheels to raise funds for The Leukemia Foundation. Along the road, as people were approaching, Greg and the others would turn the hospital bed sideways to halt traffic, requesting donations from those who passed.
On one particular day, Greg remembers a little girl being brought out to join them. She sat on the hospital trolley as the team pushed the last 5km of the journey, rolling along Emerald Downs Hill. Greg reflected on his conversation with the girl, noting that she'd said, "Gee, it's fun having a ride on your hospital bed." "Tomorrow…", she'd continued, "Mummy, Daddy, and I are off to Brisbane, and I'm being picked up by the Channel 7 helicopter, and I'm being taken to Dreamworld, SeaWorld, and oh, we're going to have a fun week!" Greg remembers that in his response he'd asked, "Oh, is this a trip that you've won with Mum and Dad, is it? Have you won this?"
"Oh, no, no, no", she had replied. "I'm dying from Leukemia. I'll be dead in six weeks' time." And six weeks later she did, tragically, pass away. That conversation stopped Greg in his tracks. He says that at the time, as a man in his 30s, owning a Ford dealership, running a successful business, and selling lots of cars, he thought he was "bloody top stuff". But that interaction with the little girl made Greg re-evaluate his focus on life. He says that his mindset switched, and he thought "I can make a difference. Because of my ability to communicate with people and sell motorcars, I can use some of these talents to communicate with people and raise money for children." And that's exactly what he's done.
When he moved to Gladstone in 1990, Greg immediately became involved in helping the community. With a shot-fire licence for legally doing fireworks, Greg says he generated lots of fireworks displays for the community, free of charge. Not only that, but Greg has served twenty years with the Volunteer Marine Rescue, has spent many years as Chairman at the Salvation Army Red Shield Appeal Committee and has been involved in the Boyne Tannum Hook Up Fishing Competition (a not-for-profit organisation that raises money for numerous charities) for twenty years. With fundraising a core element of Greg's outreach, he says his fundraising process is built on a foundation of respect and community, stating, "it's an accumulation of 32 years of friendship and mateship, you know?" One organisation that has held a special place in Greg's heart, which he has made significant contributions to, is Variety, the Children's Charity.
When reflecting on his fundraising experiences and the impact of Variety, Greg says that the largest amount of money he has ever raised in one day is $22,500. This effort began in November 2004 with an article in the Observer newspaper. The headline read, 'Andrew wishes for a new wheelchair' and was about a young boy with brittle bone disease who needed a new motorised wheelchair to enable him to go to high school. Greg says he got a call from the Observer asking if he could help them as they'd only raised $500. Having been brought to tears by reading the article, Greg did not hesitate to help. Early the following day he recorded and aired a segment on the 4CC Breakfast Show with Grant Cooper. After getting the ball rolling by announcing that his dealership, Reef City Ford, would donate $500, calls kept coming in from numerous people wanting to make donations. Greg says that in an hour, they raised $12,500. After the show finished, Greg remembers receiving many calls from people who had also been moved to tears and had been unable to donate in the morning, but still wanted to contribute. At the end of the day, an incredible $22,500 had been raised. Through Variety's help, a new state-of-the-art wheelchair was ordered, with a $3,000 trust account through Variety created for any repairs the wheelchair might need. On top of that, the family's fifteen-year-old Ford Falcon station wagon was replaced with a two-year-old one. That day, Greg says, is one that will always stay with him. It reminds him of "what can happen when you've got a community behind you. And a community that believes in you, and a community that trusts you."
Greg says that with all the fundraising he's accomplished, he sometimes gets asked if he will ever sit down and work out how much money he's raised for children. He says he hasn't, and he never would, noting that for him it's just all about the kids. Greg reflects that every now and again someone will say something that triggers a memory about one of his fundraising events—of which, there has been many. For example, to celebrate Greg's 50th birthday, he hosted a fundraising event that saw $25,000 raised. Variety then matched that amount, which meant a near new bus with a wheelchair lift could be purchased. This bus allowed older adults and children with arthritic problems to be picked up and taken to a heated pool in Gladstone twice a week to help assist with their arthritis. Greg notes that many of the children he and his wife, Leonie, have helped over the years have become like grandchildren to them. For example, four years ago, siblings Hayden and Emily were sponsored by Greg and Leonie for two years' worth of Variety Heart Scholarships. Both Hayden and Emily have autism and received scholarships for drama, acting, and singing. Greg says that he was very impressed by the way that Variety and the scholarship had changed their lives. He explained with obvious pride that these two children had grown significantly in confidence and ability in recent years, writing music and plays and appearing in numerous eisteddfods and stage productions such as Shrek and Hairspray.
With all his outstanding achievements over the last forty years of service, it is no surprise that Greg has been recognised by the community. In 2000, Greg was awarded Citizen of the Year by the Gladstone City Council; in 2002, he was awarded the Centenary Medal by Prime Minister John Howard for services to the community; and in 2005, he was awarded Citizen of the Year by the Calliope Shire. An evidently busy person, Greg says that Leonie, his wife of fifty years, hangs around just to see what will happen next. He laughs, saying that Leonie knows life with him will never be dull.
Another person who knows how time spent with Greg is never dull is friend, and Variety fundraiser, Ron "Hollywood" Pether. Greg says that during his first Variety 4WD Adventure, he asked Ron how he thought he was fitting in with the Variety crew. Ron had laughed and said he thought Greg was fitting in too well and that people felt that he had been here for a hundred years. After the first Adventure was over, Greg says he was disappointed to learn they only occurred every 18 months, noting that he'd wished he could've started another one the next day.
The clicking of the hospital trolley on the bitumen is a sound Greg Klease won't forget anytime soon. Just as he won't forget the memories of a little girl on the trolley. A day that grounded him forever. A day that changed the trajectory of his life. Greg has worked tirelessly to make a positive impact in his community and help those in need. Just like Leonie, we too know that life will never be dull with Greg Klease around. Greg shared that, "Variety suits me down to the ground and Variety suits my passion for what I believe that I want to do for the rest of my life… Whatever time I'm here, until the day I die, I'll keep raising money for Variety."
Well, at Variety, we know a thank you could never be enough to express our sincere gratitude for all the work Greg has done over the last forty years of service so we are proud to announce that Greg is the 2022 recipient of the Variety International Presidential Citation. A rare award that was last year only awarded to eight recipients worldwide.
We can't wait to continue this journey with you, Greg. A journey that will, no doubt, be filled with more skulduggery, more laughs, and more putting smiles on the faces of kids in need.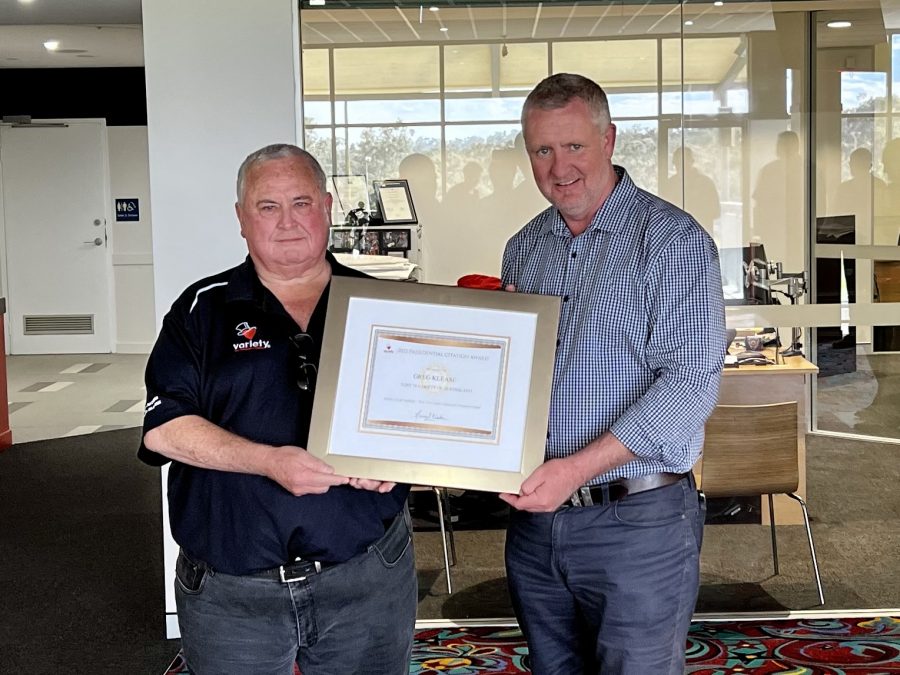 Subscribe and stay updated