4WD EVERYDAY HERO PAGE   4WD CHALLENGE 2018 LAUNCH   ENTRANT INFORMATION   WHY THE 4WD CHALLENGE?   FAQ   ROUTE BREAKDOWN   PAST 4WD EVENTS: RESULTS & GALLERY   4WD NEWS   2017 4WD CHALLENGE RESULTS & GALLERY   EVENT ENQUIRY    4WD REUNION, 2017    4WD CHALLENGE MEDIA CENTRE   4WD CHALLENGE 2018 FLYER
Across the Great Australian Bight
Esperance to Streaky Bay
With the 2017 Variety SA 4WD Challenge officially complete, we are excited to announce the region for next year! The 2018 4WD Challenge will be touring from the iconic white sand beaches of Esperance in Western Australia, to the coastal gem of Streaky Bay in South Australia. A trip you will not want to miss! Get a team together and join in the 2018 Variety SA 4WD Challenge. Special thanks to the events platinum sponsor: Jarvis Toyota

Across the Great Australian Bight:
Esperance to Streaky Bay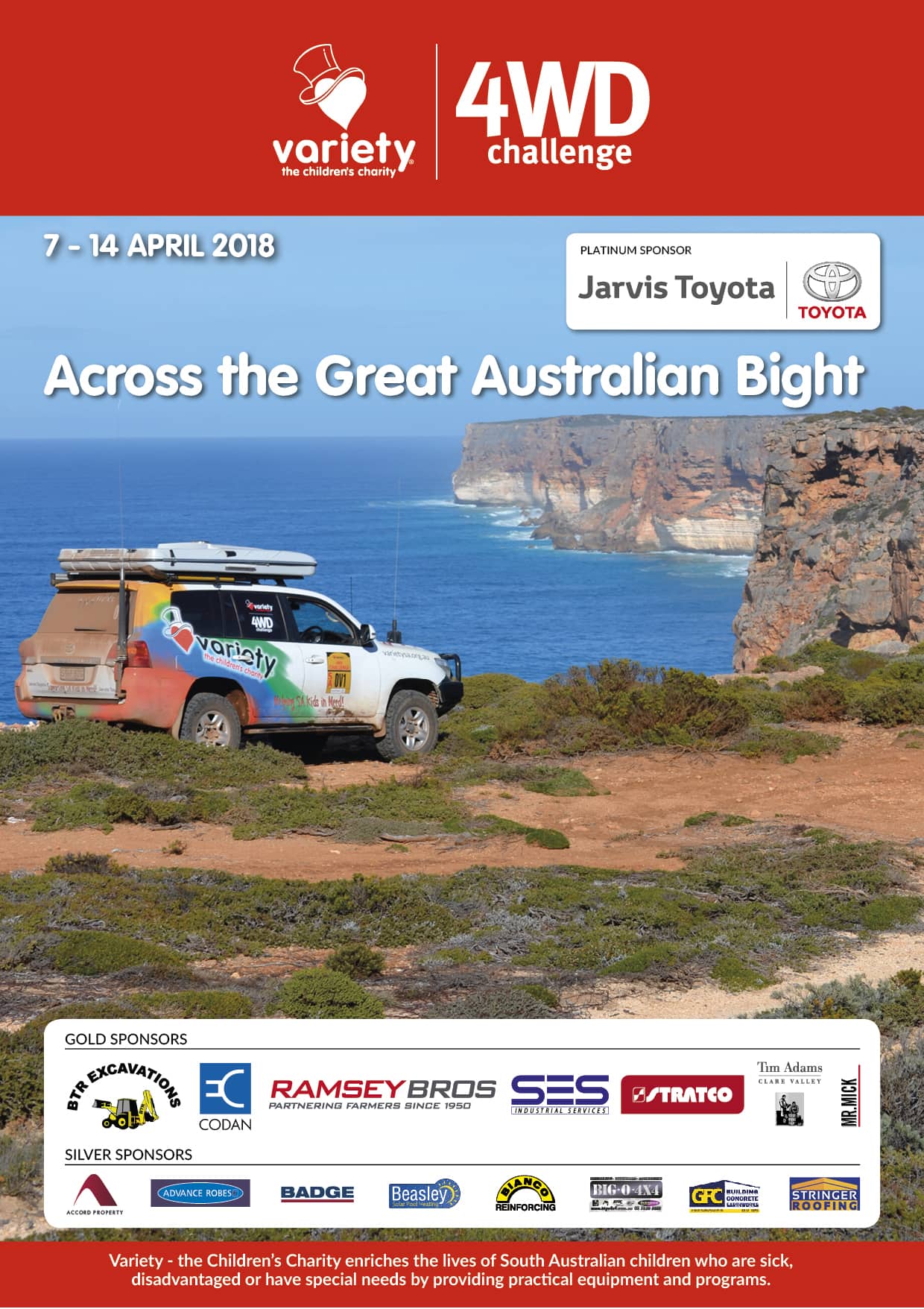 The 2018 4WD Challenge will be run from the  7-14 April. This journey will see entrants make their way from Esperance in Western Australia, to Streaky Bay in South Australia. Download your entry form here, Register online or contact Alex for more details.
Do you have a craving for adventure? The Variety SA 4WD Challenge provides entrants the opportunity to explore exclusive tracks around South Australia and beyond. Friendly atmosphere throughout, unique dining experiences and entertainment along the way, this fully catered journey offers a fine balance of comfort, adrenaline and outright adventure, all while raising much needed funds for South Australian kids in need! New entrants welcome and encouraged!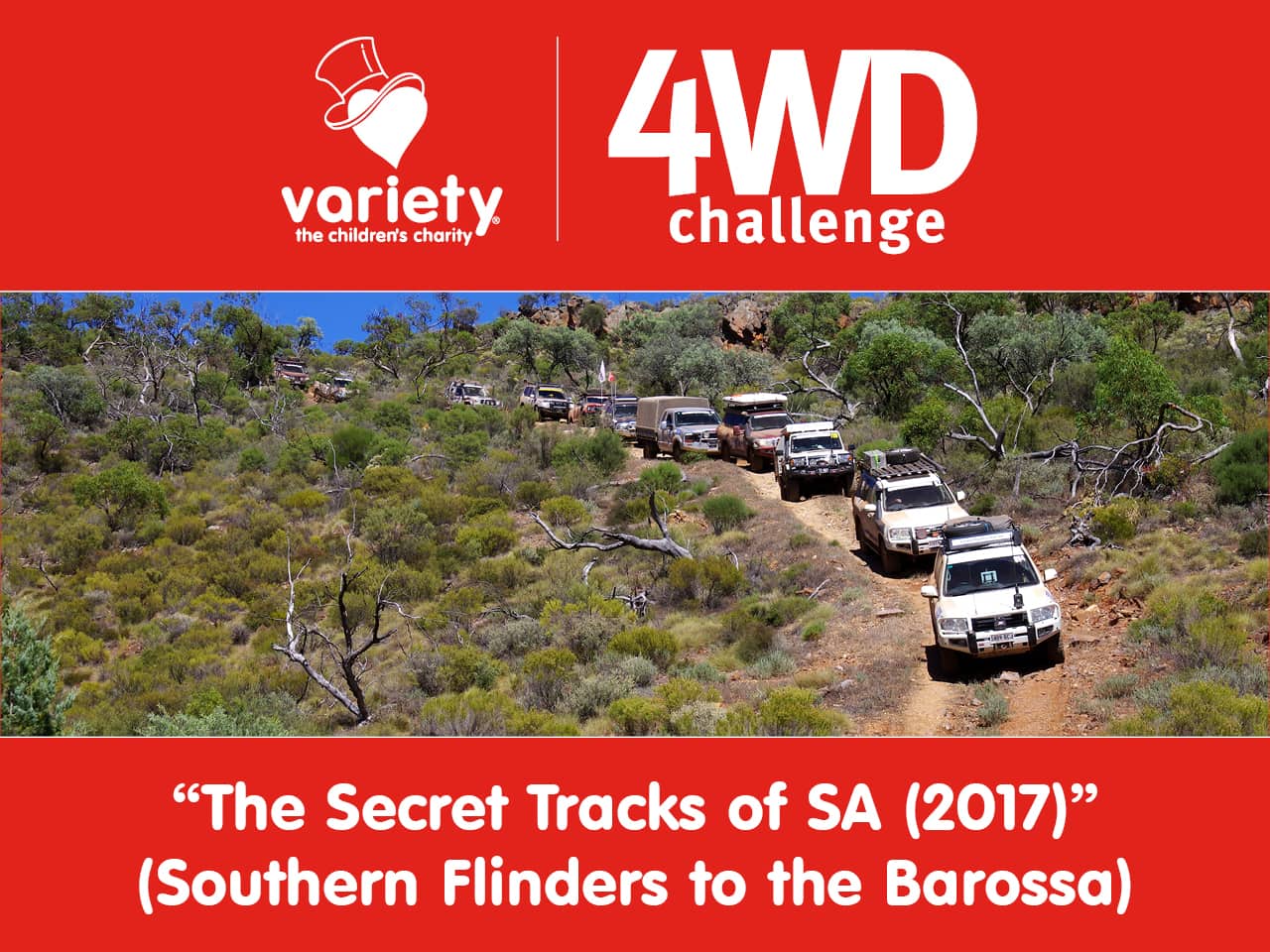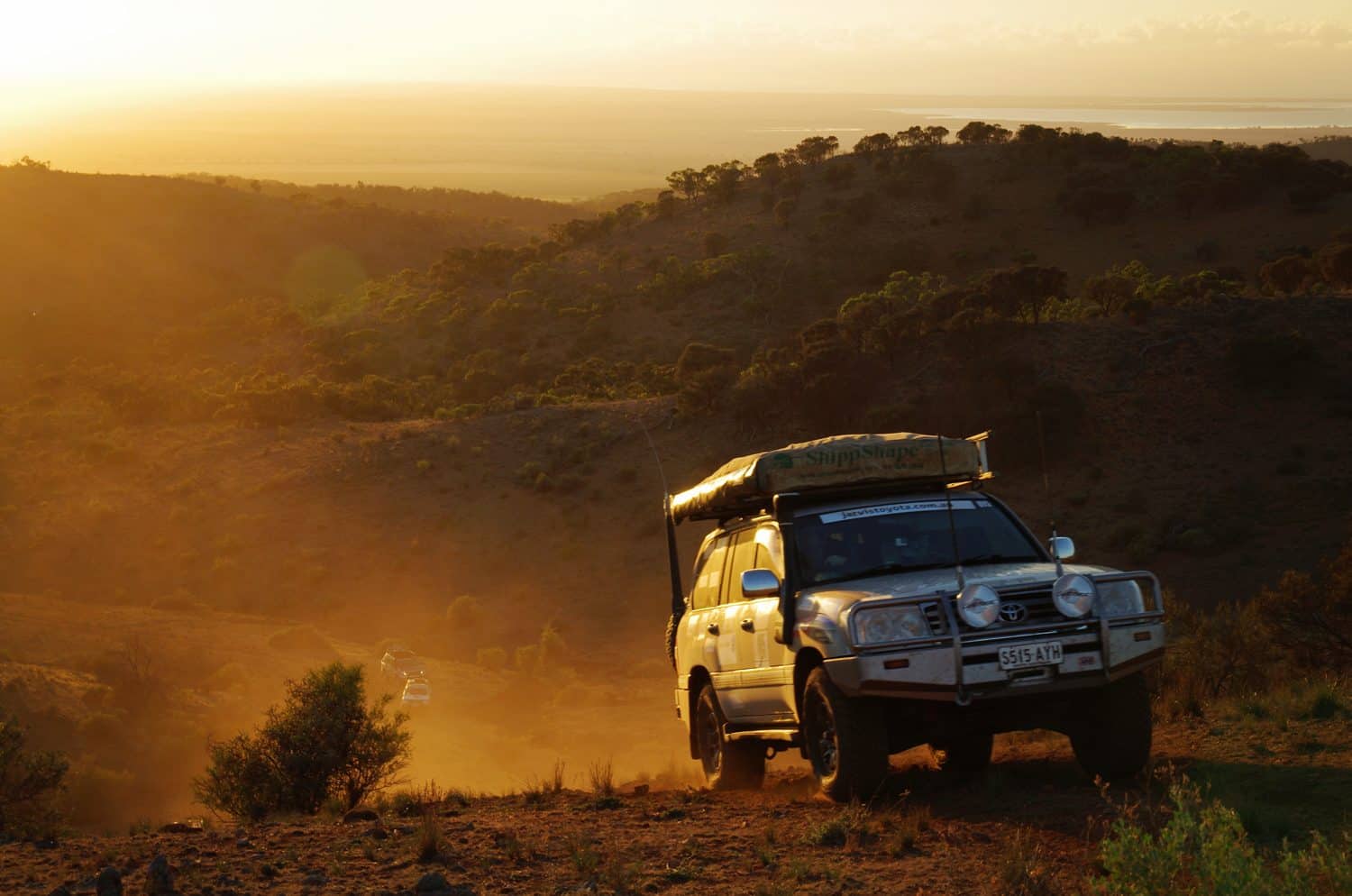 Important Diary Dates
Sunday 4 February, 2018
4WD Challenge Orientation Day: Starting Hanhdorf – finishing Callington
Contact / RSVP: Ally
Saturday 7  – Saturday 14 April, 2018
4WD Challenge: Esperance, Western Australia
Booking online
Contact: Ally
Past Events & Functions
Thursday 21 September, 2017
4WD Challenge 2018 Launch: 7 Stars Hotel
More information
Friday 12 May, 2017
4WD Reunion: 7 Stars Hotel
Contact: Ally
Saturday 25 – Friday 31 March, 2017
4WD Challenge: Port Pirie
Contact: Ally
Monday 20 March, 2017
Officials briefing night: Variety Office
Contact: Ally
Wednesday 15 March, 2017
Entrant briefing night: Variety Office
Contact: Ally
Sunday 5 February, 2017
Orientation Day: Saunder's Gorge
More information
Thursday 22 October, 2016
4WD Challenge Launch Night: Jarvis Toyota (Clovelly Park)
More information
Thank You to our sponsors