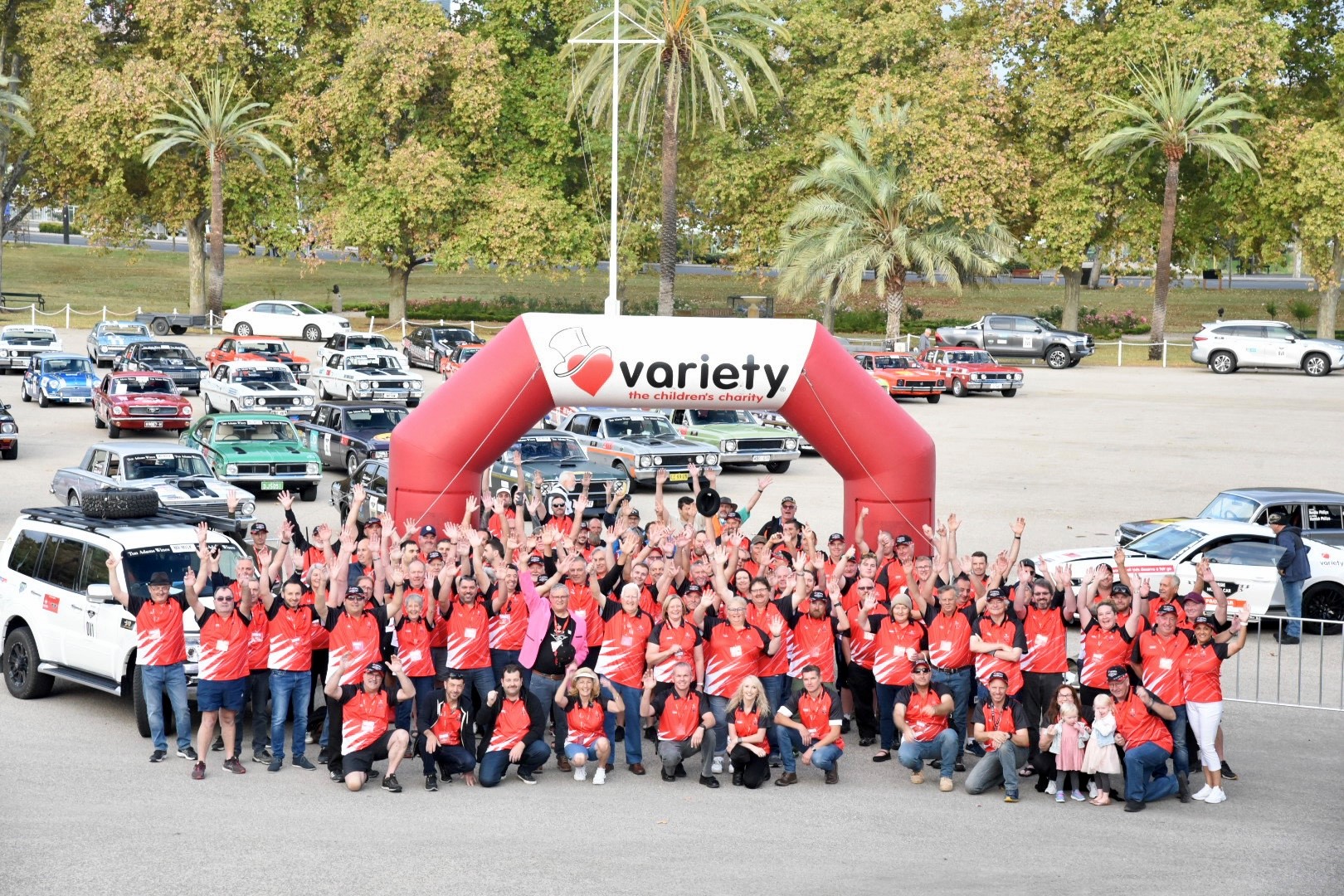 Variety SA's very first Aussie Muscle Car Run has raised an incredible $510,000!
50 Muscle cars, 100 entrants, 17 officials and 2 mobile workshops travelled 1,363 km over eight days from Adelaide through Clare and Port Augusta, finishing in Glenelg, taking in racetracks at Mallala and The Bend in between.
Special thanks to The Government of South Australia for supporting the AMCR and GOLD SPONSORS – AMPM, Lynx Security, The Bend and SILVER SPONSORS – Optus.
Thank you to the hard work of our fundraisers, events team, volunteers, sponsors and supporters. This result will make a POSITIVE IMPACT on the lives of South Australian kids who are sick, disadvantaged or living with disability. On behalf of these kids, we say THANK YOU!

THE 60'S AND 70'S PROVIDED AN ERA OF THE MOST OUTSTANDING VEHICLE COMPETITION IN THE WORLD.
The Aussie Muscle Car Run is an annual leisure car cruise to help raise funds for SA kids who are sick, disadvantaged or living with disability. The run is open to muscle cars of the golden era of Bathurst, built between 1963 and 1977. Replicas are welcome and the organisers also consider special interest vehicles.
The Aussie Muscle Car Run provides registrants with the opportunity to enjoy time travelling with fellow muscle car lovers in iconic cars through iconic Australian scenery.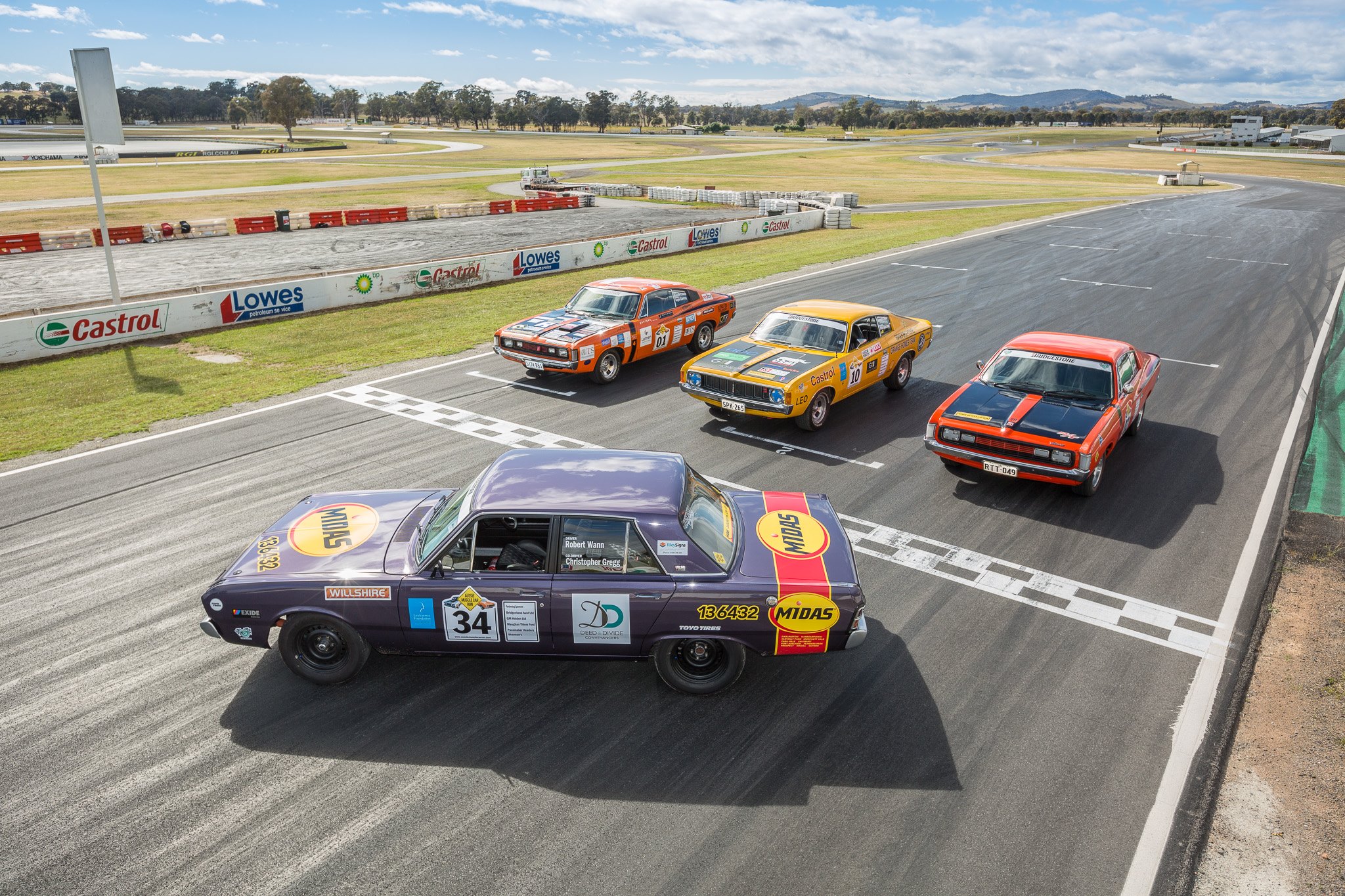 The Aussie Muscle Car Run is not a competition event! It's about taking a leisurely cruise while showing off your car at events and communities and helping to spotlight the work of Variety SA and its great fundraising initiatives.
However, entrants do have the opportunity to participate in various controlled motorsport events throughout the Run … and it's all in the name of FUN!
In return for an entrance fee, fundraising and an optional motorsports cost, the run will include daily breakfasts and dinners, accommodation, overnight security for the cars, official entrant's shirt, car livery (stickers) and back up mechanical support/facilities. The fundraising will support Variety SA's vital work.

When do registrations open?
2022 AMCR Entrants are given priority registration for the 2023 AMCR event for one month. If you are not a previous 2023 entrant you can register your interest HERE.
Registrations will open to the public on Tues, May 24th 2022
Which Cars are eligible?
Click here to view the list
What are the costs?
The registration fee is $1500 per person (inc GST), which includes seven days of accommodation, meals (breakfasts and dinners) on road event support and branded event shirt. There is an additional fee of $750 (inc GST), per car, to participate in motorsports and a minimum fundraising amount (see below).
Is there a minimum fundraising amount needed to be raised in order to take part?
Yes! All entrants are expected to raise a minimum of $4000 per car. This amount is in addition to the $1500 (inc GST) registration fee per person and the optional and non-refundable motorsports participation fee of $750 (inc GST) per car.
Is my car insured?
Cars must be insured and roadworthy as prescribed by South Australian State Laws. All vehicles will be scrutineered to confirm eligibility.
Where do we stay?
The AMCR stops at a variety of towns, large and small, along the way. Accommodation depends on what is available at each town and can be either cabin accommodation at caravan parks or hotel accommodation.
How far do we drive each day?
It depends where we end up! Some days require more distance to be travelled than others, and the days are often broken up by motorsport events and tours.
How much motorsport is involved?
This year the 'City to the Sea' AMCR event includes several motorsport events*:
– Mallala
– The Bend
– Other motorsport events tbc
*subject to change
Teams registered for motorsport can choose to participate in motorsport at each destination. It's all part of the fun! Motorsport costs are additional to the registration fee and are non-refundable.
Can we take passengers?
All teams must have two people – a driver and a co-driver. This is the maximum number of crew allowed, however special dispensation may be granted by the Event Chairman.
What happens if I break down?
We'll be there to help! The Aussie Muscle Car Run is backed up by a support crew including a team of qualified mechanics. If they can't help you on the side of the road, the car will be transported to the nearest town at no charge. But, if the car cannot continue for the rest of the run then it's the registrants responsibility, and at their cost, to take the car to their destination of choice.