Welcome to the Variety Moto Run
Proudly sponsored by  
Upcoming Event:

Riverland, South Australia:

17 – 20 October, 2019

The Variety Moto Run is four days of camaraderie and fun, whilst riding and driving some of our most interesting roads during the day and enjoying the best food and wine the state has to offer in the evenings. The event is open to entrants with touring motorcycles and luxury vehicles. During the event entrants also have the option of flights in the helicopter or relaxing in the bus that both accompany the event.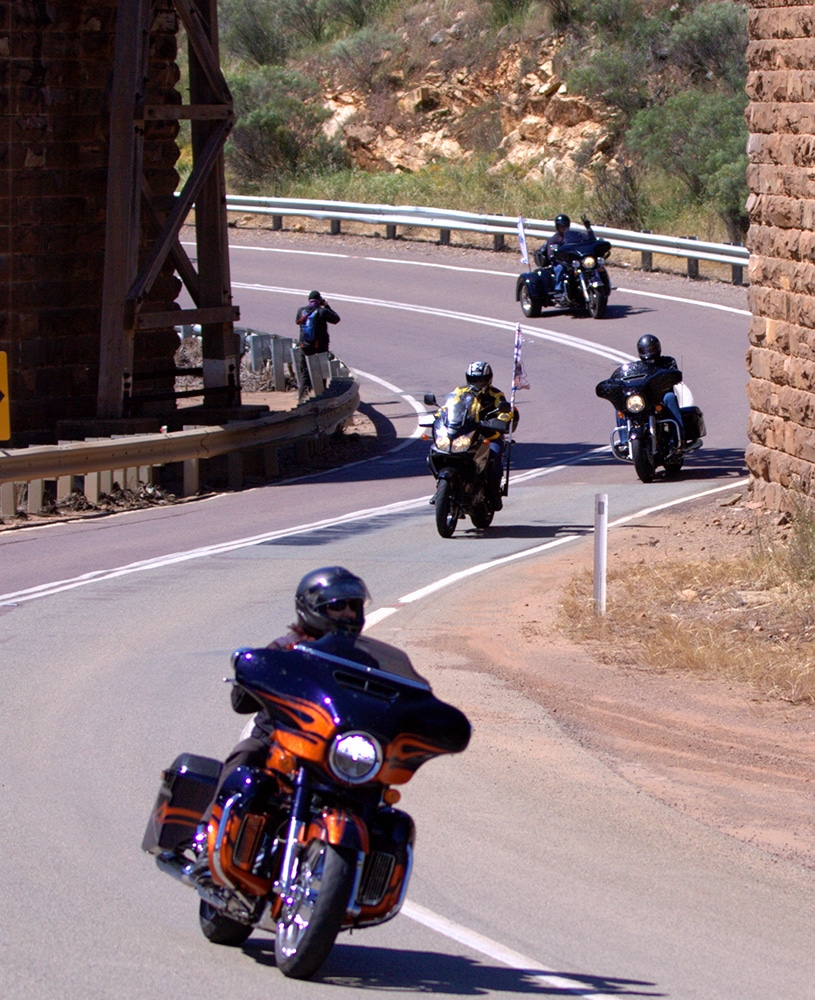 What is the Variety Moto Run?
The Variety Moto Run is an 'up market' event designed to attract motorcycle and motoring enthusiasts who enjoy firing up their bikes and luxury cars for a four-day luxury cruise, requiring no organisation on their part. The emphasis is on interesting roads, fabulous scenery, great food and wine and of course, as with all Variety events, fun and entertainment.
The event caters for both experienced and inexperienced riders with the option of 'cruisy' group riding or firing your bike up to the speed limit.
If you are looking for a four-day motoring journey with a fun loving, like-minded group of people, then the Variety Moto Run is the right choice! All proceeds raised from the event will go to assisting South Australian children who are sick, disadvantaged or have special needs. Spectators are welcome to watch and cheer as the participants cruise along the route. Stay tuned for more details as they become available.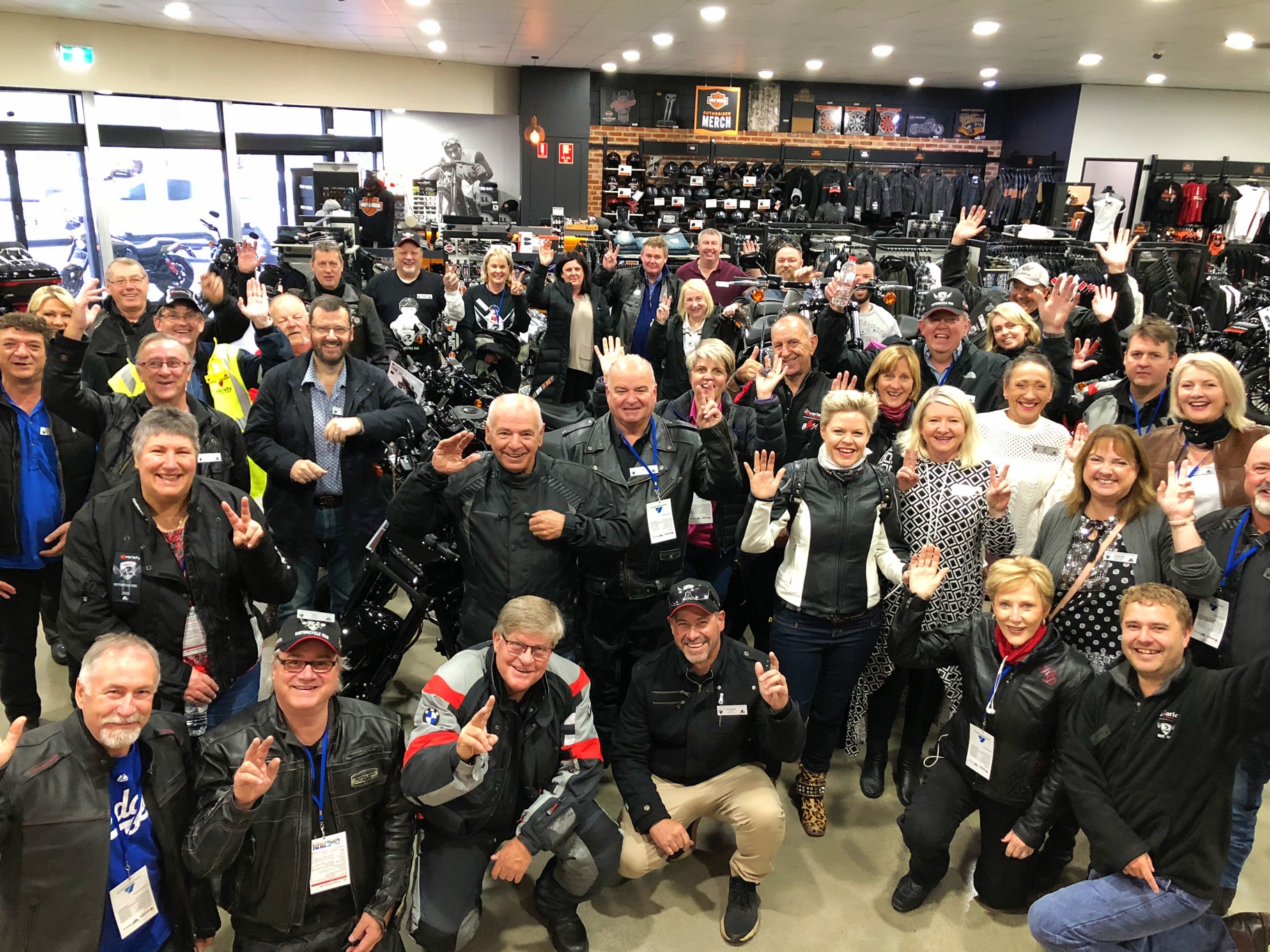 Tour Highlights
Live Entertainment.
Nightly sunset parties.
The best of SA's Gourmet Food.
Friendly people.
Helping kids in need.
New entrants welcome.
Upcoming Event: Route Overview
17 – 20 October, 2019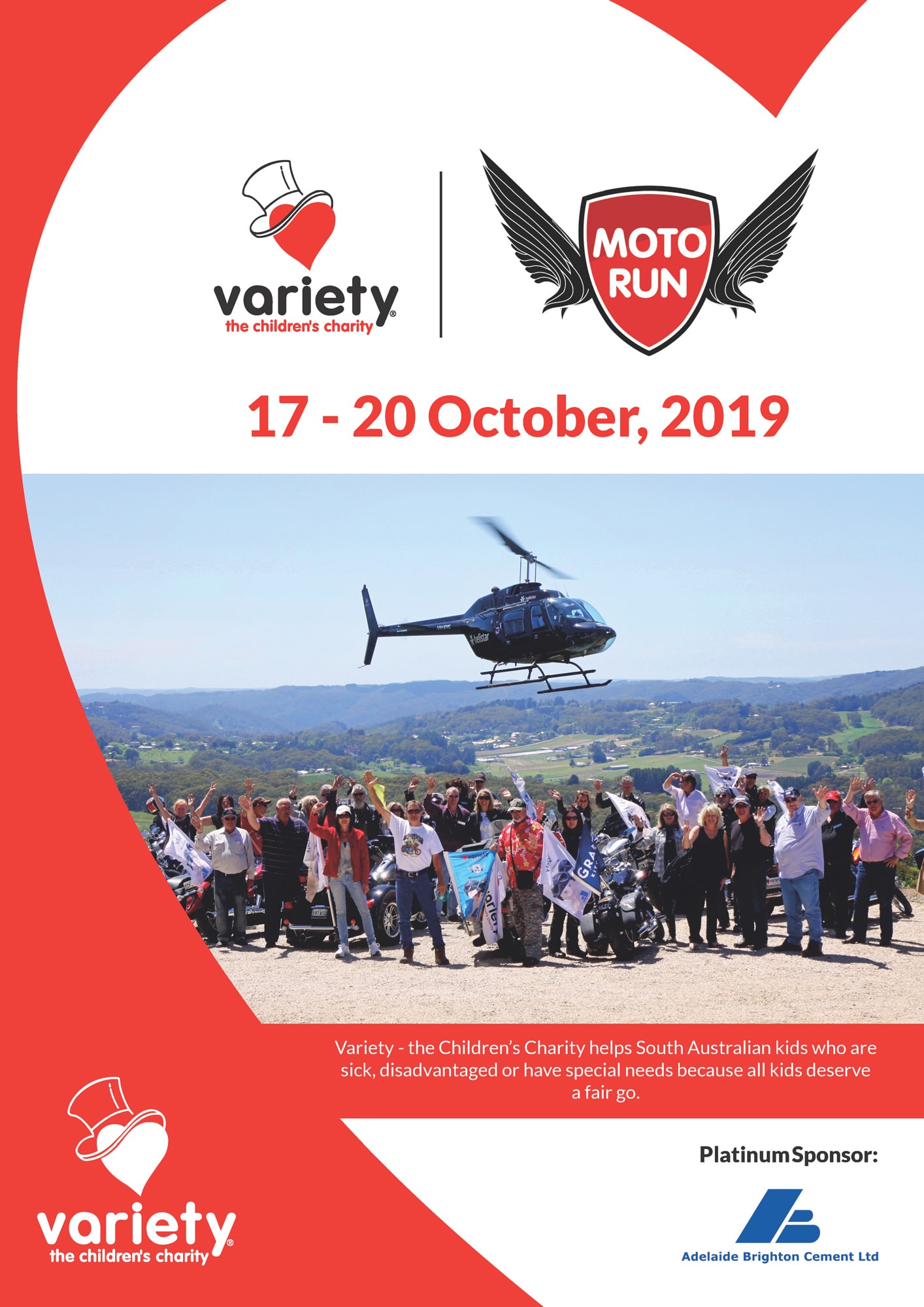 Exploring the very best of the Riverland, the 2019 route will have an emphasis of interacting with the community and organisations your fundraising assists. With two nights based in Berri before the route heads back west to explore the Barossa Valley and indulge is some of South Australia's best wines.
Variety Moto Run 2019: Route Map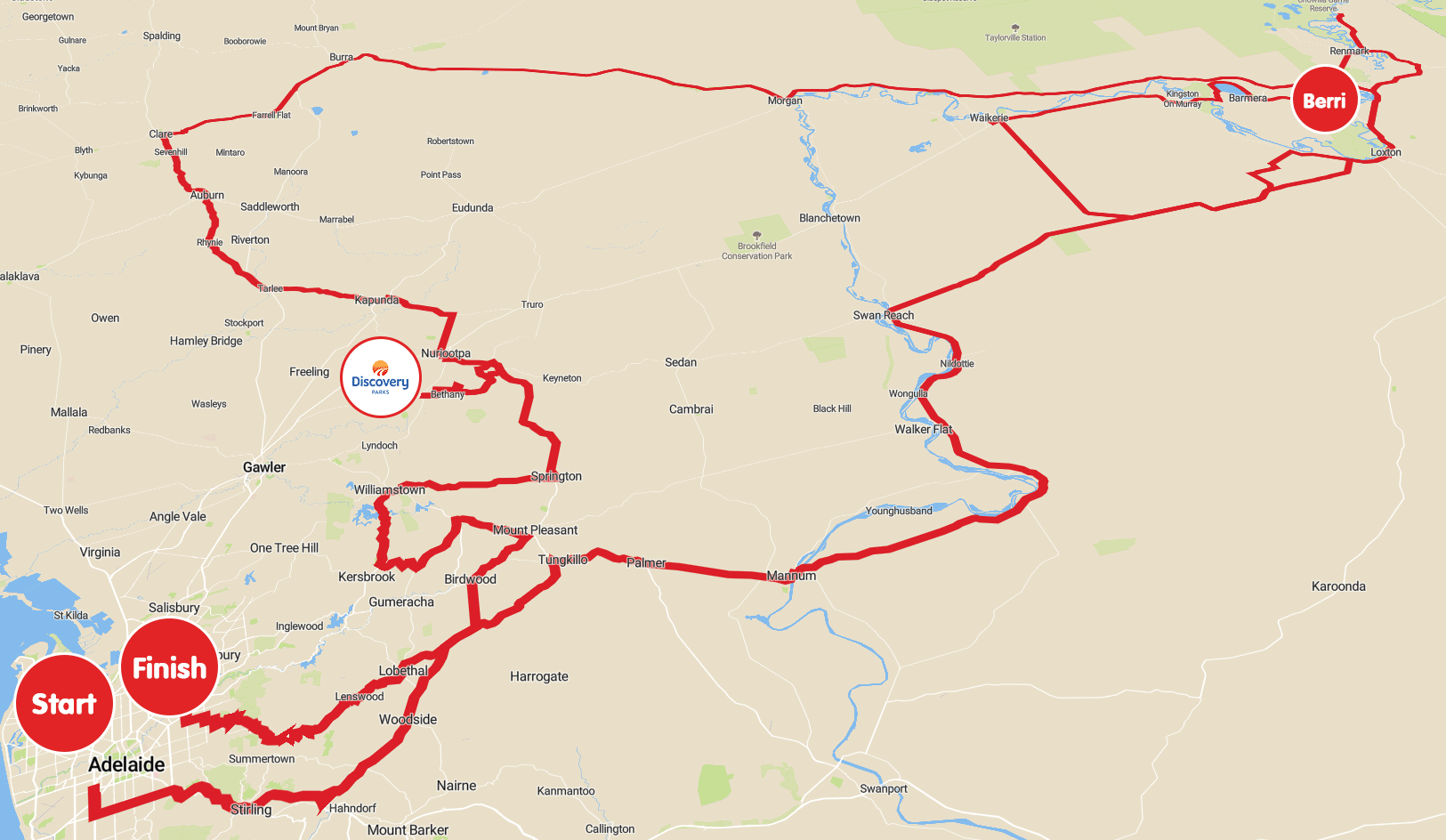 Day 1: Adelaide to Berri
• Breakfast and start at Adelaide Harley Davidson Bikeworks
• Lunch at the PIRSA Loxton Research Facility
• Accommodation at Berri Hotel
• Dinner at Mallee Fowl Restaurant
Day 2: Berri to Woolshed Brewery return
• Ride along the River Murray and Lake Bonney
• Visit Waikerie and the Wunkar Pub
• Lunch at Woolshed Brewery
• Sample the local gin at 23RD Street Distillery
• Berri Community Gala Dinner
• Great auction items up for grabs
• Accomodation at the Berri Hotel.
Day 3: Berri to Barossa via Clare Valley
• Wonderful roads through the three best wine regions in SA
• Lunch in the Clare Valley
• Luxury Cabins at Discovery Parks Barossa
• Safari Theme Night
Day 4: Barossa to Adelaide
• Breakfast at the Tanunda Club and grant presentation
• More great scenery and fun on route
• Culminating in lunch at the Glynde Hotel
Entry Fee –  $550 (inc. GST) This fee is payable per bike or car to guarantee you spot on the event. This fee is transferable, however not refundable.
Participation Fee – $875 per person this fee covers all gourmet meals and accommodation, along with select sunset drinks, entertainment for the duration of the 4 day event.
Fundraising –  A minimum of $5000 per vehicle of fundraising or sponsorship is required to participate. As with all Variety events, you are encouraged to raise as much as possible and the Variety office is here to assist you with this. Please talk to the Moto Run event team for ideas and resources.
How to Fundraise

Once you make the decision to join the Moto Run you will want to start fundraising. Here are a few ideas to help you get started:
Set up a personal fundraising page – family, friends and supporters can donate online
Email a letter (available from the office) to your database asking them for support
Use social media like Facebook and Twitter to spread the word
Approach friends who may have their own business and ask them to sponsor your vehicle.
Ask friends and colleagues to make variety the beneficiary of casual days, social clubs, a morning tea or BBQ
Shaking tins in a high traffic area in your local community (available from the office)
Pub collections, ask a local bar to collect $1 for water and donate the money to Variety
Sell product e.g. chocolates, wine, lamingtons
Variety staff are available to assist with questions and advice regarding your fundraising and can provide marketing material such as banners and corflutes.
The Importance of Sponsorship
Whether it is as an entrant in the Variety Moto Run or support for other events and special projects, it is the sponsors to whom Variety looks for assistance. Without the backing of sponsors, there would not be a Moto Run!
There are thousands of children in South Australia who could benefit from your involvement as a sponsor of a vehicle in the Moto Run.
Many major companies including Adelaide Brighton Cement, Yellow Corporation, Jarvis Toyota, Kennard's Hire, Vilis Cakes, Tim Adams Wines, Canon, Endeavour Homes and the Adelaide Convention Centre have chosen Variety as their 'preferred charity' over the years and proudly publicise this. Not only is the company seen as a good corporate citizen, but by investing in Variety, you are investing in over 50 charities and organisations around the state.
Variety Moto Run Forms and Marketing Assets
See listed below the forms currently available for download relating to the Variety Moto Run
*Photo Gallery Content will be updated shortly!
Event Enquiries
If you are interested in creating, sponsoring or hearing more about our events, get in touch, we would love to hear from you!