V2 EVENT INFORMATION (FAQ)  –  V2 EVERYDAY HERO PAGE  –   EVENT ENQUIRY  –  V2 FORMS  –  ROUTE OVERVIEW  –  V2 DAY RIDES  –  V2 RESULT & GALLERY (2017)

Welcome to the eleventh year of the Variety V2 Motorcycle Run!
This year the V2 will be held from Thursday 18 October to Sunday 21 October. We will travel through the Fleurieu Peninsula to Cape Jervis, catch the ferry to Kangaroo Island, spend two days and nights taking in the spectacular coastal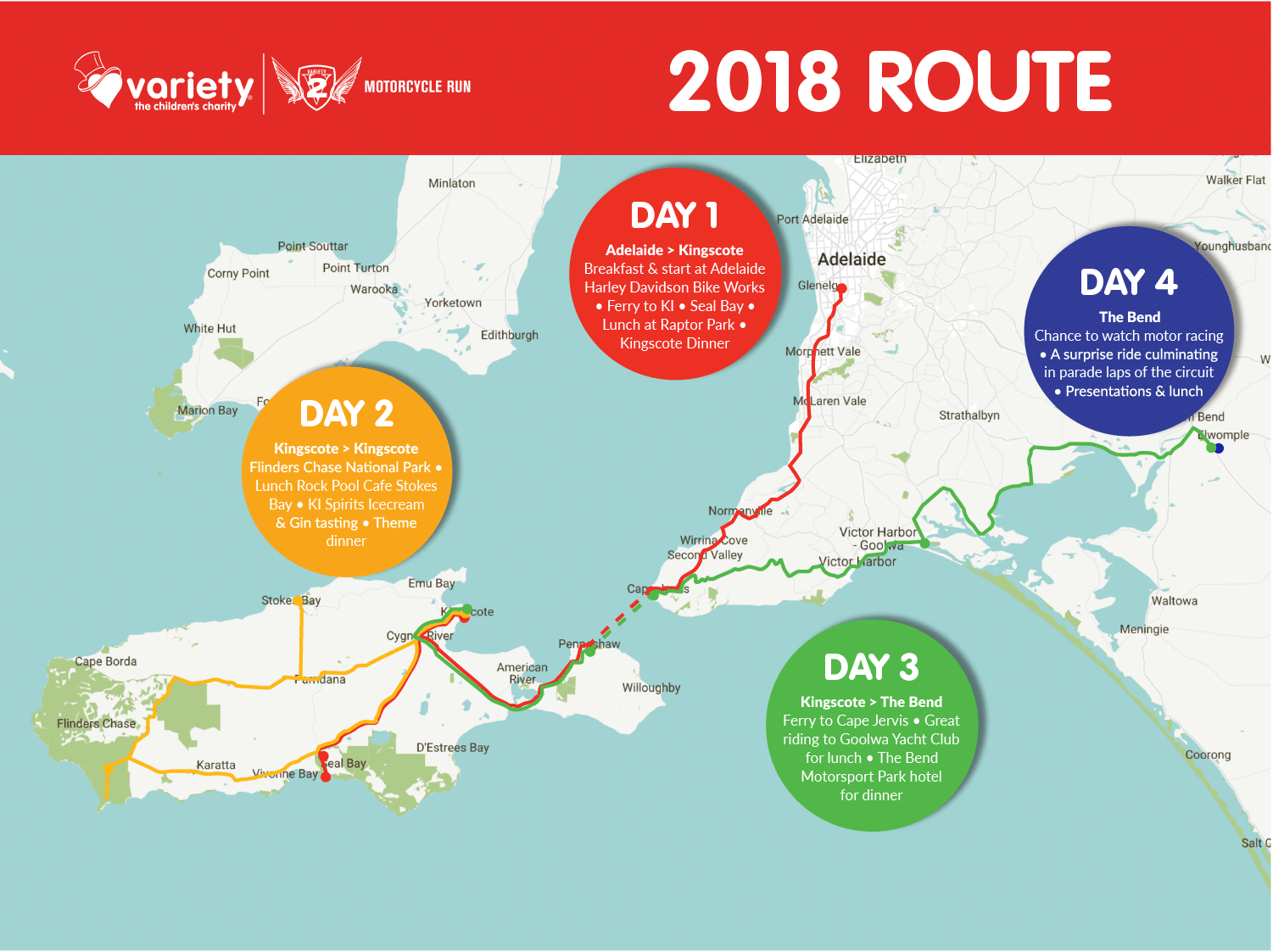 scenery and culinary delights the island has to offer before boarding the ferry back to the mainland. Once off the ferry we will travel through the Southern Fleurieu and along the south coast to our final night stay at 'The Bend' Motorsport Park at Tailem Bend.
*Kangaroo Island has become an extremely popular tourist destination with ferry space and accommodation places in heavy demand so we need your help to secure the spaces we require by committing to joining us as soon as possible.
Welcome
The V2 Motorcycle run is 4 days of camaraderie and fun, whilst riding and driving some of our most interesting roads (all asphalt) during the day and enjoying the best food and wine the state has to offer in the evenings. The event is open to entrants with touring motorcycles and interesting/classic vehicles. During the event entrants also have the option of flights in the helicopter or relaxing in the bus that both accompany the event.
What is the Variety V2 Motorcycle Run?
The V2 Motorcycle Run is an 'up market' event designed to attract motorcycle enthusiasts who enjoy firing up their bikes for a four-day luxury cruise, requiring no organisation on their part. The emphasis is on interesting roads, fabulous scenery, great food and wine and of course, as with all Variety events, fun and entertainment.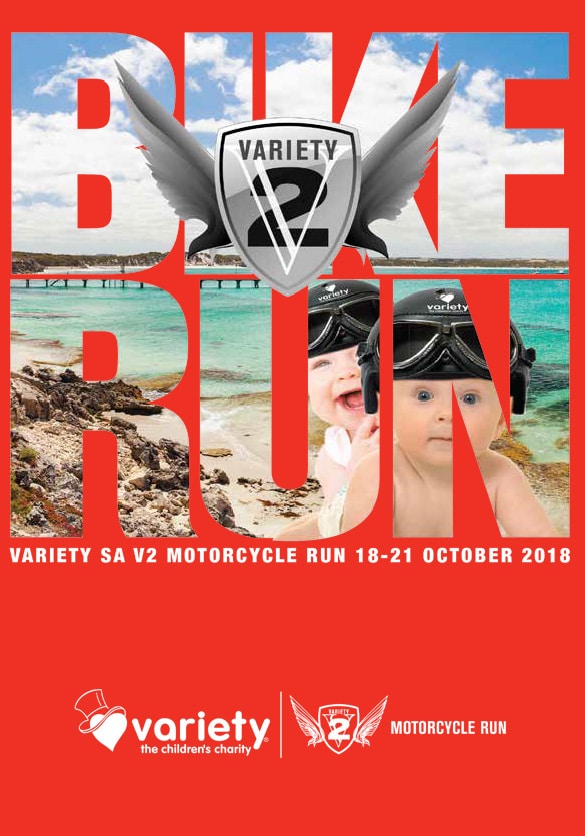 The event caters for both experienced and inexperienced riders with the option of 'cruisy' group riding or firing your bike up to the speed limit.
If you are looking for a four-day motorcycle journey with a fun loving, like-minded group of people, then the V2 Motorcycle Run is the right choice! All proceeds raised from the event will go to assisting South Australian children who are sick, disadvantaged or have special needs. Spectators are welcome to watch and cheer as the participants cruise along the route. Stay tuned for more details as they become available.
Register your interest for 2018 TODAY!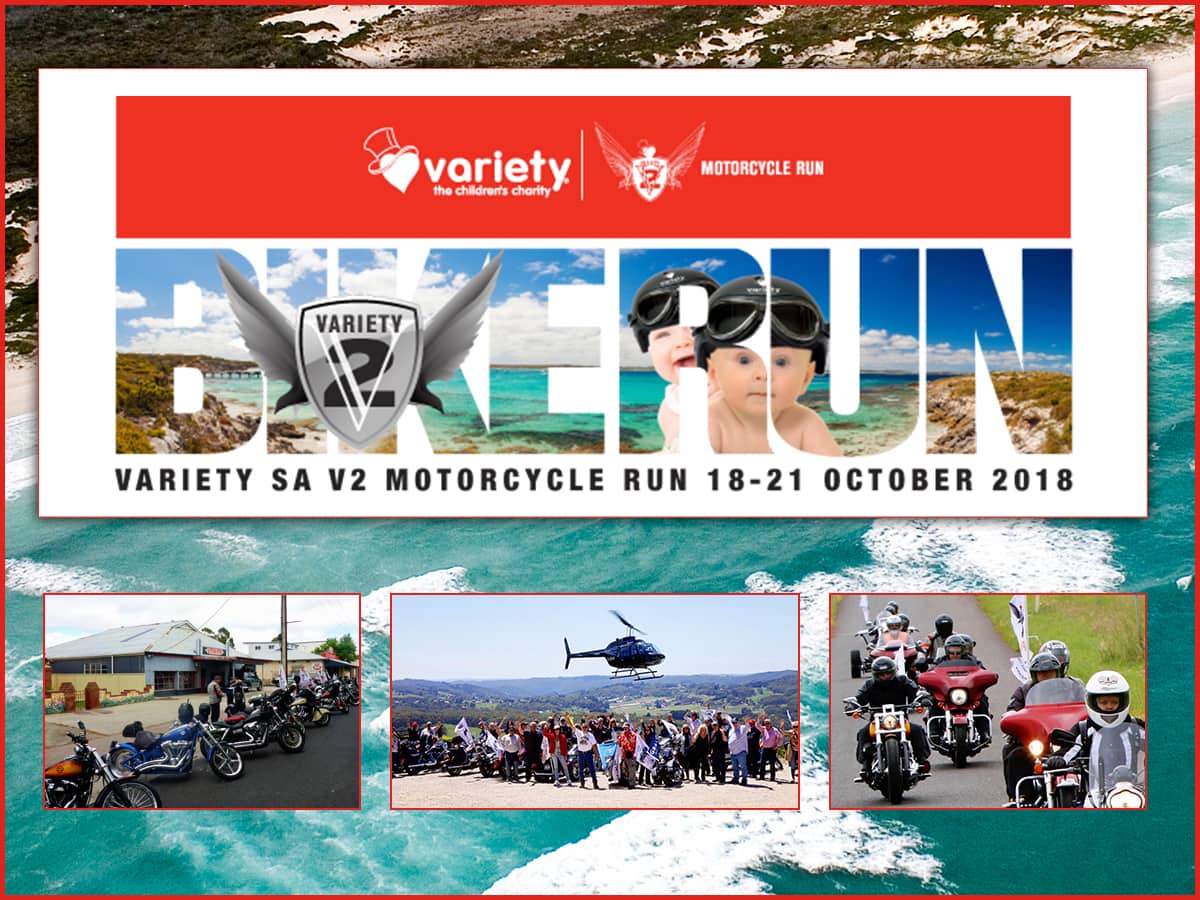 Tour Highlights
Live Entertainment.
Nightly sunset parties.
The best of SA's Gourmet Food.
Friendly people.
Helping kids in need.
New entrants welcome.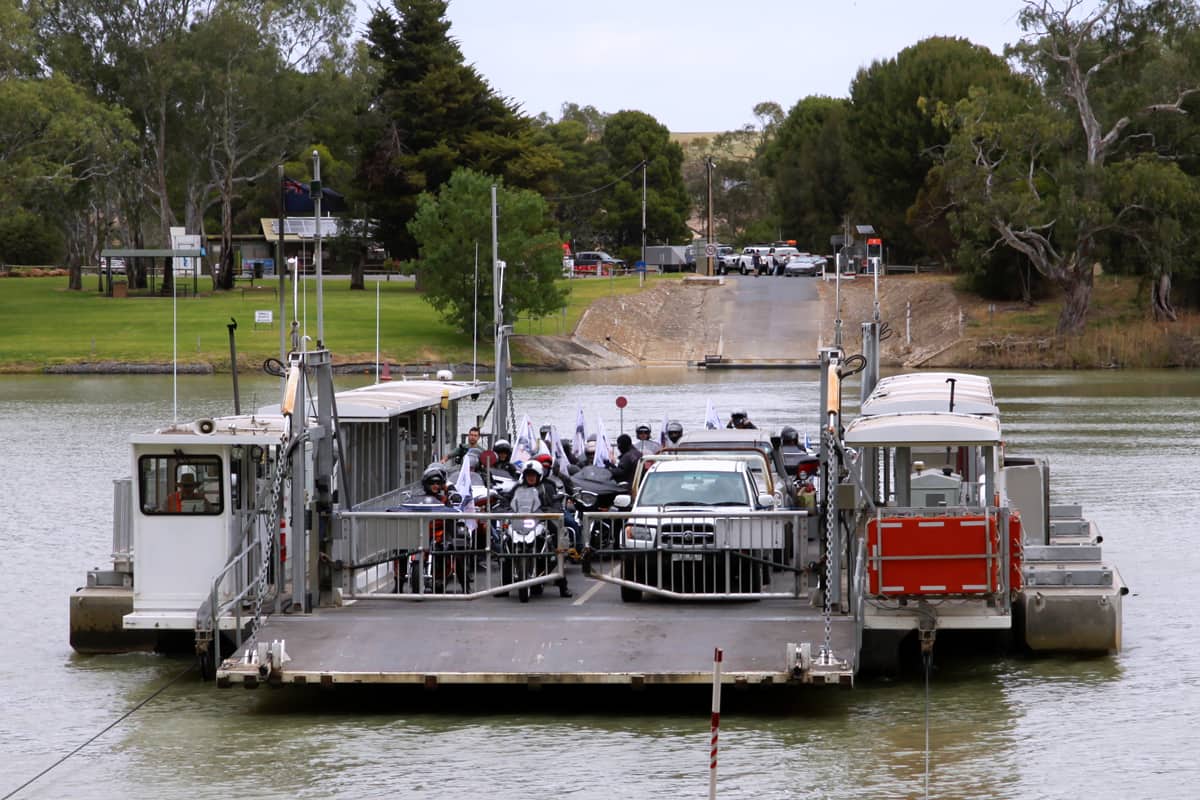 Important Diary Dates (2018)
V2 Entrant Briefing Night:
Wednesday 10 October
V2 Motorcycle Run, (2018):
Thursday 18 – Sunday 21 October

V2 Motorcycle Run Reunion:
Friday 9 November
 Upcoming V2 Day Rides:
Past Key Dates / Functions
V2 Reunion: Hilton Hotel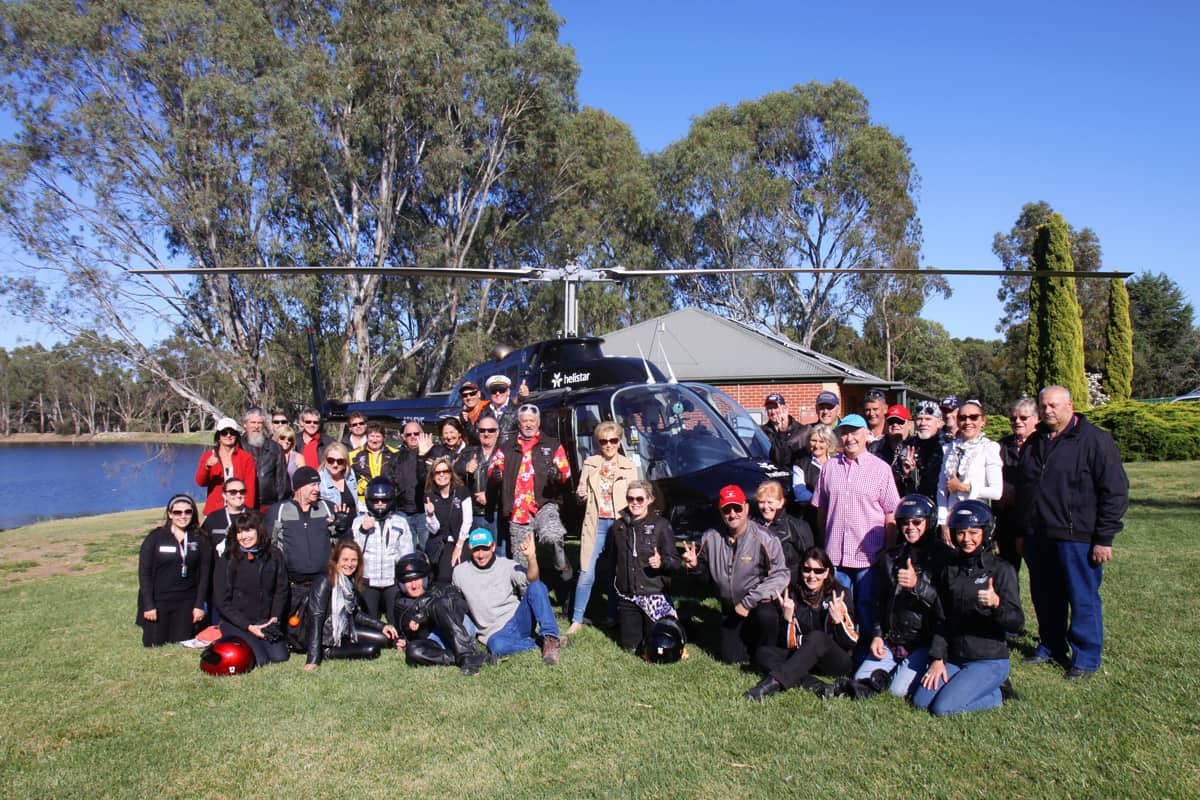 Thank You to our sponsors