Variety Vintage Luncheon

SAVE THE DATE: Friday 20 November, 2020
If you enjoy South Australian wine, then attending the Variety Vintage Luncheon 2020 at the National Wine Centre on Friday 20 November is a must. Twelve prominent South Australian wineries will each donate a barrel of their finest 2019 vintage wine to bottle and exclusively label for this special event.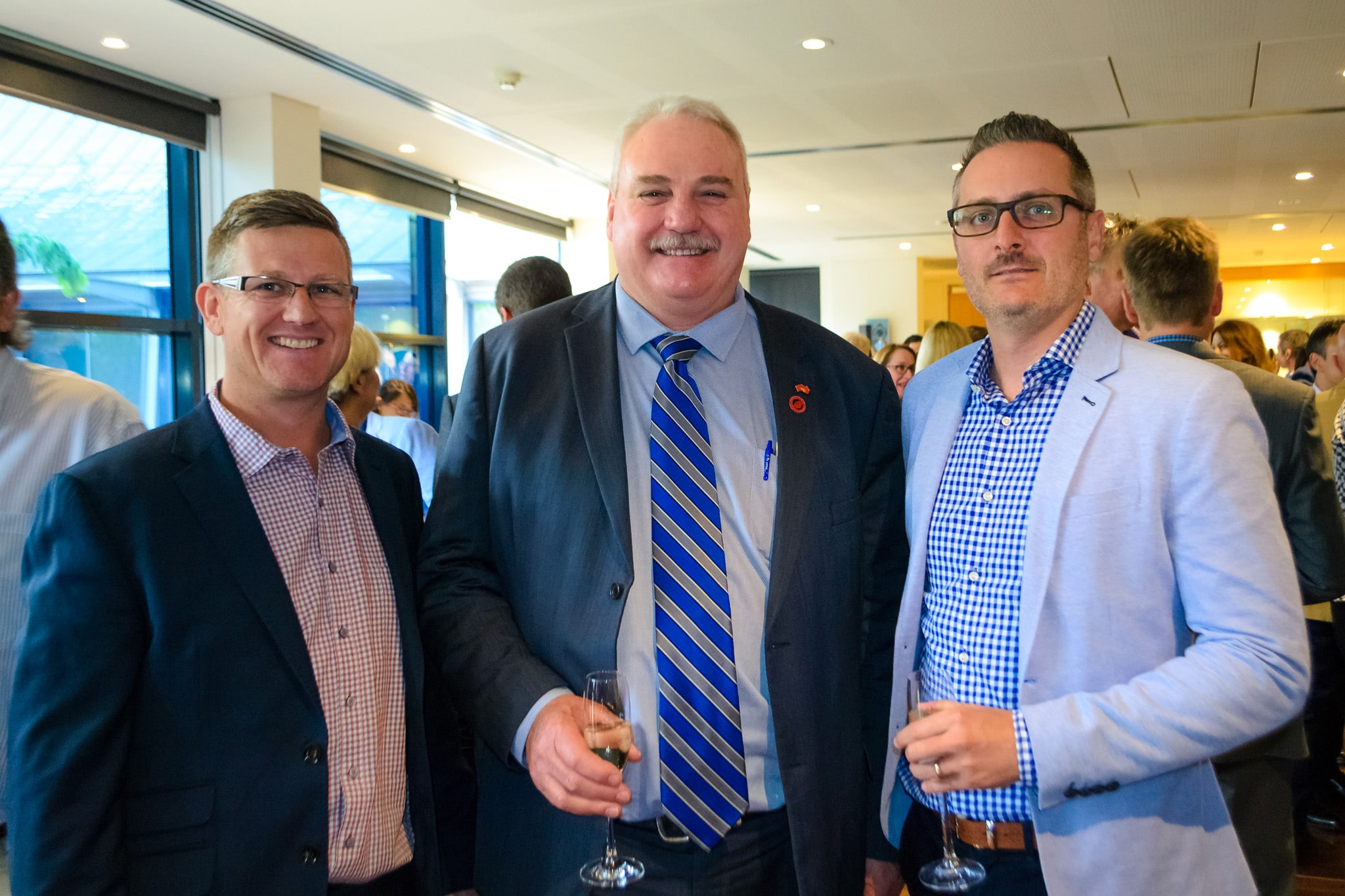 Single Ticket: $145
Includes:
Wine tastings
3 course lunch
Premium wines
Beer and soft drink
Auction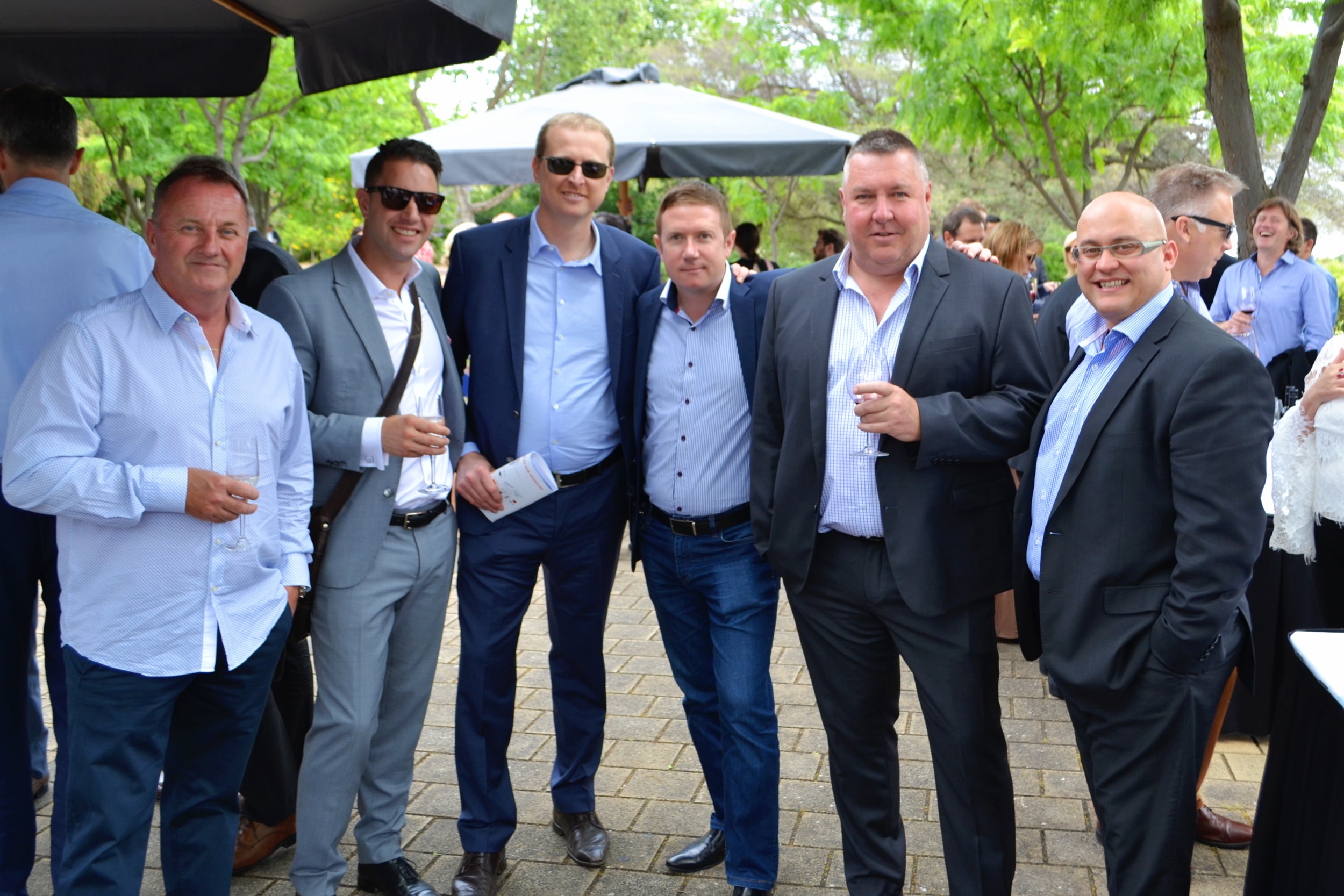 Table of Ten: $1,450
Includes:
Wine tastings
3 course lunch
Premium wines
Beer and soft drink
Auction

BROTHERS IN ARMS 2018 SHIRAZ
Back in 1998 we finally decided to take the hobby Guy shared with his late father to a new level. Our first vintage saw only 5 tonne of Shiraz produced, a volume which has now grown to over 700
tonne per year.
Our Metala Vineyards date back to our original 1891 plantings through to 2001 and Guy is proud to be the 5th Generation to live and work on the property. The original planting of
Cabernet is the oldest family owned Cabernet Sauvignon vineyard in the world.
In all we have 212 hectares planted to vines with the balance of the 1000 Ha property given over to Merino sheep and cropping. Having owned the property for over 130 years the family has taken the protection and enhancement of the environment as a badge of honour. Wherever possible our practices revolve around minimal intervention and finding balance.
Initially the wines were made at various wineries but by 2001 we could see the need to build our own facility, which was ready for the brilliant 2002 vintage. The winery was designed to be efficient, environmentally sensitive and above all innovative. 13 vintages down the track we don't regret the effort that went into the designs as they have paid us back in spades.
Although our original focus was on Shiraz the wines in our portfolio have evolved over the past decade and we now produce estate grown Shiraz, Cabernet and blends thereof which showcase Langhorne Creek's ability to offer elegant wines with balance, structure and texture. Over the past year we have also added an estate grown Malbec to our portfolio and recently have released a Chardonnay and Rosé.
TASTING NOTES
COLOUR: Deep red in colour.
NOSE: Dark fruits on the nose with blackcurrants. Also a waft of pepper and spice and a hint of cedar.
PALATE: Generous and mouth filling sweet fruits of raspberries upfront, with elegant yet fine, velvety tannins providing great structure and length.

2018 DEUX LIEUX-DITS BARREL SELECTION SHIRAZ
Since the first vintage of Charles Melton Wines in 1984, this boutique Barossa Valley winery has gained both national and international recognition for its premium red table wines. Located on Krondorf Road, where the original village of Krondorf was situated, the vineyard and winery provide views of the Barossa Valley floor. Charlie was one of the first to recognize the value and tradition of the Barossa's old vineyard Grenache, Shiraz and Mourvedre (often called Mataro here in the Barossa). At a time when others were pulling out vineyards of Shiraz to plant more fashionable varieties, Charlie was convincing farmers to keep their historic vineyards.  Great emphasis is placed on the quality of fruit, with all grapes dry grown and harvested from the winery's own 80 acres of prime Barossa vineyard land, as well as from a select group of family owned grower's vineyards. Yields are extremely low with often only one tonne to the acre and the vineyards are truly old with some exceeding a century in age. A range of techniques are employed during the winemaking process. These include whole bunch fermentation, open fermentation, pigeage and indigenous yeast fermentation, all of which allows a range of blending options to give the most complete wine in terms of balance between pure fruit flavours and more earthy/gamey characters. Showing complexity from this range of vineyard sites and premium vinification techniques, the wines have demonstrated over the last decade an ability to cellar gracefully into mature examples of the finest Barossa styles.
Tasting Notes

Deeply coloured with a lovely bright crimson hue. Fragrant berry fruits with a touch of whole bunch highlights and a dusting of quality cedary French oak.
Balanced acidity and tannin frame a tight, ruit sweet structure which will soften and enriches further with at least a decade in the cellar.

Charlie Melton
Winemaker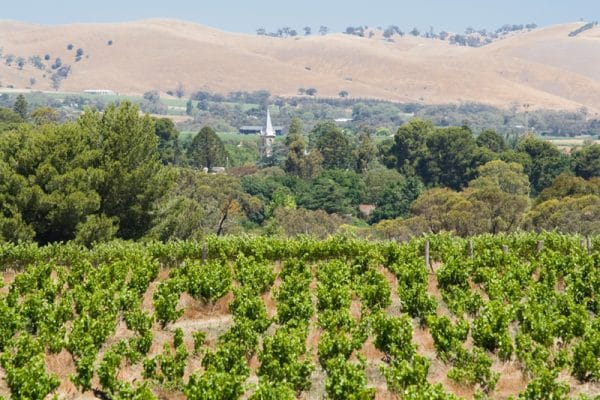 2018 DiGiorgio Family Coonawarra Cabernet Sauvignon
The DiGiorgio Family had a vision to produce the highest quality wines from their estate grown fruit and in March 2002 acquired the second oldest winery in the heart of Coonawarra, previously known as Rouge Homme. This has provided the family with a wonderful production facility and acentrally located cellar door. It has a blend of new and old technology allowing the family to produce premium hand crafted wines. This commitment has been rewarded by winning numerous awards and accolades.
In addition to producing premium wines from Coonawarra and Lucindale, the DiGiorgio family sources specific varietal fruit from different areas of the Limestone Coast where they believe the terroir is best suited to the variety. These wines make up the Renaissance Range and are a selection of varieties specially chosen to demonstrate the versatility of the region and the passion and ambition of our winemakers.
When visiting our cellar door you will have the opportunity to taste premium wines from our extensive portfolio, olive oil and local cheese. The outdoor seating area is the perfect place to enjoy a glass of wine with a 'pick your own produce' platter with family and friends.
TASTING NOTES
WINEMAKER'S COMMENTS
The 2018 Cabernet Sauvignon was chosen for its rich, power fruit and beautifully balanced acid, tannin and oak. Luscious black fruit of cassis and mulberry, layered with spice, black olives and balanced by smooth cedary oak characters.
VINEYARDS
For this vintage, we selected a parcel from our Glenroy vineyard in the Northern end of Coonawarra, for its lovely balance of fruit and acid.
WINEMAKING
Controlled small batch open topped fermentation on skins, pressed to complete malo-lactic fermentation before ageing in a new French oak barrel for 16 months.
FOOD MATCH
The depth and complexity of this wine lends itself to match with an aged eye fillet, smashed potato and current season greens that have been liberally coated in extra virgin olive oil.
Heritage
The story of Hardys begins with the very man who gave us his name, Thomas Hardy. From the moment he arrived in Australia in 1850, his ingenuity, determination and hard work built a business that has lasted more than 160 years.
Our Home
In 1878 Thomas Hardy transformed an old flour mill on the main street of McLaren Vale into The Hardys Tintara winery, and with his success the township of McLaren Vale began to prosper and grow. Today, we are proud to still call this winery our home.
People
Wines are not the product of one person, and Hardys Wines are no different, we are lucky to have some of the most talented and hard-working people bringing Hardys Wines to customers around the world – our family is made up of so many people.

Hentley Farm: History
Set on the red-brown soils of the western Barossa Valley, Hentley Farm founders Keith and Alison Hentschke acquired the 150 acre vineyard and mixed farming property in the 1990s. Following extensive research to find out where the best red wine grapes in the Barossa Valley were being produced, their studies led them towards the rich red soils of the Seppeltsfield area. Keith used an old soil map from the 1950s to strategically locate the best parcels of land and after a number of years acquired Hentley Farm.
With a focus on perfecting the vineyards, the first wines weren't released from the property until 2002. The estate was extended with the purchase of the neighbouring high quality Clos Otto block in 2004.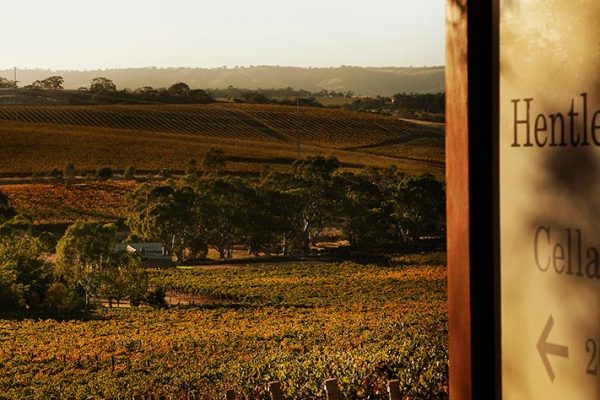 2018 THE QUINTESSENTIAL SHIRAZ CABERNET SAUVIGNON
Set amongst the rolling hills on the banks of Greenock Creek at Seppeltsfield, Hentley Farm is a boutique, single estate vineyard that produces distinctive wines reflective of the exceptional site.
Founders Keith and Alison Hentschke researched for years to find a Barossa Valley site that would produce world class single estate wines. They discovered the property that would become Hentley Farm, with the sought-after red brown soils and remarkable diversity of soil types, aspects and altitudes. Keith's expertise as an agricultural scientist ensured each vineyard block was planted with clonal material selected for orientation and aspect. As with many of the sites that the world's best wines are grown on, it is a marginal site, and a unique Barossa proposition.
Since 2008 winemaker, Andrew Quin has influenced the evolution of our vineyard in creating wines that highlight the complexity of the site, the natural soft elegant tannins and vibrancy of fruit. Wines across the portfolio have been awarded high praise, ratings and award recognition across the globe, including being named James Halliday Wine Companion, 'Winery of the Year' 2015.
TASTING NOTES
This is an early bottling pre-release specially for the 2019 Variety Vintage Wine Auction Luncheon. The wine is a single vineyard example of the Quintessential Australian blend of Shiraz and Cabernet.
VARIETALS: Shiraz 53%, Cabernet Sauvignon 47%
REGION: Barossa Valley
WINEMAKER: Andrew Quin
VINEYARD: Hentley Farm – Single Estate
PROFILE: A lovely mix of earthy characters of Shiraz and classic Cabernet herbaceousness provide the characteristic aromatics of the quintessential Australian blend. Aromatics of marzipan and blueberry add complexity and vibrancy. The palate shows a surprising level of elegance with a savoury contour throughout, finishing with a complete tannin structure.
CELLARING: Drink now until 2038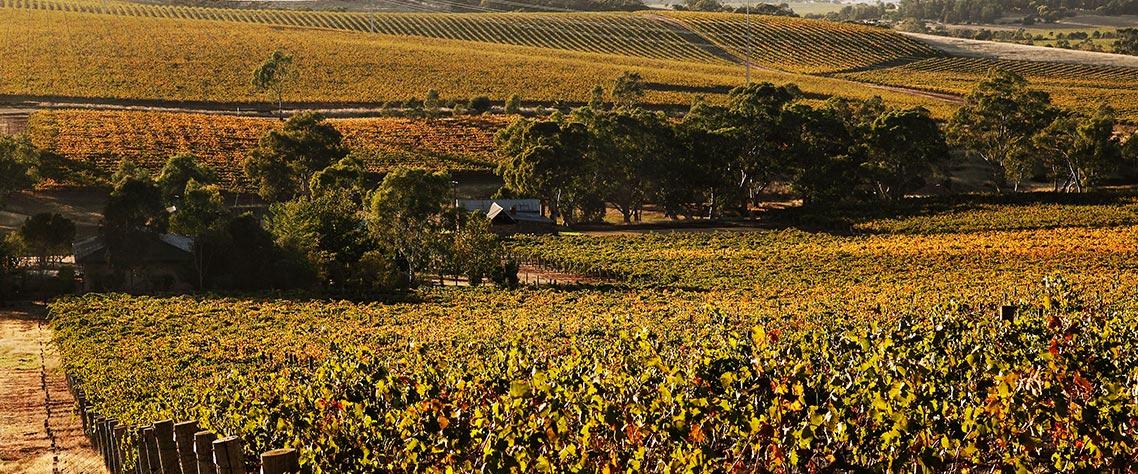 Hentley Farm: Vineyard Estate
We believe that Hentley Farm is a truly special property, hand-picked by our founder Keith Hentschke for its soil quality and geographical contours. For us, it's all about listening to the land and planting the right vines in the right place, in the right way.
Our vineyards contain the following varietals: Shiraz (70%), Grenache (17%), Cabernet Sauvignon (10%), Zinfandel (2%), and a small parcel of Viognier (1%). Blocks were carefully selected for orientation and aspect with different clonal material used according to suitability.
The depth and complexity of our wines arises from the great variety of terroirs at Hentley Farm, created by the diversity within the 150 acre estate's east and west facing slopes and altitude variances. Subsoils of tightly structured friable clay offer huge water holding potential, offering respite for our vines in times of low rainfall.
We acknowledge our custodial responsibility for the land, so vines are nurtured to their optimum potential through sound environmental practices that support agricultural sustainability and vineyard biodiversity. At Hentley Farm we use a dry-land farming strategy, with an emphasis on keeping the vine and earth in a natural state of balance with minimal interference.

2018 KAESLER "THE BOGAN" SHIRAZ
Kaesler is located in the Barossa Valley. The vineyards date back to 1893 and 1899, with the Kaesler family migrating from Silesia to take up the property that is now the Kaesler winery and cellar door. Gotfried Kaesler was a shoemaker, who arrived with his family and planted his first vineyard on the Kaesler farm in 1893 – this vineyard today is used to produce the Kaesler Old Bastard Shiraz.
In 1998 Ed Peter and Reid Bosward purchased the property and there began a new lease on life for the old vineyards. Much of the property had vines planted in the 1960's and 1970's, and of course the 1893 Shiraz.
The Bogan Shiraz vineyard was planted in 1899 and is located at Marananga in the Barossa Valley. It is owned by Kaesler Wines.
TASTING NOTES
Kaesler Bogan Shiraz is vinified from heritage clone shiraz planted in the Marananga region of the Barossa Valley.
The wine from 2018 was sourced from vineyards planted in 1899. Two weeks fermentation on skins has forged a solid ageing style that has all the Barossa hallmarks of deep set black and blue fruits. A kiss of spice and savoury tannin from Hungarian oak, give the wine an extra dimension.

2018 Parker Terra Rossa Cabernet Sauvignon
John and Faye Parker established Parker Coonawarra Estate in 1985 after a career-long interest in the region. Today, the privately owned Parker Coonawarra Estate is committed to John Parker's standards of excellence, and producing the most faithful expression of Cabernet Sauvignon from the celebrated Terra Rossa soils of the Coonawarra growing region.
The winery's first release of the 1988 vintage of First Growth was met with outstanding success, winning the Penfold Hyland Trophy in Perth. It was also judged the 6th highest rated Bordeaux-Style in the 1991 International Wine Challenge in London. This was the first step in establishing Parker Coonawarra Estate's reputation for producing wines of outstanding quality and longevity. In 2001, the purpose built maturation facility and cellar door building was completed. Made strikingly from Mt Gambier limestone and steel girders, the temperature-controlled facility stands tall amongst the Abbey vineyard and reflects John Parker's uncompromising approach to grape growing and winemaking.
For over a quarter of a century, Parker Coonawarra Estate has achieved numerous wine show medals, trophies and accolades, including a Five Star rating by James Halliday, Langton's Classification V for Excellence, and many high rating reviews by major wine media both within Australia and internationally.
TASTING NOTES
The marriage between Coonawarra soils and the noble Cabernet Sauvignon grape have long been known to produce wines of outstanding quality and longevity.
Our Cabernet has benefited from the terra rossa over limestone soils of our 'Abbey' estate vineyard located in southern Coonawarra. The unique micro climate within this part of the region produces an extended ripening period which tightens the tannin structure and increases the fruit density.
WINEMAKING
The 2018 Terra Rossa Cabernet is sourced from four key sub-sections of the Parker Estate 'Abbey' vineyard – Scarlett, Pepper Tree-Single Wire, Pepper Tree Double-Wire and Ash Blocks. Following
harvest, fruit for this Cabernet was close-top fermented with grapes remaining on skins for thirty-two days to ensure extended ageing potential. Maturation took place in new (40%) and second-fill French oak Barriques for 12 months, before bottling.
COLOUR: Deep burgundy with a bright red tint.
AROMA: Hallmark Cabernet – lifted nose of red berries, leather, spice and earth. Enticing.
PALATE: Full and rich with complex black fruits and a firm tannin backbone with very good length. Regal and powerful, yet elegant structurally.

2018 PENNY'S HILL McLAREN VALE 'CRACKING BLACK' SHIRAZ
From its first production of 141 cases of 1995 Shiraz, Penny's Hill has established a fine reputation for outstanding vineyards from which acclaimed estate wines have emerged. Very much a part of the recent McLaren Vale landscape, the Penny's Hill story commenced 30 years ago. The brand message: "Proudly Australian. More so McLaren Vale." Fine full-bodied, fruit driven wines are the result of premium estate-grown fruit from some of the best quality vineyards in the region. A meticulous approach every step of the way, from the narrow-planted, low yielding vineyards and throughout the winemaking process, Penny's Hill wines deliver an ultimate balance of texture, complexity and interest, with quality well above price being the outcome sought. Derived from the strong visual presence of 'sold' stickers applied to works of art in commercial galleries, Penny's Hill 'red dot' packaging is now very much established, not only as the brand's trademark but as a means of visually linking all aspects of the business.
TASTING NOTES
VARIETALS: Shiraz – 100%
REGION: McLaren Vale
WINEMAKER: Alexia Roberts
COLOUR: Deep red with bright purple hue
BOUQUET: Oozing with dark plum and black berry fruits, this McLaren Vale Shiraz is layered with mocha, oak spice and licorice notes with finely integrated French oak.
PALATE: Showing great depth and generosity, the palate is elegant and well defined. The tannins delicately wrap the fruit and guide it along the palate, resulting in a wine of exceptional length and character.
CELLARING: Ready to drink now or age for 5+ years

PETER LEHMANN 2018 "THE BAROSSAN" SHIRAZ
Celebrating our 40th Anniversary in 2019, Peter Lehmann Wines brings unmatched diversity, uniqueness and quality from more than 800 hand-tended vineyards across the length and breadth of all 14 Barossa sub-regions. The quality of Peter Lehmann wines are a testament to the relationships forged over many decades, allowing us access to the region's finest grapes.
Peter Lehmann Wines was founded in 1979 by the now legendary Peter Lehmann. The quality of our wines is a testament to the integrity of the relationships Peter built with grape growers across the region throughout his winemaking career.
These relationships remain at the heart of the Peter Lehmann winery today and enable us to source the very best grapes from the finest vineyards every vintage. From the Barossa Valley floor to the elevated sites of the Eden Valley, our winemakers work closely with the 140 growers who meticulously tend to their vineyards situated across the length and breadth of the 14 sub-regions.
As the name suggests, THE Barossan wines are produced to be the quintessential examples of the regions' style. Crafted by the current generation of Peter Lehmann winemakers, THE Barossan wines showcase our ability to source superb fruit from the many fabled subregions across the Barossa Valley, from a selection of growers renowned for their quality.
WINEMAKER'S COMMENTS
VINTAGE: After reasonable winter and spring rainfall, soil moisture was adequate during the growing season and Barossa's vineyards exhibited healthy canopies heading into summer. January and February were warm and dry, with very warm temperatures in February slowing down the pace of ripening. Vintage really ramped up in March, with the majority of Barossa's Shiraz being picked during this period.
VINEYARDS: Sourced from selected parcels of premium Barossa Shiraz scattered throughout the valley floor.
WINEMAKING: Grapes were picked in the cool of the night and crushed immediately into stainless steel fermenters for 7-10 days. After pressing off skins, the wine was then matured into 25% new and older 300L American oak hogsheads for 15 months prior to bottling and release.
COLOUR: Deep red colour with a deep black centre.
NOSE: Lifted aromas of fresh red berries complemented by charred spice notes and elements of dark chocolate and aniseed.
PALATE: A full-bodied Barossa Shiraz with a palate rich in juicy red fruits and persistent chocolate characters that carry through to the palate to finish on a silky soft finish.
ENJOY: A big bold red that deservedly accompanies red meats – proudly serve alongside a chargrilled steak, roasted beef or robust game like quail. Also a great match with a tasty cheddar on a cheeseboard with friends.
CELLARING: Enjoy now or can be cellared until 2028.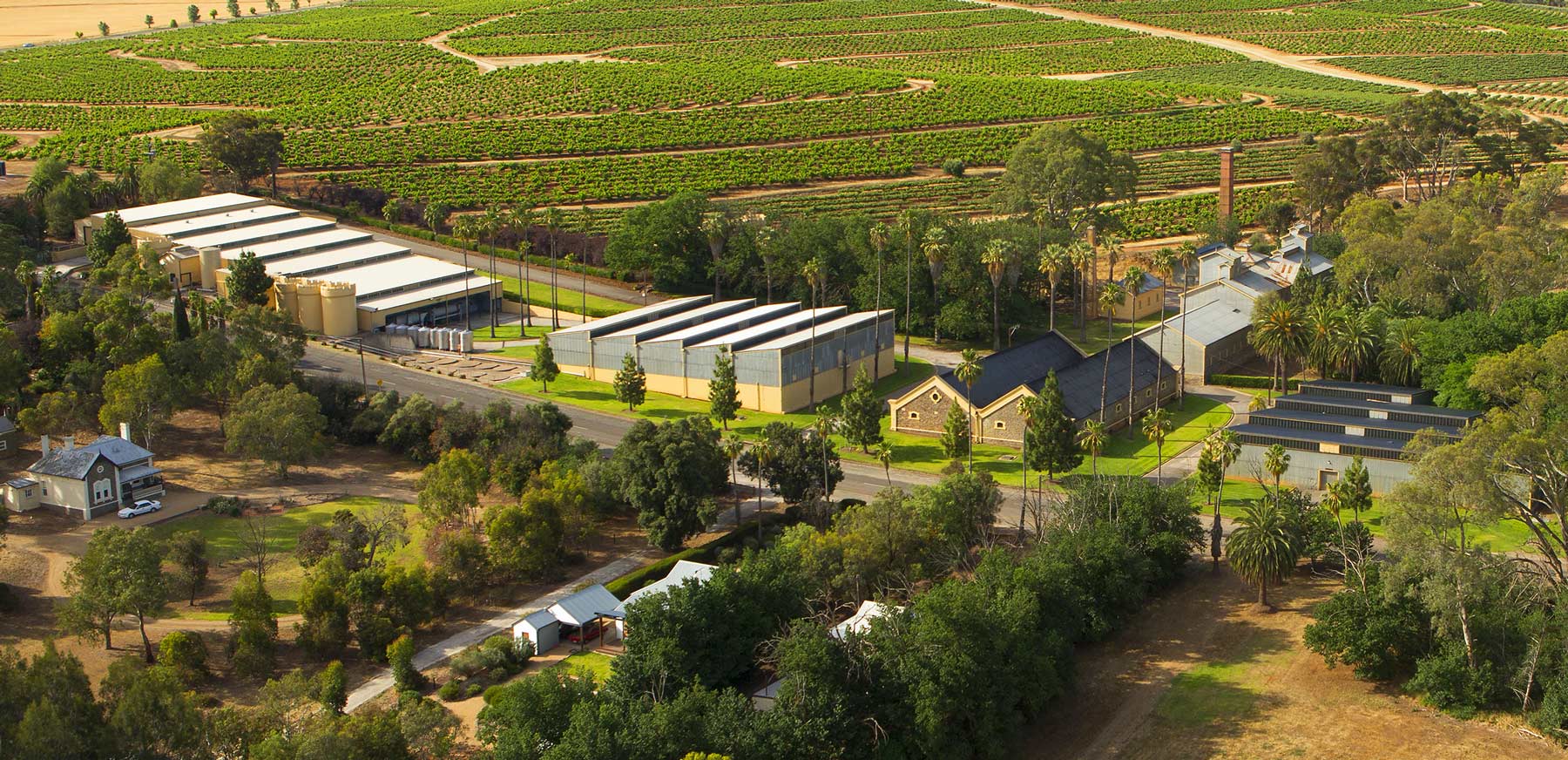 The Estate
Located on the 'Western Ridge' of the Barossa Valley, Seppeltsfield combines over 420 acres of ancient vineyard, gardens and heritage-listed architecture.
The Seppeltsfield estate is surrounded by a small settlement – named Seppeltsfield itself – and joins the nearby districts of Greenock and Marananga as the most Westerly townships of the Barossa Valley. Here, gently rolling hills of patchwork vineyards are contrasted against open fields of cereal crops, making for some of the most picturesque landscapes to be found in the region.
A suggestion of the grandeur of the Seppeltsfield property itself is evident through over 2000 Canary Island Date Palms, which line the approaching roads as an avenue to the estate.
Upon arrival, a vibrant Barossa community of wine, food, art and beauty awaits, highlighted by Seppeltsfield's world class cellar door & tasting rooms, FINO Restaurant, JamFactory Contemporary Art & Design studios and Vasse Virgin Skin care.
Frequently documented throughout the 19th and 20th centuries is the generous hospitality of the Seppelt family – the estate a landmark of South Australia where travellers of all origins were warmly welcomed. We are proudly continuing this 'village' vision of the Seppelt family, remaining passionate to ensure the history, heritage and provenance of this remarkable estate is shared with many.

Tim Adams Wines, 2018 Aberfeldy Shiraz
Tim Adams Wines was founded in 1985, when we crushed only 10 tonnes of grapes in our first vintage. The 2017 vintage saw us process our largest vintage on record at over three thousand six hundred tonnes — about 1000 tonnes for the Tim Adams Wines label, the rest for the Mr Mick label and also under contract to other South Australian labels. We are likely to continue to increase this figure gradually over the coming years. Fruit is sourced from 20 local growers as well as from eight of our own vineyards.
At our Sheoak Vineyard we grow Pinot Gris, Tempranillo and Shiraz. Our Ladera Vineyard, established in 2004, is planted to Pinot Gris and Tempranillo. At our Bayes vineyard we grow Riesling and Shiraz as we do on our Ireland's vineyard along with a small area of Mataro. On the Sheoak West property, are the relatively new plantings of Cabernet, Malbec, Pinot Gris and Tempranillo. At our expansive Rogers vineyard, a total of 45 hectares is planted to Shiraz, Semillon, Pinot Gris, Vermentino, Grenache and Tempranillo with a planting program of another 20 hectares in the coming few years, growing more Grenache and Pinot Gris. Our Schaefer block in Clare grows some of the Clare Valley's best Shiraz. This brings our total Clare Valley vineyard holdings to currently 165 hectares.
In 2011 we acquired the site known formerly as 'Leasingham Wines', in the heart of Clare. This substantial winemaking facility has become the home of both Tim Adams Contract Processing and for a 'value brand' range of wines, named 'Mr Mick' after Tim's mentor Mr Mick Knappstein, with whom Tim worked with at this winery site for 12 years. Our popular tapas restaurant, 'Mr Mick's Kitchen' is open seven days a week for lunch as well as dinner on Friday nights. This brand is kicking goals through Australia and internationally and promises to be very popular for years to come.
We focus our attention on making wines predominantly from Clare Valley grapes selected for their authentic varietal and regional characters. As well as traditional varieties of Cabernet, Shiraz and Riesling, the Mr Mick range showcases 'alternative' varieties/styles including Pinot Grigio, Vermentino, Tempranillo and a 'nouveau' style Sangiovese. These wines can be enjoyed in their youth for their vibrant fruit and fresh flavours, or be cellared for 10 to 20 years, depending on the wine. We now have strong sales throughout Australia and extensive distribution in New Zealand, the United Kingdom, Netherlands, Denmark, Sweden, China, Taiwan, South Korea, Singapore and Hong Kong.
TASTING NOTES
Year after year 'The Aberfeldy' continues to deliver the best that Clare Valley Shiraz has to offer, known also amongst keen wine enthusiasts as 'Clare Valley's Grange'.
Picked at optimum maturity in a vintage where flavour, tannin, hue and wine structure were exceptional and following a steady fermentation on skins for 14 days, the wine rested in French oak before a special dedicated bottling for 'Vintage Variety'.
The strength of this wine mirrors and is testament to the hard work many avid Variety supporters contribute to this wonderful charity every year.
The wine is worthy of cellaring for up to 20 years in good conditions.
WINEMAKER'S COMMENTS
All components of this blend were fermented to dryness on skins and subsequently left on skins for an extra 7 days before being pressed. All pressings were returned to the wine. This wine spent 12 months in a new French oak hogshead in our cool room before blending, fining, filtering and bottling.

2019 WICKS ESTATE CJ PINOT NOIR
Wicks Estate is a truly vertically integrated wine business based in the cool-climate region of the Adelaide Hills. We own all our vineyards, and tend to every grape that ends up in a bottle of our wine. Our state-of-the-art winery is situated right in the middle of our vineyards. We have total control over every aspect of the winemaking process, and for that reason quality is consistent year on year. – Owners, Simon and Tim Wicks
TASTING NOTES
The lead up to the 2019 harvest was certainly a memorable one. From extreme cold, to frightful hailstorms, drought like conditions and the occasional heat wave, our poor little bunches of grapes had to endure a lot. Unfortunately this meant that yields throughout the Mount Lofty Ranges were extremely low, but there was a silver lining. Despite the numerous hardships, the 2019 vintage produced some of the most vibrant, aromatic and delicate reds we've seen, retaining both the tannin and structure required for a wine to see a long life.
This Pinot Noir was sourced from our Woodside Estate Vineyard and is a blend of four clones, being D4V2, D5V12, MV6 and 777. Our tiny berry clusters were hand-picked into two tonne open fermenters, ensuring a high proportion of whole berries and whole clusters (around 10-20%) were retained. Moderately warm fermentation followed, encouraging lifted aromatics, before each batch was gently separated to oak. Only then was this unique Variety Vintage Blend assembled, and placed in an APJ Hogshead prior to bottling.
This wine is a delightful display of youthful exuberance, with an initial scent of dark cherry and a strawberry-like lift, coupled with enticing crunchy acidity. Softly defined tannins are superbly balanced by the plush mid-palate fruit and fine oak persistence, followed by an alluring aromatic finish. – Winemaker, Leigh Ratzmer