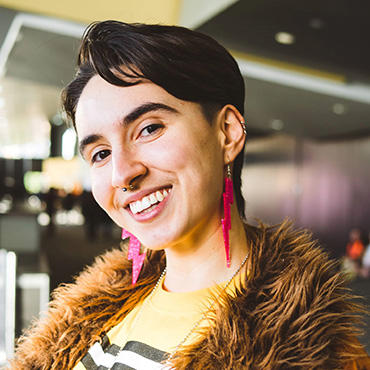 They/them
Lauren is the Community Engagement Assistant in Gaming at Variety and brings many talents to the team!
Lauren graduated from a Bachelor of Design in Gaming from RMIT in 2018, and in the years since has run their own freelance illustrating business that has lead to publications in multiple magazines, including Voiceworks, being the lead artist on Rainbow Restoration, and a pixel artist role for Aura of Worlds.
With a game design background, Lauren has created multiple games, including self-publishing their solo project, "Symposium of Grief," (which has received multiple award nominations) which eventually lead to producing the Gertrude Street Projection Festival in 2019.
You can find them on twitch at tdogextreme!
At Variety, Lauren is responsible for content creation, organising digital events in the gaming space, building and managing relationships with our streaming community and expanding Variety's gaming presence.
You can reach Lauren on [email protected]