Meet Finn
Meet Finn! Finn is 3 and just received this awesome walker thanks to our friend Ken who raised over $5500 from birthday donations! When cheeky Finn first got his walker at home, he propelled himself to where his sister Madison was drawing and pulled her hair. Madison's response? She put the brakes on her suddenly mobile brother!
Finn's Birthday Friend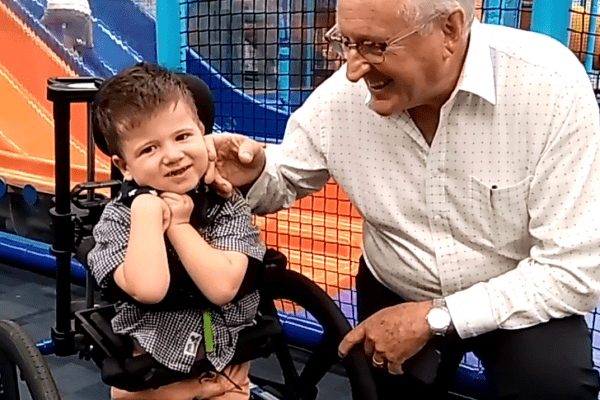 Community fundraiser Ken was approaching a 'Big O' birthday and wanted to give back.
The team at Variety were on hand to create a birthday flyer, a big gold heart (to suit his own!) for his birthday party, donation envelopes and personalised thank yous to all his generous friends who donated. His birthday donations funded over 80% of Finn's Chariot walker.
Ken was thrilled to visit Finn and his family to see the walker at work.
"As we watched Finn having a ball with his new Chariot it struck me how this specialist device was transforming not only his life, but also importantly that of his Mum, Dad and sister," said Ken.
The future of young Finn and his family is looking brighter thanks to the generosity of Variety and friends.
Ken encourages everyone to get on board and community fundraise for children like Finn through Variety – the Children's Charity. It's fun and easy to take part! Check out how below!