2023 Variety 4WD Adventure!
Get ready for the ultimate 4×4 experience and help raise funds for kids who are sick, disadvantaged or living with a disability.
 
Costs & Fundraising Requirements:
4WD Entry Fee: $330 inc GST per car
Individual Entry Fee: $1,860 inc GST per person
Minimum Fundraising:

$4,000 for new 4WD
$6,000 for returning 4WD (that's only $1,500 each between four people)
$8,000 for buddy cars (1 new and 1 returning car – that's $4,000 each)
Our 2023 4WD Adventure route looks like this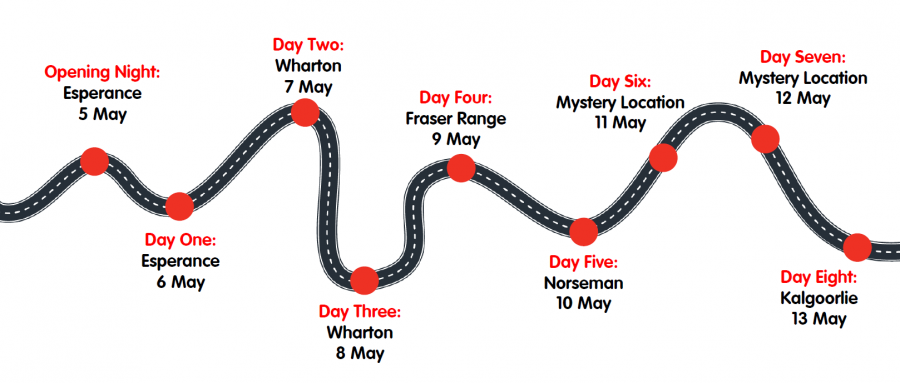 Set off from Esperance making your way through some of WA's most scenic routes, with a couple of Mystery Locations before finishing up in Kalgoorlie.
 
What's included in your entry fee:
All meals, entertainment, camping fees and incidentals
Support from our experienced team of mechanics, medical staff and officials
Variety 4WD Adventure merchandise including an official event shirt and more
Opportunity to make a difference to the lives of WA kids who are sick, disadvantaged or living with disability
Please note: accommodation, fuel and vehicle expenses are not included in this cost, unless advised otherwise by the Variety WA Events team.

What you'll need to provide:
A 4WD
A crew of at least two to four people with a fun sense of adventure
Entry fees
The determination to take up the challenge of fundraising for WA kids in need and meet these minimum fundraising targets
If you're ready to get on board for this adventure of a lifetime. Registrations are now open!