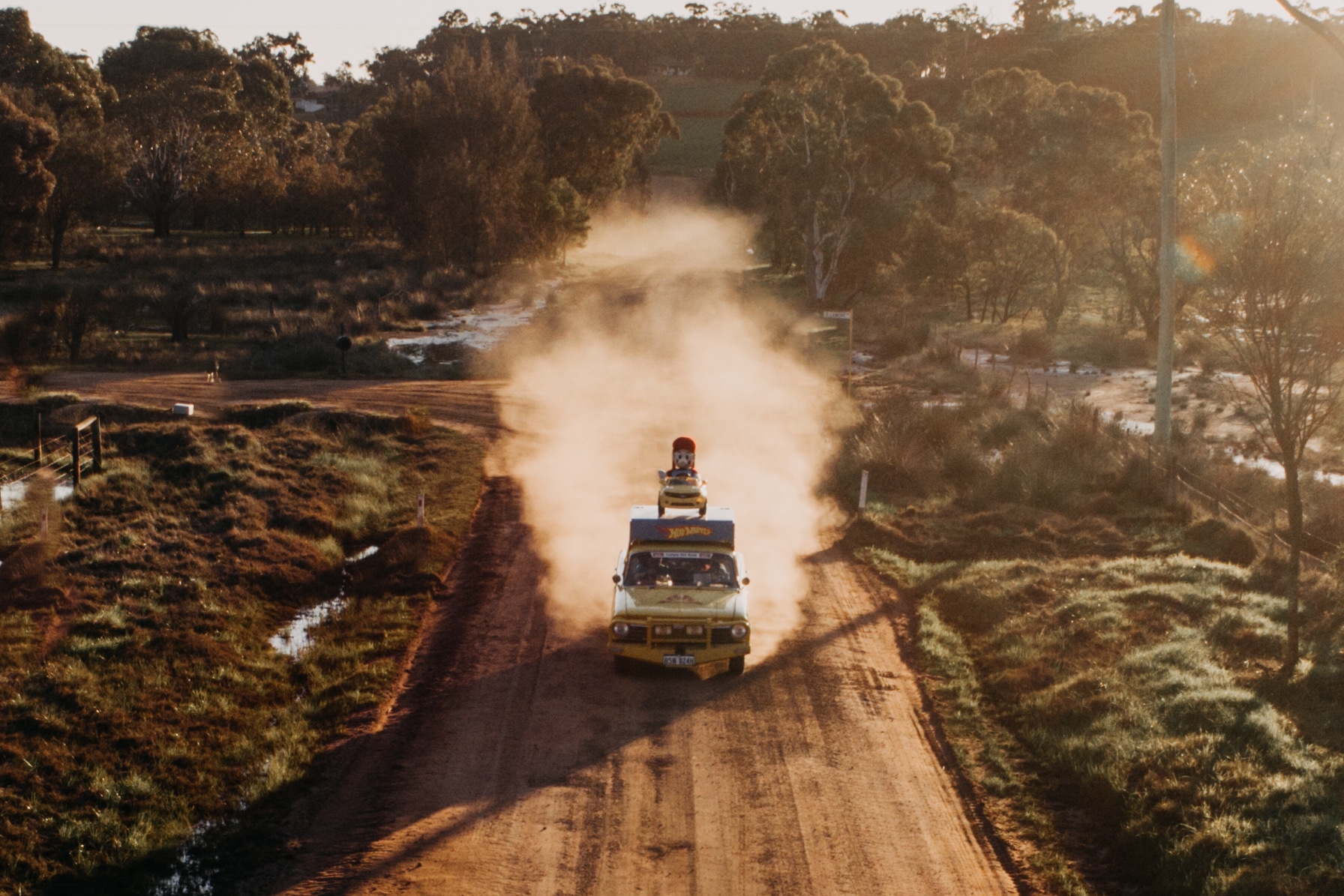 Bash Boss Diary
We've just come back from an unbelievable week on the 30th Anniversary Variety Bash, tackling off-road tracks with mates and raising funds to help give a fair go to Aussie kids in need. This Bash really had everything that makes a 'down south' trip great and in an economy still struggling, to hit the $600,000 fundraising mark is an amazing effort.
Rarely do I share a day-by-day breakdown of the event with people other than the participants, mainly because I want to keep the magic of the event a surprise and because explaining the Bash is near impossible until you've experienced it,  but because this Bash was like no other I will try my best to describe how amazing it was.
DAY 1 – Optus Stadium to Popanyinning
The week started at the amazing new Perth venue, Optus Stadium, with a large crowd and a fantastic backdrop. The 'Handshake Ceremony' transformed a rabble into a family. I missed the city circuit, but I am told our Bashers reminded the fair citizens of Perth that we are still here in 2018! In true Bash style, we lost a bit of time getting to Mash Brewery for lunch (and possibly a few Bashers!), but then all rolled out together on time to hit the 'Festival of the Dirt'!
The tracks offered a good bit of training for our drivers and led us through to our first night stop – Laze Away Caravan Park. The Bashers Club threw a cocktail party with nautical themed shenanigans, our first bonfire and a few 'great' singalongs on the karaoke stage.
DAY 2 – Popanyinning to Bunbury
Day 2 saw the virgins swap into other cars for the run to Quindanning Hotel, where we encountered our first logistical challenge – the paella wasn't ready! Luckily a serve of hot beef rolls kept our bellies full. A very picturesque drive through to Wellington Dam (and other smaller dams), ending at Gnomesville, where we planted our Variety 30th Anniversary sign for all to see. That night we celebrated the history of the Bash, with stories from Bashers of their past exploits. Some things change, some stay the same…
DAY 3 – Bunbury to Wharnecliffe Mill
Next morning we were out the gate at eight to Dardanup Heritage Park – owned by long-time supporters of the Bash, the Brookes family, who managed the Bash Baggage Truck for many years. The creators of the Coca-Cola Challenge came to run the show and many a spare tyre ended up in the game. The 'Bash Boss Track' (so named as the Route Rats washed their hands of it) turned out to be a hit, and for future reference, the toilet on the roundabout was not a public toilet as it had no walls. Lesson learned…one hopes…Then the toffee 'apples' caught a few out. Xmas in the Pines was a hit!
The world's quickest three-legged race was followed by a convoy through Margs into Wharnecliffe Mill. Some lovely fresh seafood from our drinks sponsor (Bruno from Big Brews), a fabulous meal from one of the old 'Vegemites' followed by one of the best Red Faces nights I can remember. Congratulations to the Virgins for all getting involved and cementing your position as a real Basher. This is from someone who knows that entertaining the Bash is your job. I was surprised to see that a poem in a purple wig took the prize, but the Bash had spoken.
DAY 4 – Wharnecliffe Mill to Karri Valley
The following morning saw a nice drive across to the lower-Stella Bella winery for sammiches and goon courtesy of the old 'Vegemites' car. A nice little takeaway was the smear on the door handles which would remind us for days to come. The afternoon had some more solid Bash tracks, a horse race or two, and then through to the glorious accommodation at Karri Valley for what could have been a quiet night, but ended in a big round of charades. I'm told. That night we also lost our first Bash car, the Rover of The Bill. Fords and Holdens may be boring but they sure are easy to fix!
DAY 5 – Karri Valley to Mt Trio
Next morning we dodged the intermittent rain and started to encounter more mud. A few cars struggled. A few got stuck. But luckily we only saw a bit of cosmetic damage on our way to our wine sponsor, Ferngrove, where we tested Bashers attitudes with a lovely serve of tuna and rice, followed by hamburgers. A little taste of France through Mt Barker (Mont Aboyeur) and then onto the nastiest Royal Wedding ever. Then a night around a fire with a party to celebrate our 30th Anniversary under the shadows of the Stirling Ranges.
DAY 6 – Mt Trio to Kojonup
The following morning saw a lovely roll through the mountains and then onto the most mud we have seen in years! Many a hero was forged that day my friends, and many a car was towed out of trouble before hitting the first school on our journey – Cranbrook. The evening at Cherylton (the Kojonup one) had a big bonfire, a personal message from Michael Caton and a viewing of The Castle with popcorn and fairy floss to boot.
DAY 7 – Kojonup to Boyup Brook 
Out the gate at eight (plus one hour) allowed everyone to wipe off the mud and tidy themselves up, before hitting more mud. Rolling into Bridgetown, we had the opportunity to wash down our trusty steeds thanks to the Frozen boys. Then time to hit the schools in Bridgetown and Boyup Brook, where we were entertained by some very solid local musical talent, and into the world's most amazing and breath-taking venue… Harvey Dickson, take a bow! The minor awards presentations delivered some deserving and some disgruntled Bashers, receiving recognition for their chosen behaviours throughout the week.
DAY 8 – Boyup Brook to Mandurah
Back into Boyup Brook the next morning. Many thought the Bash tracks were over, yet the morning held some real fun and some more challenges before hooking up with the Marios for some smoked meats and some Bashy chilli poppers that caught a few unawares. A convoy formed at the Ravenswood Hotel and carried the noise through Mandurah to Rushton Park stadium for the back end of the Peel v East Perth game.
Final night at Peel was bursting to capacity, and although I was in a sleep-deprived daze the whole night, I believe it went well with special guests including Rosily Raftis, who reminded us of the deep Bash history, which we are all a part of. Huge individual efforts were rewarded, and a huge result was announced. Many tears were shed.
So, that's the wrap. Thank you to everyone involved in this epic event. Next year seems a long way away but it isn't. If you were ever interested in coming along on the Bash, now is the time to sign up! As you know, the more cars we have, the more fun we have and the more money we can raise for kids who are sick, disadvantaged or living with disability.
We have some big plans for our 2019 Bash and I hope to see you all there!
If you have any questions feel free to contact me – [email protected]
Bash Boss
Subscribe and stay updated