Program Description
The Variety Voyage is a once-in-a-lifetime sailing adventure for teenagers (14-17) who are sick, disadvantaged or living with disability, taking place over 4 days and 3 nights.
Up to 24 lucky crew members will have the opportunity to experience a life at sea, develop a variety of new skills in a supportive environment and have heaps of fun with new friends on board the STS Leeuwin II sailing ship.
Life isn't always smooth sailing for kids who are sick, disadvantaged or living with disability. The Variety Voyage aims to help kids develop problem-solving skills, independence, leadership and confidence in their own abilities, so they can tackle any challenge that life throws their way!
All meals, accommodation and on-board costs are covered by Variety WA.
Due to recent restrictions and safety concerns surrounding COVID-19, the 2020 Variety Voyage has been postponed.
---
What it's like on the Variety Voyage
There's never a dull moment on board the STS Leeuwin II! Working together in teams, Voyagers will learn the ways of the tall sailing ship and become masters of ropes and lines, knots and sails. Teens will get a chance to:
Steer the ship
Ravel and unravel the sails
Climb the masts and work up high
Meet new people and build new friendships
Do things they never imagined they could do!
When the duties are over, Voyagers can enjoy a relaxing meal, board game or fun activities with their fellow crew mates in the main cabin.
For the duration of the trip, Voyagers will be in the safe hands of the experienced professional crew, including a licensed Captain and a Doctor. The professional crew is there to keep the teens safe 24/7 and help them have the absolute best adventure ever, as well as get them involved in ship duties and activities throughout the voyage.
Up to 20 Variety Volunteers will also be on board to assist with the specific needs of the teens.
Voyagers will share an on-board cabin with 5 or 7 others of the same gender and use a communal bathroom.
To find out more, check out the Voyage FAQs.
---
Eligibility & About YOU!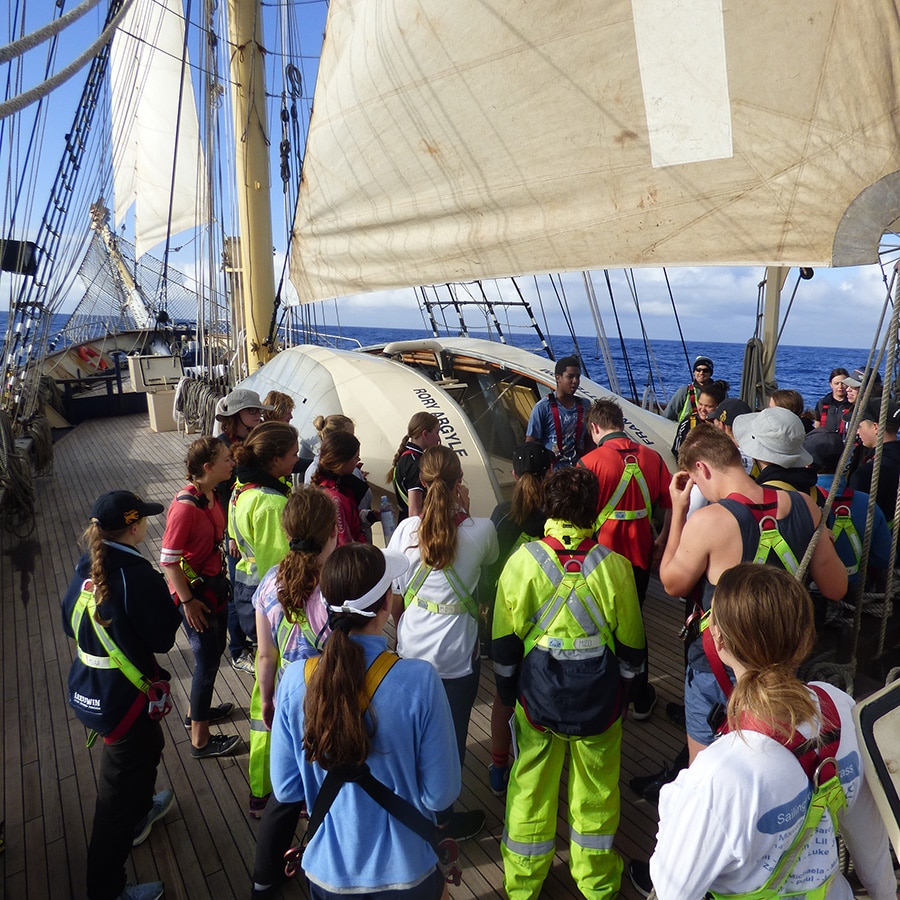 The Variety Voyage is for all WA teens (aged 14-17) who are sick, disadvantaged or living with disability.
Voyagers must be able to spend 4 days and 3 nights away from their parents, and be able to share a room with 5-6 other people. Due to safety and access restrictions on-board the ship, some minimum physical and medical clearances apply.
Do you think you have what it takes to live a life at sea? If this sounds like you, then you'll be a great fit for the Variety Voyage…
You're adventurous and always up for a challenge
You're happy to roll up your sleeves and get active
You enjoy being around new people and working with others
You want to develop your independence
You like having fun!
---
Volunteer on the Variety Voyage
As well as a professional crew, up to 20 Variety Volunteers will also be on board to help mentor the teens on their journey.
If you'd like to provide peer support for the Voyagers and take part in this exciting adventure (no sailing experience necessary!) please click the button below, get in touch by email or call us on 9355 3655.
---
We're here to help!
If you have any questions at all, please don't hesitate to get in touch with our friendly Kids Support team:
Email: [email protected]
Phone: (08) 9355 3655