Variety is excited to be part of the planning of something unique at Nurragingy Reserve. In partnership with Blacktown City Council, we are working together to create an inclusive playspace to be known as Variety Livvi's Place Nurragingy, with the project currently in the final design stage.
This will be an exceptional space where the estimated 50, 763 people living with a disability in Blacktown City, as well as their family, friends and the broader community, can come together and play side by side. Variety Livvi's Place Nurragingy will become part of a national network of inclusive play spaces known as Variety Livvi's Place.
The project is a collaborative effort to create a truly inclusive playspace in the centre of Blacktown, where children, families and carers of all abilities will be able to enjoy the many benefits of play.
"At Variety we believe that all kids deserve a fair go, including the ability to play," said Variety – the Children's Charity NSW/ACT CEO, David Sexton. "Kids of all abilities should be able to experience the joy and benefits of playing together, and we're proud to partner with Blacktown City Council on this very important project for the Blacktown community."
Once the design is completed a campaign will be launched to secure funding to help realise this important community asset. AECOM have come on board as the first project supporter.
We are excited to share the concept designs for Variety Livvi's Place Nurragingy from landscape architects AECOM, who have generously provided their services at no cost to the project.
In 2018 Variety joined forces with the Touched by Olivia Foundation to continue their work with local communities across Australia. The partnership sees the creation of more inclusive playspaces, now known as ''Variety Livvi's Place". Both organisations contributed to the NSW Government's Everyone Can Play Guidelines, created to ensure that all playspaces are inclusive for all people, regardless of age and ability. These guidelines are the foundation of Variety Livvi's Place at Nurragingy Reserve.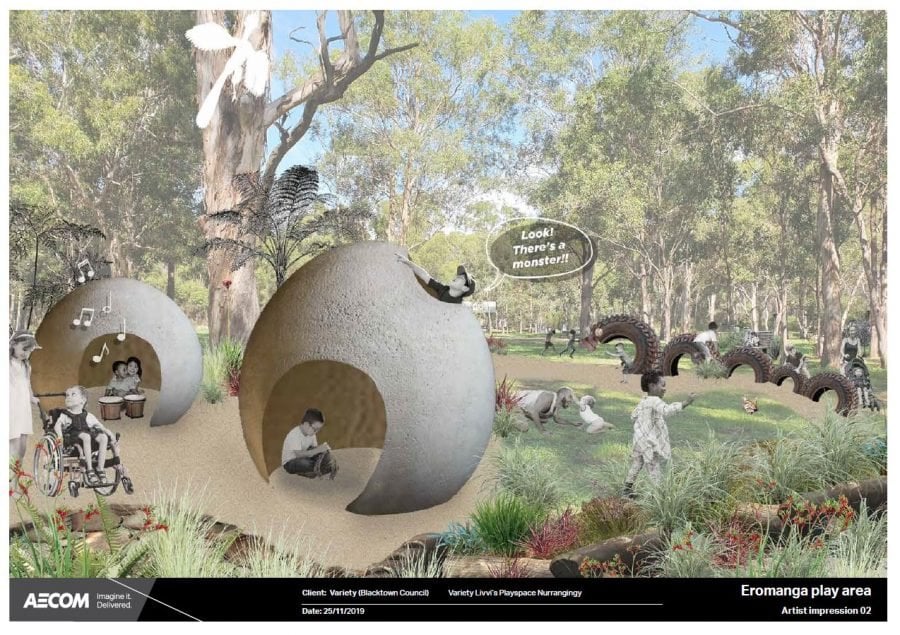 Location
Address: Nurragingy Reserve, Knox Rd Doonside NSW