Four Tasmanian organisations, Variety – the Children's Charity Tasmania, Rotary Club of Claremont, Hazell Brothers and Komatsu, have banded together to help grant Glenorchy resident Eliza, a much-needed trampoline – and a way to access it.
Eliza has Quadriplegia Cerebral Palsy, dystonia, ataxia and an autism diagnosis. Mum Luisa, says, "Eliza has always loved trampolines, although as she has gotten older, lifting her onto one has become impossible, and finding an outdoor place for her to play and exercise has been getting harder." Despite seeking help from other agencies, her case did not qualify for assistance and Luisa was left with nowhere else to go but turn to Variety for help.
Says Mohammad Aldergham, Variety Tasmania's CEO, "Variety is self-funded charity that receives no government support, so we are constantly challenged by how much we can do to give children a fair-go, particularly for those who fall through the gaps of the system".  "House modification is not something we do due to the high costs involved, which restrict our ability to reach as many children as we would want to".
"We realised that in order to grant Eliza a trampoline to suit her needs, we needed assistance due to the high cost of installation. We reached out to our friends at Rotary Club of Claremont who were quick to jump into action. They conducted a site inspection, reached out to their network of amazing local businesses and managed the project from start to finish" says Mr Aldergham. The project was accomplished through the generous support of Hazell Brothers' who offered their skilled workers and material at no cost and Komatsu lending their reliable earthmoving equipment to get the job done.
The project involved creating a pathway for Eliza's wheelchair to take her, up a slant, from the patio to the top of the Trampoline which is installed against a retaining wall in the backyard. The trampoline itself had to be secured to the ground and installed with safety features like an enclosure net.
"Eliza couldn't wait to try out the new trampoline and squealed with delight when she took to it. It was such a lovely sight. Now that the weather's better, she will be outside every day. I can't thank these teams enough". Says Luisa.
Greg Saunders of Rotary Club of Claremont concludes, "The installation of a trampoline mightn't seem much to a lot of people but, if those people ever got the chance to talk to Eliza's Mum, they would then understand how big a difference it is going to make to Eliza's enjoyment of life".
ENDS
Picture:
Scott Coad from Hazell Bros, Tim and Craig from Valhalla Concreting, Eliza King, Luisa Pollard and Greg Saunders from the Rotary Club of Claremont.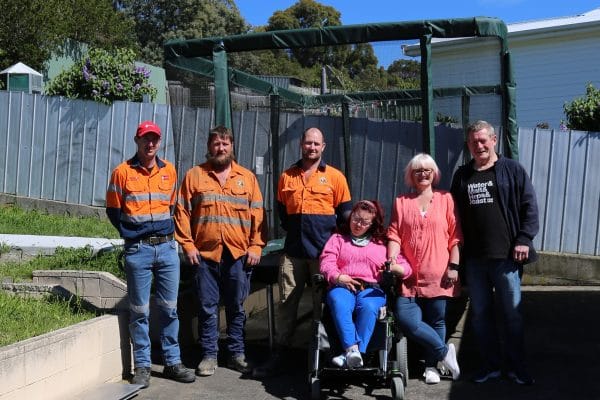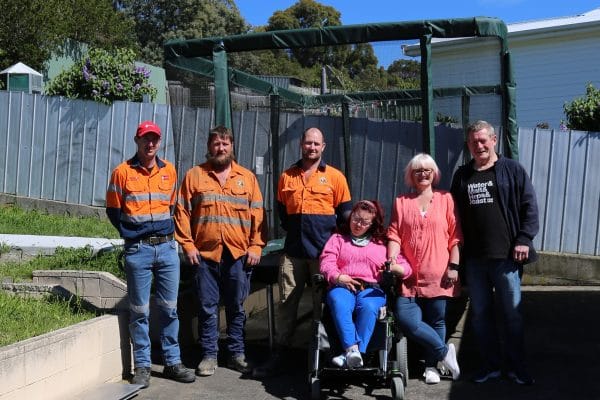 Subscribe and stay updated