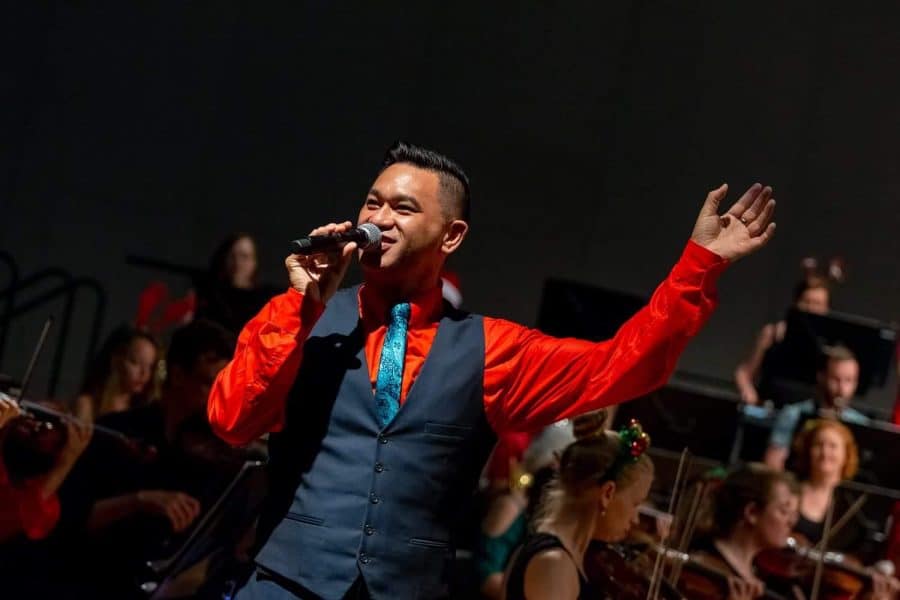 Introducing the new Variety NT Ambassador Shalom Kaa He sings, acts, dances and can make you laugh a perfect fit for the original show biz charity Welcome Shalom!  View the video of Katrina and Shalom
More About Shalom!
Shalom Kaa is a multi-talented artist who has always had music and singing in his life. He grew up as part of a large Maori family of musicians who performed throughout New Zealand. He continued to performed in Sydney and Melbourne as a soloist and in the band "RS".
Relocating to Darwin in 2015, Shalom made a smooth transition to musical theatre. He played the title role in Jesus Christ Superstar (2015), dual roles in For The Term of His Natural Life (2016) and the lead role of 'Freddie' in Chess (2017).
During this time Shalom started to develop his love for directing. He was the Artistic Director for Darwin Chorale's sold out seasons of Beatles Cabaret (2016) and ABBA Cabaret (2017), which he also choreographed.
In 2018 he wrote, directed and had a cameo role in Voices of Remembrance: A Territory Story of War and Peace. This was his first time writing script and directing dramatic actors with a cast of 65. Shalom interwove his own Maori history with the Darwin World War 1 story to present a moving tribute to our ANZACs which was well received by the military.
During that same year, Shalom's repertoire also included his dramatic acting debut in the coveted role of John Hale in The Crucible (2018) followed by Harold Gorringe in Peter Shaffer's Black Comedy (2018). After extras work on Top End Wedding and other smaller projects, Shalom made his Darwin Festival debut in Pathetic Fallacy (2018). He played the lead role in the short film The Japanese Slipper to be released in 2020. He is currently featured in two TV advertising campaigns.
In July, Shalom debuted his solo cabaret Purple Plastic Maori at the Darwin Fringe Festival selling out the entire season at Browns Mart Theatre. The show took home the awards for People's Choice Award and Best Producer. Purple Plastic Maori will feature at Adelaide Fringe Festival in 2020.
A gifted public speaker, Shalom has hosted a number of key events in Darwin including the Queen's Baton Relay 2018, Fiesta Latina, and Cancel Council's 50 Shades of Pink.
Shalom is also the host of the show The Seen NT, a local arts and entertainment series. The fortnightly episodes include interviews with local and visiting artists. Recent guests have included Human Nature, John Foreman, Manu Fieldel, Vanessa Amorosi, Opera Australia and Amy Hetherington.
With a 'bari-tenor' vocal range, Shalom performs regularly with the Darwin Symphony Orchestra, Darwin City Brass Band, Arafura Wind Ensemble and as a tenor with Darwin Chorale. For the past five years he has performed as a soloist at Carols By Candlelight and is a regular contributor at large events such as Darwin Festival, Cancer Council Masquerade Ball, World AIDS Day Gala and Share The Dignity. In 2019, Shalom has been a featured soloist with the Gin + Jazz band and fronts the corporate band Riff Remedy.
Since 2018 Shalom has been the Artistic Director and Co-Music Director for Darwin's LGBTQIA+ choir, True Colours Chorus Darwin (TCCD). Their first concert in September 2018 was a sell-out event and they recently performed with Shellie Morris at Arafura Games 2019. They represented the NT for the first time at the Out & Loud Choral Festival in Canberra this year, to rapturous applause.
In 2019, Shalom started performing stand up comedy as part of the Top End Comedy program and will be a participant in Raw Comedy 2020.