Day 5
Taroom to Rainbow Beach
The Bashers rolled out of Taroom and made their way towards Coalstoun Lakes State School for their lunch stop.
On the way they stopped for a quick fun stop hosted by OV Fun where Car 313 – Cookie Monster handed out some delicious cookies to give the wacky roadtrippers a bit of an energy boost before they continued on their way.
The next leg of the trip was definitely an adventure for a couple of the colourful crews who seemed to have forgotten the golden rule of not following the car in front. The Blockheads of Car 267 took a wrong turn, leading a group of cars behind astray and on a route of their own.
Eventually, after getting back on track the Bashers pulled into Rainbow Beach just in time for the lay day, glad to have made it past the halfway mark and ready for a relaxing day.
The evening began with a presentation from Granny and the Clampetts from Car 56 to 15-year-old Makayla who received a Variety Heart Scholarship. Makayla lives with ASD and as a result needs one on one support to learn. Her dream is to ride in the Olympics for Australia in Eventing and her love for horses is evident in her dedication and unconditional focus.
Unfortunately, Makayla comes from a sole parent family and her brother, Jack, also has a costly medical condition, Juvenile Idiopathic Arthritis. This means they don't have the funds available to allow Makayla to compete or get the coaching needed to help her reach her full potential.
Makayla hasn't let this stop her and is currently training her horse from scratch! Her new Variety Heart Scholarship enables her to begin riding lessons and also provides costly equipment that otherwise would have been out of reach.
As an extra surprise, Sam and Robert from Car 1964 presented Jack with a mountain bike and gym and pool membership. This will enable him to help develop muscular strength to protect his joints through low impact joint fitness training and keep him active.
The night's dinner function continued with plenty of laughs with a turn of events that no-one saw coming. The raucous group of Bashers,  who are experts when it comes to getting into costume, were thoroughly impressed by one outfit in particular. Variety Queensland CEO, Steve Wakerley, wasn't horsing around when he whipped out his attire for the night, which certainly had heads turning (see picture below – must be seen to be believed). Accompanied by his team of jockeys, it made for a memorable announcement of next year's Bash lay day at the Birdsville Races.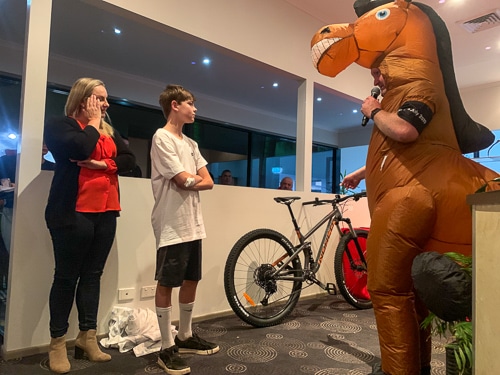 You may also want to read
Subscribe and stay updated