Join Variety Patron Marina Prior for
Variety

 

Fair Go 4 Kids Day

and Watch Your Gift Grow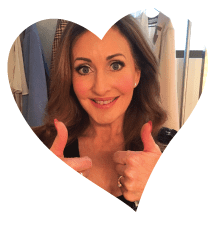 "I'm so excited to be the ambassador for Fair Go 4 Kids Day, supporting Variety – the Children's Charity. ALL kids deserve a fair go in life. Please join me in supporting this fantastic campaign on 24 October."
Marina Prior, Variety Fair Go 4 Kids Day Ambassador
Click here to turn $1 into $4 on 24 October
Click here to pre-pledge today
Imagine if your gift could be quadrupled to provide four times the impact for kids in need?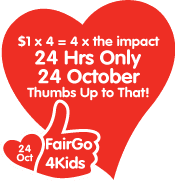 We are so excited to give you that opportunity, thanks to some very generous benefactors. On 24 October Variety will celebrate Variety Fair Go 4 Kids Day championed by our patron Marina Prior.
Your see, for just 24 hours ALL donations will be not only be matched, they will be quadrupled by our generous benefactors and I am asking you to take part by pre-pledging an amount to see four times the impact on 24 October.
Imagine… your $25 gift becomes $100, your $250 gift becomes an incredible $1000!
Imagine the additional support and practical help for kids who are sick, disadvantaged or have special needs that Variety – the Children's Charity can provide so all kids can have a fair go in life.
This year alone, you have helped us to directly impact 10,000 children in Victoria alone – and the demand is growing each year. Together let's ensure we have four times more impact and can continue to fund and expand our kids support programs.
With your support, we can help children gain mobility and freedom, get out and about in the community, communicate, achieve independence and increase self-esteem for many years to come.
Will you invest $25, $50 or whatever you can afford to change a child's life forever?
Please contribute today – all donations received by Variety before the October 24 will go towards helping us to achieve our goal of raising $200,000 on Fair Go 4 Kids Day
Thanks for joining us to give all kids a fair go!
To pre-pledge CLICK HERE and type FairGo4Kids in the comment box!
P.S. Please give your most generous contribution of $50, $100, $250 or more today and watch it grow on 24 October! Thank you.