An Adventure To Never, Never Forget!
Freedom Camp at Goanna Park is held in the Northern Territory over one week in the July school holidays and the lovely cool Dry Season.  The camp can cater for up to 24 children, plus carers and volunteers.  Freedom Camp is aimed at providing children with a mild to moderate disability and disadvantaged children a unique experience away from their day-to-day routines in a safe and secure environment.
The camp is held at Goanna Park, which is located 90kms east of Darwin on the Arnhem highway at Annaburroo Station. The site houses large camping grounds, kitchen & hall facility with outdoor undercover area, ablutions & laundry, a large billabong, rocky outcrops, bush walkways, a building housing 5 separate bedrooms and a medical centre with several bedrooms.
All participants have 3 healthy and hearty meals per day plus morning and afternoon tea and snacks when requested.  Campers and rostered carers sleep in large, screened tents under the trees and beautiful starlit sky.
The Variety NT Freedom Camp is run purely on volunteer power, which is an incredible achievement, and we need all hands-on deck again in 2023 to create an incredible experience.
Make a real difference with your donations and sponsor a Variety Freedom Camp Kid.  Apart from the incredible impact you will have on this kids' life you will receive a letter with information about your chosen Camper, recognition on our social media pages and an invitation to MEET your sponsored Freedom Camper at our Picnic Day down at the Darwin Waterfront.
To find out more and sponsor a Freedom Camp Variety Kid click the button below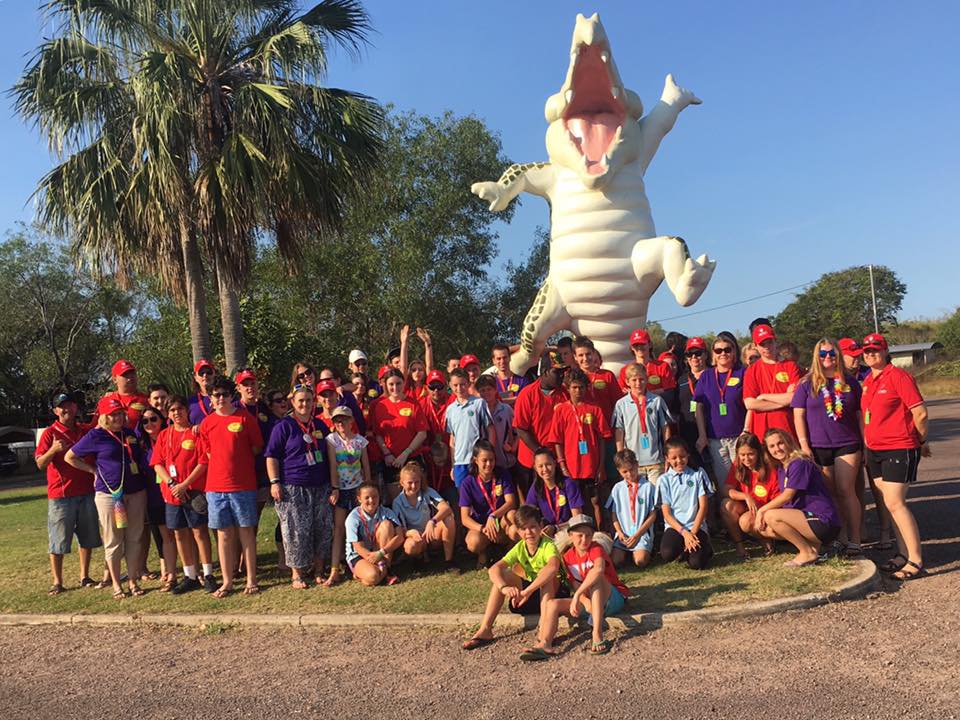 Welcome to the Top End!
Teenagers, 13 – 18 years old, are invited nationwide to attend the camp.  The Variety Tents in each State/Territory source applicants from schools and organisations and forward application forms to the Variety NT office for processing. A carer also attends with children from each State/Territory.
Each Variety Tent pays the participant fee for each camper they send to Darwin, as well as the cost of the camper and carers return airfare to Darwin.  Variety NT funds the cost of the carers catering and entry costs to activities while at the camp and all other associated costs.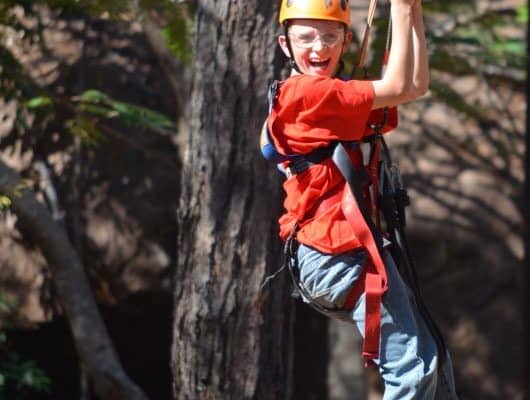 James was so happy… he enjoyed the rock climbing and the wave pool. I've seen a massive increase in his self-esteem and confidence. Goanna Park is the best thing that happened to James.  – Rania, NSW
Positive Outcomes
The Junior Police Rangers (JPR's) attend the Freedom Camp as young carers and mentors for the National participants.  Also attending is several JPR graduates as Junior Carers extending their knowledge to the younger JPR's under the supervision of Senior Carers and Volunteers. In this circumstance, there is a nurturing and development of future carers who also assist at other local events in a similar role or as young volunteers within the community.
The documented positive outcomes for the teenage campers attending Freedom Camp are increased development of independence, confidence, social communication and peer interactions whilst on camp which then extends when returning home to family and school environments.  The camp allows children to experience challenging activities and situations with support and encouragement from experienced Senior Carers, generally associated with inclusion support services Australia wide.
My son was one of the junior police rangers on this camp and absolutely loved every minute of it, wants to volunteer again.