Sam is taking the chop for Hair with Heart
This November we're aiming to raise $150,000 through Hair with Heart. An ambitious goal, that will only be possible thanks to the hundreds of big-hearted hair donors who choose to chop their locks and also ask their loved ones for donations. People like Sam, who's committed to chop off her locks this November.
Sam works for Ellaslist, one of Australia's largest parenting sites for family activities and inspiration. A few years ago she heard it was possible to donate hair. It sparked her curiosity to find out more and that's how she discovered Variety Hair with Heart.
"I feel great knowing that by chopping my hair, I'll be helping to change lots of lives," says Sam. "So why don't you join me, and sign up to take the chop and fundraise for Variety Hair with Heart this November!"
Sam is taking the chop for Hair with Heart from Variety Australia on Vimeo.
The donated hair is given a second life and made into a wig for someone who has lost their hair due to a long-term medical condition – giving back the gift of confidence and self-esteem.
All the money from the sale of the hair and the fundraising will go towards giving kids in need a fair go. This could mean purchasing a new wheelchair for a child with a disability or buying school uniforms for kids who are doing it tough.
This is how $150,000 can help kids who are sick, disadvantaged or have special needs: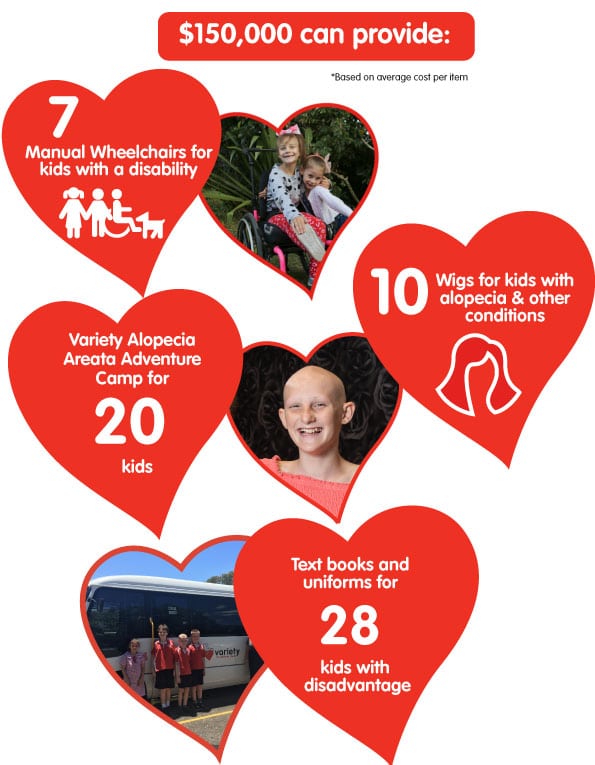 Learn More about Hair with Heart.
Subscribe and stay updated