1-6 November 2020
"If you had asked me three years ago whether I would own a postie bike, let alone ride it for 1000km, I would have laughed at you. Now we own three." – Mick ( Postie Dasher )
The Variety Postie Bike Dash is a six-day charity ride throughout NSW on Postie Bikes. The event goes off the beaten track, travelling through the bush and countryside, stopping in at rural towns & schools for meals and entertainment along the way.
Save the date for 2020 – itinerary will be revealed in early 2020!
Anyone over 18 years of age with a current motorcycle licence can join us on the adventure, all you need is a sense of humour and a tolerance to dust and discomfort!
Entrants must raise a minimum of $2,000 for Variety – the Children's Charity to join the adventure, the funds raised on the Postie Dash will help to provide practical equipment and experiences to kids who are sick, disadvantaged or have special needs.
Any questions? Call Vic or Janet on 02 4965 4911 or email [email protected] to find out more.
A big thank you to our Major Sponsor First National Real Estate for your incredible contribution towards this event, also to Tamex Transport and Australia Post for your continuous support.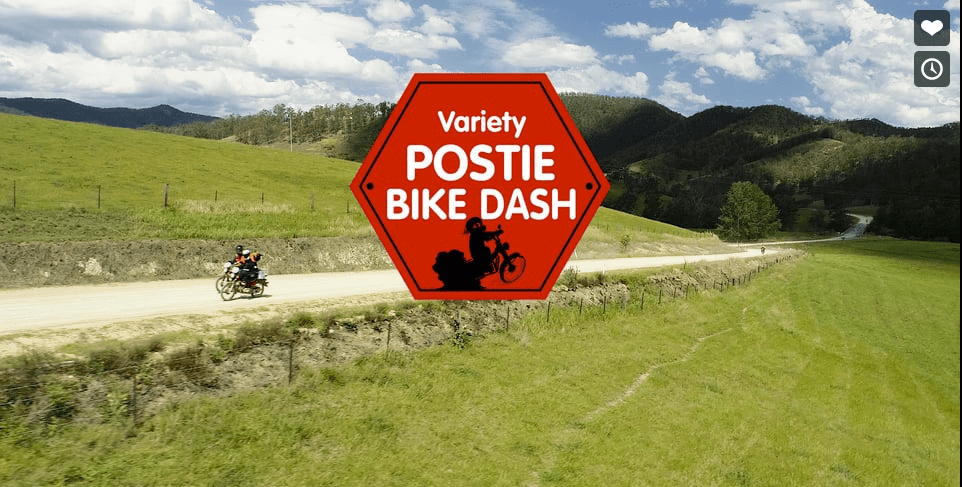 About the Dash
Who can join?
Anyone over 18 years of age with a spirit of adventure and a tolerance to dust and discomfort. A wicked sense of humour will be an advantage.
Accommodation
All registrants will be provided with a list of various accommodation venues. You can book your own accommodation based on your comfort levels and budget. A list of suggested accommodation will be shared once the itinerary is revealed.
Entry Fee
Your entry fee is a minimum $2,000 donation to Variety – the Children's Charity. This may be made up of fundraising or a personal donation. A $500 initial donation must be made with your entry form and a further minimum $1,500 donation before we set off. These donations are tax-deductible.
Meals
All meals will be organised and supplied from breakfast on Day 1 to our presentation extravaganza on Day 6. Everyone will be issued with a name tag and these must be worn at our meal stops. A Provisions Fee is payable prior to departure which covers your meals, signage and merchandise.
Luggage
We have a baggage vehicle that will transport luggage and any basic camping equipment. Space is limited, no overpacking please.
Clothing
Protective clothing must be worn while riding on the event – including helmet, gloves, long legged trousers, a jacket and appropriate footwear. Please be mindful that jeans are not protective in the event of a spill, please consider investing in something a little sturdier. Open faced helmets are not acceptable on this event and a helmet with chin protection must be worn. A high-vis vest will also be supplied that you will be required to wear whilst on the road.
The Bike
The bike must be a Honda CT110 or Honda NBC110 motorcycle, including the presentation of the rear rack, mudguards and engine crash plate. For a full list of bike requirements please check out the Variety Postie Bike Dash Bike & Rider Requirements
Mandatory checkpoint day
Saturday 31st October 2020 is a mandatory checkpoint day. Your bike must be at the checkpoint to be checked by our mechanics the day before we officially head out. Details on checkpoint day will be revealed after registration.
Registration, Insurance and Licensing
The event will be run on public roads and all bikes must have current registration and appropriate insurance for the entire event. We would advise that you cover your bike for third party property damage at a minimum. Every rider must hold a current motorcycle license and we will need to see that before you depart. No learner riders permitted. We will require a photocopy of your current registration and insurance papers to keep on file before you are eligible to commence the event. Everyone taking part in the Variety Postie Bike Dash will be required to complete an indemnity form issued by Variety – the Children's Charity (NSW). All entrants participating in the Dash must have a valid Working with Children's Check (WWCC).
Fundraising
Participants must fundraise or donate a minimum of $2,000 to join the event. We will provide all participants with a link to set up an online fundraising page. You could also hold events such as a trivia night, golf day or movie screening, gain sponsorship from a business, or simply shake a bucket! This is a quick and easy way for friends, family and colleagues to sponsor you.
How your fundraising helps
Funds raised on the Postie Dash will help to provide practical equipment and experiences to sick, disadvantaged and special needs kids.
Variety's work allows children to gain mobility and freedom, to get out and about in the community, be able to communicate, enhance their education, achieve independence and increase self-esteem, and where possible the assistance to help them integrate into mainstream school and activities.