Variety Heart Scholarships
Variety provides scholarships to children with an existing talent living with disabilities, chronic illness or financial hardship to achieve their full potential and to follow their dreams.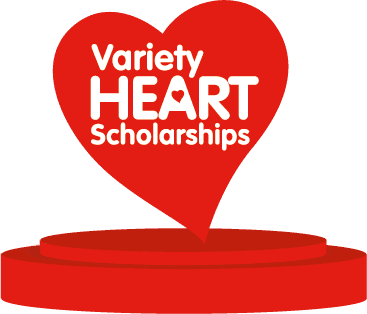 2019 Applications are now open
Scholarships are awarded up to the value of $5,000 in areas of Education, Sports and The Arts.
Variety Heart Scholarships support kids with a demonstrated talent who are living with a disability, chronic illness or financial hardship, to pursue their dreams and realise their potential.
Scholarships of up to $5,000 are awarded in the areas of Sport, The Arts and Education, and can be used for things like uniforms and equipment, coaching and lessons and other expenses.
Some past recipients have gone on to represent Australia on the world stage, whilst others have simply needed help to reach the next stage of development in their talent. Variety Heart Scholarships are made possible by the support of our partners, The Grahame Mapp Family Foundation in honour of the late Gillian Mapp. Thanks to their generosity, this year we have even more scholarships to award. 
Who can apply?
– Demonstrate an existing talent in one of these areas; The Arts, Sport or Education
– Aged 6 to 18 years
– Residents of NSW or ACT
What have past Variety Heart Scholarship recipients been up to?
For more information
If you have any questions the team is here to help. Have a look at our FAQ section and you are always welcome to contact our Kids Support team directly by email or call 02 9819 1000.
Last year we were really impressed by the number of applications received from across NSW and ACT, and the range of different activities we were able to support. Help us help talented kids reach the next level of their development.
For more information about how Variety supports kids in need sign up to our Variety families newsletter.
Click here to find out more ways we support families and organisations.