We continue to focus on reaching all kids and supporting families and communities, regardless of how remote or regional they may be. Children who are forced to travel great distances for medical appointments, educational opportunities and sporting competitions often face particular challenges and that's where we come in – making sure that all kids can attain their full potential, regardless of their background.
In 2021, we impacted far flung corners of NSW and the ACT with both our grants and our motoring events. More than 1600 grants were given out to children as far west as Broken Hill.
Our motoring events have a long tradition of giving participants the chance to explore country towns that aren't always on the map. Our bash cars are renown for bringing fun and excitement to far-flung corners of the country and bringing smiles to the faces of local families who rarely have visitors. Moreover, we also bring thousands of dollars in grants to local schools for much needed technology, playground equipment and educational resources. Not to mention the tourism dollars injected into regional communities with lunch and overnight stops along the routes.
As always, we are grateful for the support of our regional supporters who welcome us with open arms and understand the big difference we make in little communities.
See the map below of the regional communities that were supported by Variety in 2020/21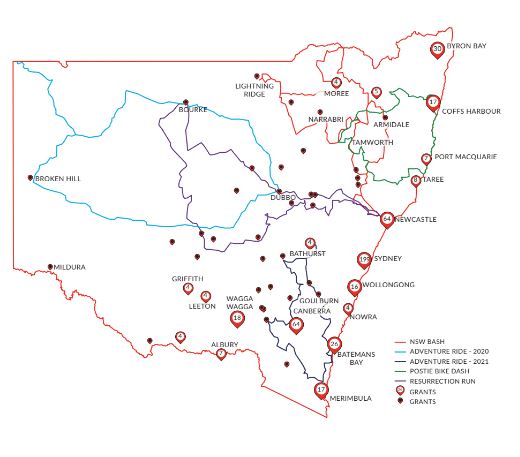 Back to Impact Report Homepage View PDF Version of our Impact Report Online
You may also want to read