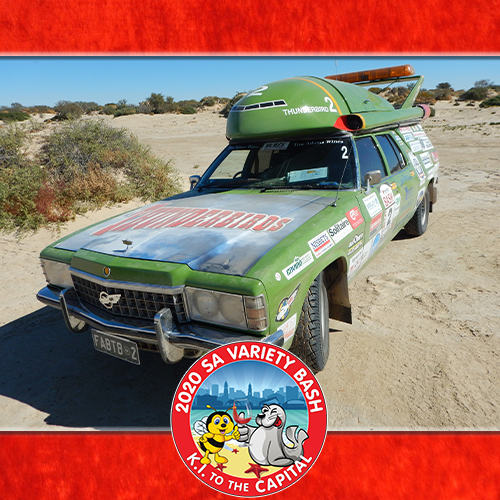 Car 2: 'Thunderbirds'
Theme: Thunderbirds
Car: 1976 HX Kingswood
Crew: Peter Greig, Ian Greig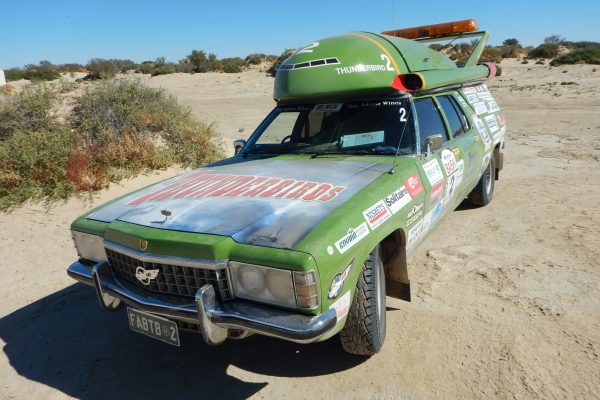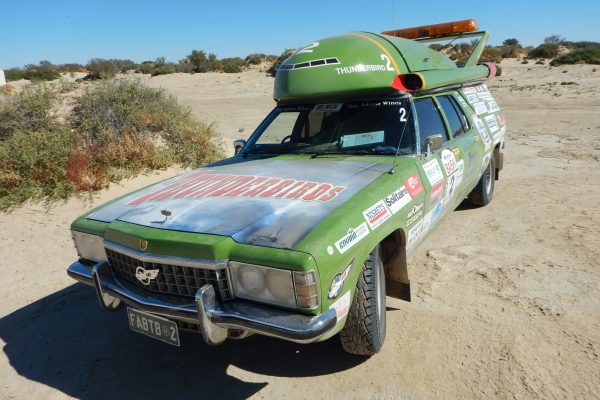 Team Bio
Whilst the car completed both the 2015 and 2016 Bashes, when it came time to prepare for the 2017 run it soon became evident that the motor and transmission had only just held together and it was a wonder that she was still running and had not presented any major issues.
Despite the crew and the technician's best efforts the extent of the refurbishment required become so great that we were unable to complete the task in time to have the vehicle up and running in time to participate in 2017. It turned out that due to time constraints we were also unable to undertake the 2018 and 2019 Bashes.
This year I can report that the vehicle's much need "Mechanical Hiatus" and refurbishment is back on track and we will be fronting up with the other Bashers to enjoy the trip and camaraderie to KI and back in November.
The car was originally a 1976 HX Premier Station Wagon which was then cut vertically behind the rear window. It had a 76 HX Panel Van rear, cut down to just the "Ute" portion and joined to the remaining Premier bodywork (conceivably being Australia's first and original "Dual Cab Ute"). The vehicle is some 5.5mtrs in length and is now powered by a 350ci V8 Chev motor coupled to a tri-matic transmission, leaf spring rear end and a "custom built/heavy duty" rear axle running twin wheel bearings and a differential that any Army tank would be proud of.
We look forward to getting back to "Bashing", getting another Bash under our belt and enjoying the week in November interacting with like-minded souls raising funds for kids in need.
Sponsors we would like to thank:
Jims Trim, Care Distributors, Exciters Signage, Exhaust Plus, Austek Engineering, UES, Outlaw Speed Shop and our UK suppliers: Mobility Networks Group and Safety Belt solutions. We also need to thank our entire customer base who enable us to generate donations to Variety via their fiscal support of us at Brazier Mobility.