Car 96: 'Bash Fire Service'
Theme: Bash Fire Service
Car: 1964 International Fire Truck AB150
Crew: Diane Lintern, Carmine De Ieso, Ron Groot, Karen Cook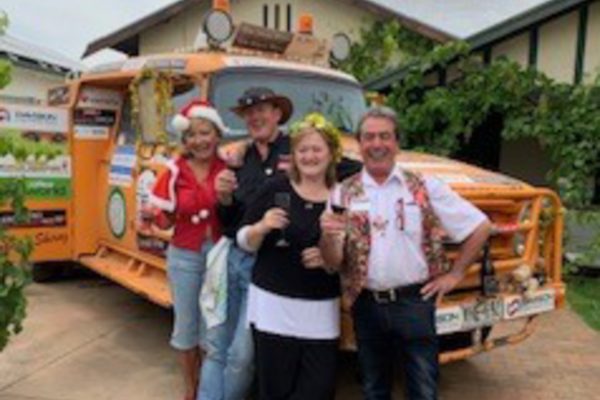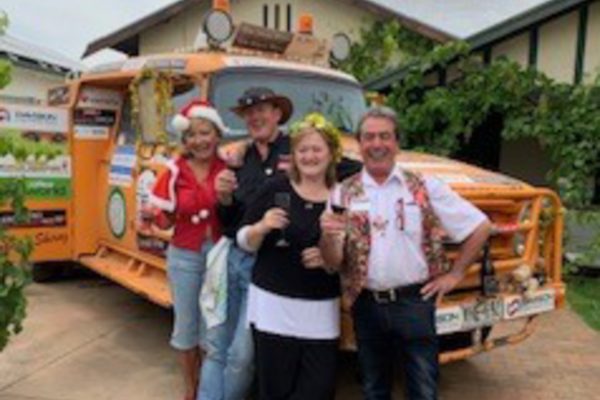 Team Bio
Wow! What a start to our 29th consecutive Bash!
After our introduction from Fairy and the late Tom Matters back in 1992 we continue to thoroughly enjoy life with our Variety family and can't imagine life without the Bash – which it almost didn't happen in 2020!
A huge thank you to this year's Chairman George and his team for putting together our KI Mini Bash in November. What an awesome initiative! Thank You!
Ron Groot (Fox Mowing) returns with much knowledge after making a hit as our Virgin last year. 'Whoo Hoo' here come the espresso martinis (and the odd Fire Truck cocktail)!
We are delighted to welcome Virgin Karen 'Cookie' after helping with our fundraising every year since our first Bash. With a real life emergency services background Kaz will bring plenty of ideas for our new theme.
This year we are taking our theme to Cafe 96's origin so look out for some surprises on track. (And yes, the frocks will return in some form J along the way.) We felt it only fitting that we theme ourselves around our 1964 International Fire Truck. So look out for the fluoro stripes, hard hats and extinguishers – all with a Bash twist.
Due to the generosity of all our sponsors, along the tracks we will be offering entrants, locals and landowners REAL cappuccinos from local Coffee World, Coopers Original Pale Ale, Carmine's Sparkling Shiraz and Fortifieds, plus 'Hot Chips'.
Big thanks to Bruce from Cronin Mechanical Services for hours of TLC to ensure 96 makes it through the event once again.
We wish George and his team and each and every Basher a sensational 2020 event. Remember every cent counts. Keep on Bashing and fundraising – the kids need us! Cheers!
Sponsors we would like to thank:
Fox Mowing, Corporate Initiatives, Carmine's Wines, Davison Earthmovers, Brothers In Arms Wines, Coopers Brewery, Coffee World, Cronin Mechanical Services, 'Pegleg' Paul and Phil and Carol Martin, Adelaide Industrial Labour Hire, Mobile Compressed Air