The Art Bus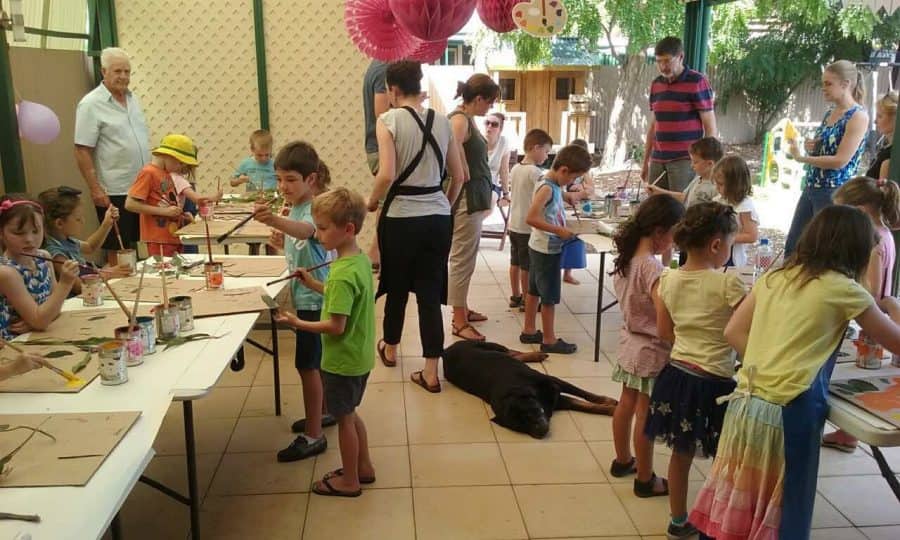 The Art Bus was established in January 2014 to provide specialist arts programs to children with disabilities or disadvantage.  It aims to change children's lives across South Australia through creative experiences.
Variety supported the project by funding a transit van, fitted out with power points, shelving, table and ramp.  The Art Bus is fully equipped with a range of art materials and takes art into the community, across metro, regional and remote areas.
Supporting partners:
Special thank you to Accountancy firm EY for their generous support to this program.
Official key presentation in 2016
Members of the Variety team and special guests attended the Marion Cultural Centre to officially hand over the keys to the recently donated Art Bus vehicle to program directors Claire and Miranda Harris.
Featured story at handover
In attendance at the official key handover was budding young artist Hayley, who will benefit from the purpose built vehicle. Four years ago Hayley dived into the family swimming pool at an awkward angle, suffering extreme whiplash and leaving her arms and legs paralysed. After having nerve replacement in both of her forearms, she began painting.
If you would like to help more kids like Hayley, you can make a donation here.
Highlights in a letter from the program directors:
The Art Bus just completed an eight-week workshop program with patients at the Women's and Children's Hospital (WCH) called 'Mind My Colour'. The program was delivered for WCH Arts in Health and worked with children in the Hospital School, Outpatients, Campbell and Adolescent wards, and in Boylen psychiatric wing.
Participants learnt about colour, explored the psychology of colour and emotions and worked with us to create their own abstract colour painting. Participants were often long-term hospital patients and were aged from 4 to 17 years. The opportunity for these chronically ill and high-risk children to work in a safe, relaxed and creative environment allowed for meaningful self-expression. Paintings that resulted from the workshops were on display at the WCH as part of the 2017 DreamBIG Children's Festival.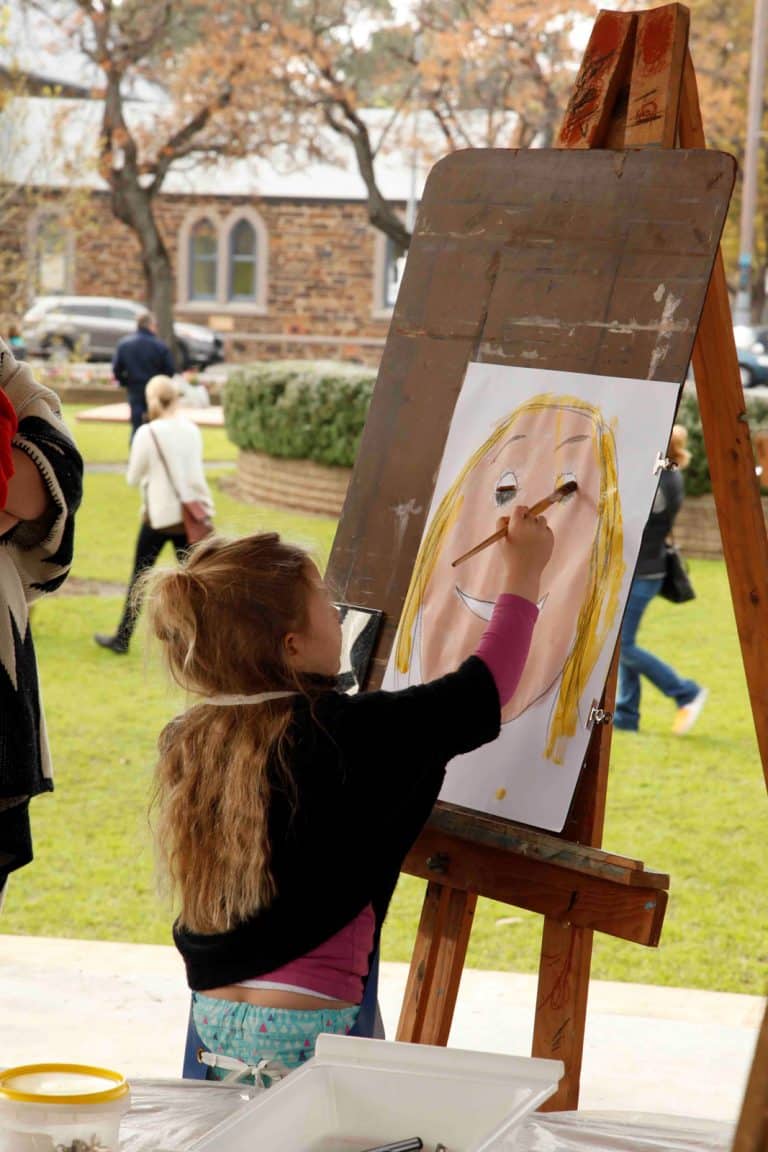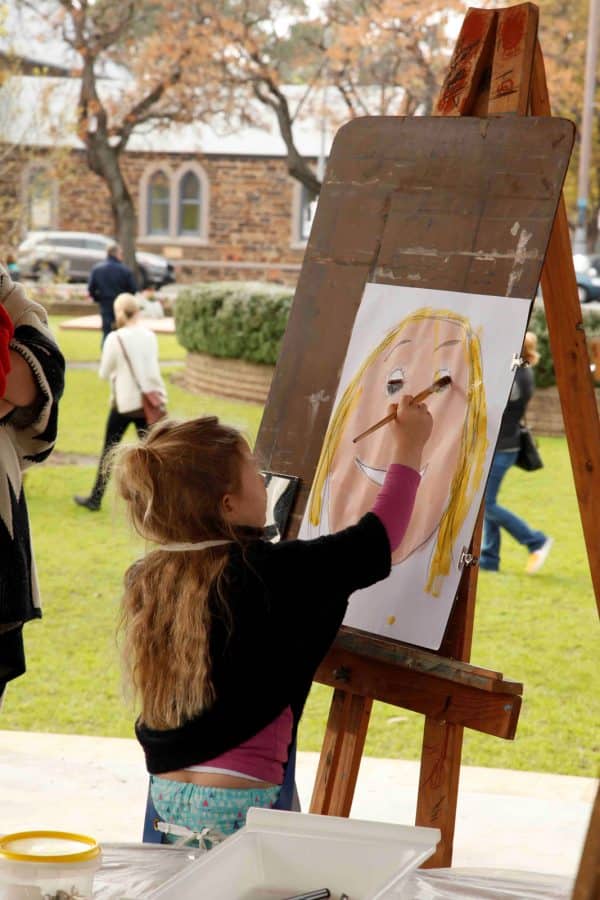 Since purchasing the van, The Art Bus has been involved in many arts community events that cater for children and encourage children and families to work together. For the 2016 and 2017 SALA (SA Living Artists) events we set up 20 full size easels for children's self portrait workshops in the rotunda in Unley's Soldiers Memorial Park. Family art workshops have been devised and run for the last two Adelaide Fringe Festivals through Southern Cross Care and Port Adelaide and Enfield Council.
In 2016 The Art Bus ran a 24-week program at Mercy House of Welcome in Kilburn. A series of arts activities were offered to families with children of all ages. The focus here was on refugee's experience of escaping war torn homes and settling into new countries. This successful program resulted in an exhibition at the Kerry Packer Civic Gallery and was featured on SBSTV news, in The Advertiser newspaper and through social media.
The Art Bus has been involved in the last two DreamBIG Children's Festivals providing visual arts sessions for primary school groups who come from all over South Australia.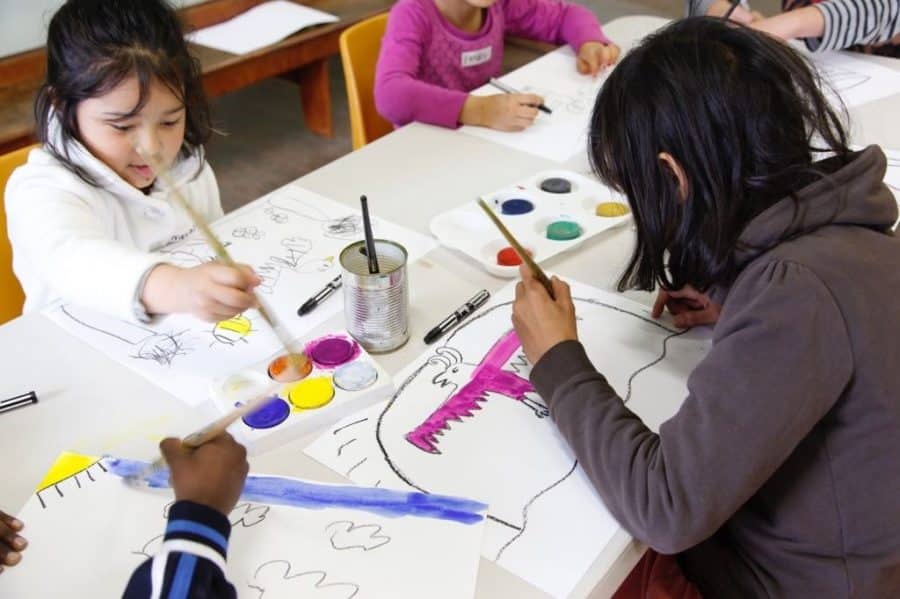 We ran eight days of art workshops for the 2017 DreamBIG Festival at the Migration Museum for over 1000 primary school children who are attending from Lameroo, Myponga and Pennington and across SA. In addition to the schools sessions we are providing free workshops for the Big Family Weekend. Many of these children have limited access to art in schools. The Art Bus has been instrumental in developing a relationship between DreamBIG, the WCH and The Migration Museum, and we hope to continue offering children's programs to these organizations in the future.
In the past two years we have worked with organizations supporting children with disabilities or those experiencing disadvantage including WHISPA, Cora Barclay Centre, Qantas Recycling team supporting Time for Kids, the Eastwood Community Centre and children experiencing family violence through a mum's support group. WHISPA members work was exhibited in the Capri Cinema foyer for National Youth Week.
The Art Bus continues to grow. A broad range of organizations interested in arts programs, seek our services. This success keeps us busy and the van has been an invaluable addition. We have successfully transported all art materials and equipment required for catering for multiple and diverse long-term programs and large public events. It is very rewarding to share this with children and their families.
If you would like to help support more programs like The Art Bus, you can make a donation here.