Adelaide, South Australia is set to host the 90th anniversary celebration of the Variety International Conference.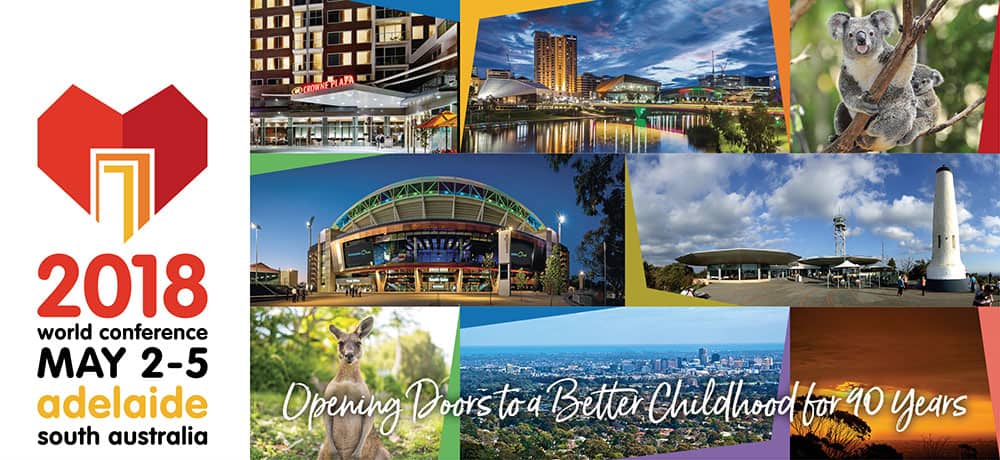 To register you interest please email Keri Torney or Book online NOW
Social Highlights
Welcome Reception – Adelaide Zoo
Tuesday 1 May 2018
6:15pm – 8pm, ($100 per person)
Join us at this cocktail reception to welcome national and international delegates to Adelaide for the Variety International Conference and celebrate our organisations 90th Anniversary. Enjoy light refreshments and entertainment including a Welcome to Country performed by Major Sumner.
Heart Awards Dinner – Adelaide Oval
Thursday 3 May 2018
7pm – 10pm, ($150 per person)
Join us to celebrate and acknowledge the best of the best across all Variety Tents from around the world at this spectacular venue.
Humanitarian Awards Dinner – Mt Lofty House
Friday 4 May 2018
6.30pm – 10.00pm, ($200 per person)
This annual dinner showcases Variety International's highest honours:
Sir James Carreras Award – Since 1986 this is awarded to a physician who has demonstrated exceptional dedication and skill in the field of paediatrics.
Humanitarian Award – Since 1941 this award is given to an individual who has shown unusual understanding, empathy and devotion to mankind.
Catherine Variety Sheridan Award – Since 1984 this is awarded to individuals for significant philanthropic support of charitable organisations serving children.
Conference Lunch Events
Wednesday 2, Thursday 3 and Friday 4 May.
Each day we welcome you to join us for a Conference Lunch. Lunches include award ceremonies and presentations plus the opportunity to network with national and international delegates.
Conference Registrations:
Day Sessions:
Wednesday 2, Thursday 3 and Friday 4 May
($150 per person, per day, including morning tea and lunch.)
Individual sessions available from $60
Volunteers Needed!
Variety SA are looking for volunteers for a range of roles to be filled in an administration and support capacity. To register your interest please email Keri Torney – Event Coordinator.
Keynote Speakers
The 2018 Variety International Conference Program is full of exciting and insightful speakers. To commemorate the 90th anniversary of this event the Conference theme "Celebrating the last 90 years of success and imagining a future driven by the past years of success in improving the lives of children worldwide" reflects the topics that will be discussed with relevance to non-for-profit organisations and private business alike.
We would love for you to come along as there are so many ways to get involved.
Key note speakers include
Peter Baines
Global Speaker, Charity Founder, Board Director and Business Consultant. Peter has carved a career out of the most unlikely of foundations, but it's those unique beginnings that provide the insights which his clients and audiences are drawn to and talk about long after he has left. Peter Baines will provide delegates with real world motivation and tools for organisations to grow from an under resourced position.
Mischief Sisters
Maz Farrelly and Alison Black are the Mischief Sisters. They're called The Mischief Sisters because they run a hugely successful innovative & slightly crazy motivational Mischievous School for Future Geniuses to help you sell yourself & your ideas to absolutely anyone – how to present brilliant ideas in a brilliant way – it's what they've done for decades. The Mischief Sisters deliver tools and knowledge for attendees to raise their organisations and cause awareness and profile – "WE HELP YOU BE THE HIGHLIGHTER IN A WORLD OF BLACK INK".
Justin Baird
Justin brings over twenty years of management and high tech experience in areas ranging from research and development engineering, analog and digital signal processing, embedded systems development, product management, high speed digital networks, large scale entertainment systems, mobile and web application deployment, and interactive multimedia installation technologies. Justin's keynote session will focus on fundraising and marketing in the digital sphere. Following the keynote Justin will lead delegates through an interactive digital workshop session that will provide takeaway tools for delegates to implement in the workplace.
Shaun Conley
With over 30 years of training and development experience, Sean Conley is a true learning development specialist who is sought after globally.  He works with leaders, businesses, teams and Individuals to solve their development needs. Sean will find a fun and unique way to bring your team together to develop stronger communication and learn to work together more effectively.
You may also want to read
Subscribe and stay updated